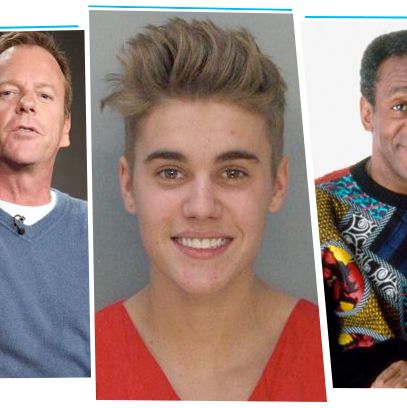 Every week, Vulture faces the big, important questions in entertainment and comes to some creative conclusions. This week we gave you front-line reports from the Sundance Film Festival, analyzed NBC's new deal with Bill Cosby, and looked back at the songs of 2002. You may have read some of these stories below, but you certainly didn't read them all. We forgive you.
Q: What's going on at Sundance this week?
A: We sent Kyle Buchanan and Jada Yuan to report from the festival, which kicked off with Whiplash, the strongest opener in years. Additionally, Kristen Stewart went Gitmo; Zach Braff dropped another soundtrack-cum-movie; Richard Linklater delivered his new movie after 4,207 days of shooting; and the Roger Ebert tribute Life Itself brought everyone to tears. For a full list of all of our dispatches from Sundance, look here.
Q: But what are the juiciest Sundance bits?
A: Well, former child stars sure don't seem shy about getting naked, do they? Wetlands is definitely the crassest film of the year. And white people seem to like Dear White People. Additionally, we talked to Aubrey Plaza about her inner "demon voice," Aaron Paul about his Breaking Bad withdrawal, and Miles Teller about breaking through at two consecutive Sundances.
Q: What's going on with Justin Bieber?
A: You know, he's just going through his teenage life crisis that young stars are wont to do: naturally it involves a casual mix of booze and cars. Jody Rosen writes, "The most surprising thing about the news of Justin Bieber's arrest on DUI charges is that it's surprising at all." I mean, he looks pretty happy in his mugshot.
Q: I haven't seen half of the Oscar contenders! What do I do?!
A: Fear not. You might not win your Oscar pool, but at least you can sound smart with this handy guide.
Q: What ever happened to the 24 movie?
A: Kiefer Sutherland still really wants it to happen, but for now, he's contenting himself with a twelve-episode season he's shooting in London. 24 lives to see another day.
Q: Is NBC really going to give Bill Cosby another show? Didn't they learn anything from the Michael J. Fox debacle?
A: Indeed, news broke this week that NBC is in talks with Bill Cosby to bring him back into the Peacock's fold with a family set comedy. But wait. The deal might not be as desperate as it sounds, because no writers were announced and a pilot wasn't even ordered. But the view here is that Bob Greenblatt isn't looking to Cosby as a black Jesus.
Q: What is going on with Greatest Event in Television History?
A: If you haven't caught it yet, there was a lot of speculation as to what show they would be doing a shot-for-shot remake of. We talked to Adam Scott about the show and directing the penultimate episode of Parks and Recreation.
Q: Has Jennifer Lawrence ever gotten mad? Like really mad?
A: Well, this lady from Access Hollywood spoiled Homeland for her and she was not happy. (But still obviously super charming.)
Q: Isn't Girls just a dirtier version of Sex and the City?
A: No, the original inspiration really goes back to Louisa May Alcott's Little Women. Chiara Atik writes, "The characters of the show are analagous in a way that suggests these four girls — the writer, the responsible one, the sweet one, and the wild-child — are time-honored archetypes for American women, rather than products of their creator's imagination."
Q: Hey, Vulture, isn't it about time to crank up that nostalgia machine again? What do you got for me?
A: Dave Holmes revisits the top ten songs in 2002, back when American Idol first premiered. Remember Ashanti?