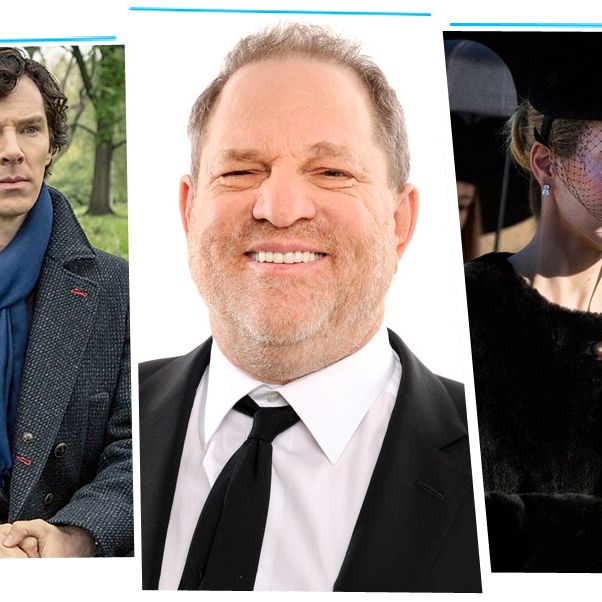 Photo: BBC; Dimitrios Kambouris/Getty Images; Michele K. Short/FX
Every week, Vulture faces the big, important questions in entertainment and comes to some creative conclusions. This week we explored the end of American Horror Story: Coven, broke down this year's Grammy Awards into a million pieces, and looked at what TV shows are on the cancellation bubble. You may have read some of these stories below, but you certainly didn't read them all. We forgive you.
Q: I was too busy to watch the Grammys. What did I miss?
A: We have the ceremony's highs and lows as well as the best frozen moments. High: Pharrell's hat. Low: Macklemore sweeping the rap categories. He even apologized for "robbing" Kendrick Lamar. Kendrick was pretty cool about it though. Vulture's music critic Jody Rosen called the night a "Kanye-less slog" in his review.
Q: Isn't the friendship between Sherlock and Watson heartwarming?
A: Well, we don't know if a relationship with a psychopath (sorry, a "high functioning sociopath") can ever truly be heartwarming. But last Sunday's episode, "The Sign of Three" — while ostensibly a story about Watson getting hitched to Mary — was really a testament to how Watson and Sherlock are total biffles. Sherlock executive producer Steven Moffat describes how Sherlock's best-man toast came about.
Q: How did American Horror Story: Coven end?
A: Well, you can either watch the episode, read the recap, or just watch Stevie Nicks perform again. Margaret Lyons worried that AHS: Coven was losing its sense of drama because no one could stay dead on the show. But ratings-wise, the show had its biggest closing numbers yet. We talked to the cinematographer about how they got eleven of the show's most disturbing shots.
Q: Will my precious Betrayal get canceled? 
A: Uh, yup, at least according to Josef Adalian, who offers a deep look at the TV shows on the cancellation bubble. But things are looking good for Brooklyn Nine-Nine fans. So, there's that.
Q: Is Harvey Weinstein the ultimate Oscar campaigner?
A: He didn't do so well this year (at least he managed to sneak in Philomena), but he has a pretty impressive (or shady, depending on how you look at it) track record.
Q: How exactly does Sundance work?
A: Here's a diary of producer Galt Neiderhoffer's tenth festival, in which she tried to sell three films.
Q: Are movie trailers really going to be shorter now?
A: Well, the National Association of Theater Owners issued voluntary guidelines asking distributors not to send them trailers exceeding two minutes — 30 seconds shorter than before. While a number of critics welcomed the news, Bilge Ebiri found himself playing the contrarian, writing, "I know that, as a critic, I should play it cool and look down on them as craven, parasitic vehicles for capitalist enterprise that Destroy the Purity of the Moviegoing Experience™. But I don't. I think they're awesome."
Q: What did you think about the latest episode of Girls?
A: Hannah Horvath deals with death in the latest episode. Matt Zoller Seitz writes, "Failure to express condolences while sounding properly aghast or moved is interpreted as proof that a person is a dreadful narcissist or otherwise disconnected from humanity, when in fact the problem might be that they aren't sure what they're feeling at that exact moment, much less how to express it without being insincere or sounding trite." Well, at least Lena Dunham is capable of always putting a smile on her face on the red carpet!
Q: I can't believe Miley Cyrus is doing an Unplugged. Does MTV have no shame?
A: Maybe Miley can join Lauryn Hill and Eric Clapton in the Unplugged Hall of Fame.
Q: Do you have any thoughts on Pete Seeger's passing?
A: Jody Rosen writes of the great folk singer, "There was no I in Seeger's music, only a big, broad, encompassing we — a we that took in the world's worth of social justice causes to which he devoted his life …" Rest in peace.