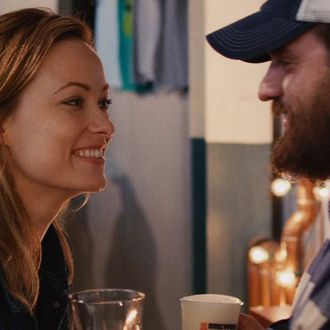 Drinking Buddies
Photo: Magnolia Pictures
At the beginning of (and throughout) every month, Netflix Streaming adds new movies and TV shows to its library. Here is a quick list of several that you might be interested in. Some of these were added halfway through, or near the end of, December, but we're going to include them in this roundup anyway, since you may have missed them. Some of these may also have previously been on Netflix, only to have been removed and then added back. Feel free to note anything we've left out in the comments below. (And for more recommendations on great movies to stream, replay our movie critics' recent live chat where they gave out suggestions to readers.)
Drinking Buddies
Inspired by films like Bob & Carol & Ted & Alice and The Heartbreak Kid, mumblecore founding father Joe Swanberg set out to bring the romantic comedy genre back to Earth. Drinking Buddies touts name stars — Olivia Wilde, Jake Johnson, Anna Kendrick — but Swanberg spins the cheeky banter and relationship-clashing with unexpected casualness. It's messy, it's funny, it's familiar, and it'll make you want to grab a beer.
American Psycho
Go back in time to the year 2000, before author Bret Easton Ellis dominated Twitter with plugs for The Canyons, before a Doctor Who alum signed on to sing and dance as Patrick Bateman, before Mila Kunis starred in a completely misguided, horror-tinged sequel. Pop culture has had its way with American Psycho over the years, but Mary Harron's adaptation remains a razor-sharp satire, sporting one of Christian Bale's best performances and the only movie scene I can think of featuring a kitten-hungry ATM.
The Brady Bunch Movie and A Very Brady Sequel
Someone in Hollywood thinks a Gilligan's Island movie is golden idea. The Brady Bunch movies give us at least a bit of hope. Throwing caution to the wind, the two seventies sitcom adaptations posit how the squeaky-clean Bradys would function in modern society. Both movies are a thousand times better than they sound on paper, to the degree that one can't help but wonder if "Sunshine Day" is actually a great song.
The Grapes of Wrath
John Ford's adaptation of the classic novel is a love letter to the working class and the diversity of America's landscape. Henry Fonda's naturalistic turn as protagonist Tom Joad allows Ford to go wild with his cinematic language, the director bouncing seamlessly from stark reality to shadowy expressionism in order to wring every bit of poeticism out of Steinbeck's visual language.
Big Trouble in Little China
We deserve weirder blockbusters. Pacific Rim was a step in the right direction, but it doesn't compare to a truck driver warding off magic-endowed kung fu soldiers with an uzi. Kurt Russell stars in Big Trouble, a wacked-out action movie that director John Carpenter insists was his throwback to zingy romances  like His Girl Friday. Because if you're going to collide every genre under the sun, you go all the way.
The Apartment
Billy Wilder's dramedy, starring Jack Lemmon as a lowly office drone reignited by the object of his affection (Shirley MacLaine), took home the Best Picture Oscar in 1961. Today, it's hard to imagine a movie so sweet, so intimate, and so character-driven duking it out with the blockbuster-size prestige pictures. If you have never taken the leap into Wilder's oeuvre, this is an ideal entry point.
Mommie Dearest
Faye Dunaway's zany interpretation of actress Joan Crawford recalls the catchphrase of Jon Lovitz's SNL character Master Thespian: "AAAAACTing!" Mommie Dearest is one of the few camp classics that continues to be worthy of the so-bad-it's-good label, with Dunaway's "No wire hangers!" being the tip of the over-the-top iceberg.
New Seasons of TV:
Being Human (Season 3)
Dexter (Season 5–8)
Murder, She Wrote (Seasons 1–12)
Maron (Season 1)
Torchwood: Miracle Day
Alfred Hitchcock Presents (Season 1)
Turbo FAST (Season 1, Netflix exclusive)
Also Available:
The Act of Killing (one of our 10 best movies of 2013.)
All the Boys Love Mandy Lane
3 Women (Robert Altman film)
Hotel Rwanda
Akeelah and the Bee
Amelie
The Amityville Horror (1979)
As I Lay Dying
Beverly Hills Cop III
Big Star: Nothing Can Hurt Me
Breakfast at Tiffany's
Bull Durham
Bulletproof Monk
Changing Lanes
Children of a Lesser God
Control Room
The Day the Earth Stood Still
Days of Thunder
Escape from Alcatraz
Ghost
Ghost Dog: The Way of the Samurai
Good Burger
The Guilt Trip
Hansel & Gretel: Witch Hunters (available Jan. 4)
Harlem Nights
The Haunting in Connecticut
The Iron Lady
Jacob's Ladder
Jack Reacher
Juice
Kevin Hart: Let Me Explain
The Last Stand (available Jan. 5)
Mouse Hunt
Narc
Ninja 2
The Ninth Gate
Planes, Trains, and Automobiles
Play It Again, Sam
Raging Bull
Red Dawn (1984)
Reindeer Games
Saved!
Scrooged
Some Like It Hot
Spaceballs
Stand Up Guys
Star Trek: The Motion Picture
Texas Chainsaw 3D (2013)
Thelma and Louise
Tora! Tora! Tora!
Una Noche
The Virgin Suicides
What's Eating Gilbert Grape
West Side Story