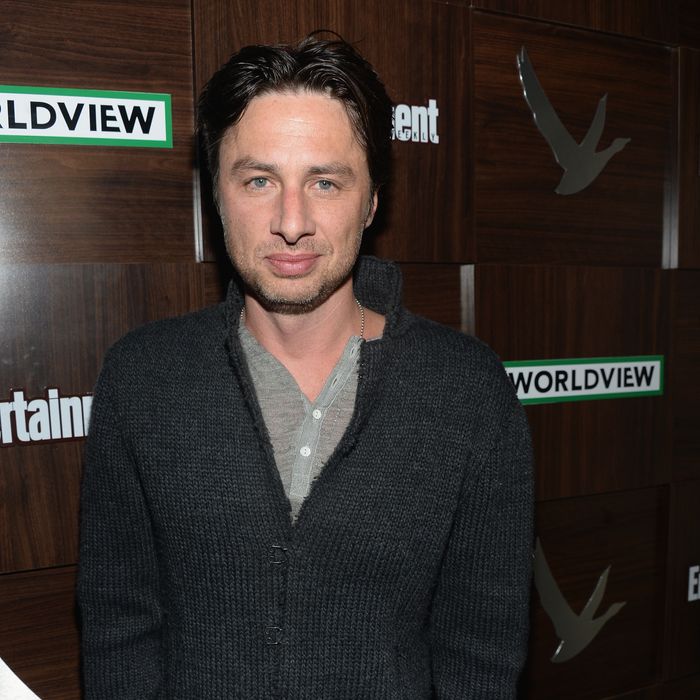 PARK CITY, UT - JANUARY 18: Actor Zach Braff attends the GREY GOOSE Blue Door Hosts "Wish I Was Here" Dinner on January 18, 2014 in Park City, Utah. (Photo by Jamie McCarthy/Getty Images for GREY GOOSE)
Photo: Jamie McCarthy/Getty Images
"You gotta hear this one song. It'll change your life, I swear." With that hyperbolic promise, Natalie Portman put a pair of headphones on Zach Braff's head in Garden State, and the life-changing tune in question — "New Slang" by The Shins — played out onscreen for a memorable spell, the soundtrack to Portman's winning grin. That film was Braff's directorial debut, and he's back at Sundance with his second effort, Wish I Was Here, where The Shins finally get to return the favor: The very first song that plays over the credits is an original composition by frontman James Mercer.
"My trick, if it's a trick, is to cut the scene really well and show it to the people I'm asking," Braff said after the premiere at an audience Q&A. "If it moves them, they usually say yes." (It helps, too, that the Grammy-winning Garden State soundtrack moved over 1.3 million copies back in 2004.) Braff also managed to lure Bon Iver to contribute to Wish I Was Here — "We sent [music supervisor] Mary Ramos to Wisconsin and they wrote a song pretty much on the spot" — and teased another major contribution in the works: "We have another giant act, one of my favorite artists of all time, who's mulling writing something that would be in the theatrical release."
The film is as music-heavy as Garden State, then, but ten years out, Braff's attempting to tackle something more grown-up than that study of mid-twenties malaise: In Wish I Was Here (which Braff wrote with his brother Adam), he plays Aidan Bloom, a nearing-40 father prone to Walter Mitty-like fantasies who's forced to examine his spirituality as the death of his cancer-stricken father (Mandy Patinkin) draws closer. Aidan's kept his two children enrolled at a Jewish private school despite drifting away from religion himself, but as family funds get tight — Aidan is a struggling actor and his wife (Kate Hudson) is the frustrated breadwinner — he decides to home-school them, a quest that quickly morphs from math lessons into something more soul-searching.
"What is our spirituality now?" Braff wondered out loud after the premiere. "So many people we know had organized religion presented to them by their parents and so many people in my generation are stepping away from it, I feel, and going, 'Okay, aspects of it I love — I love holidays, I love Woody Allen movies — but the religion aspect of it doesn't work for me. So what is my spirituality? What spirituality will I teach my children? What is spirituality in 2014?'"
Braff's got a devoted fanbase that will surely be game to explore those questions along with him; despite mixed reviews for Wish I Was Here in Park City (Hitfix's Drew McWeeny awarded the film an A grade, but Variety's Scott Foundas dimissed it as a "cloying compendium of follow-your-dreams platitudes"), buyers are circling, encouraged by Garden State's sleeper-hit success and the pull Braff managed with his fans when he famously financed the film through a Kickstarter campaign. The latter surely put a target on Braff's back — many questioned why the successful star of Scrubs would need to go hat in hand to the Internet for financing — but he said he wouldn't have had it any other way.
"When it came time to make this film, we were presented with all the obstacles that filmmakers are presented with: 'You're gonna have to cut all this, you're gonna have to shoot in Vancouver, the fantasies will go. Cut cut cut cut cut,'" explained Braff, who says he turned to Kickstarter in an attempt to preserve his vision. "My brave producer Stacy said to me, 'You have this amazing, loyal fanbase' — and I really do, I'm so blessed with this loyal, loyal following — and she said, 'It is kind of ballsy to put yourself out there and there'll probably be a few people who go apeshit, but if it were to work, there would be no compromises. You and your brother can make the exact film you have in your brain, with all of its weirdness that people might not understand yet."
Financing came fast: "Our goal was a month," Braff said, "and within 48 hours, the entire project was funded by my fans." We'll soon see whether a distribution deal for Wish I Was Here will prove as swift.