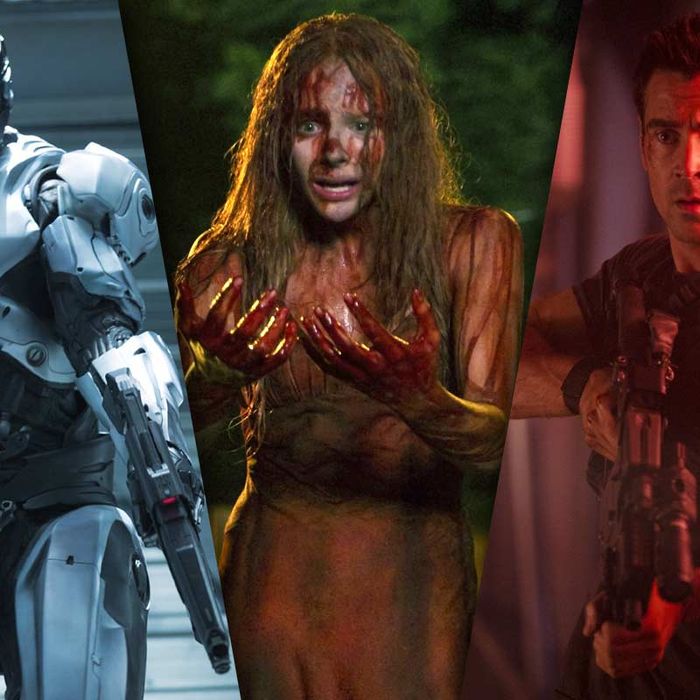 Three remakes of 1980s movies are arriving in theaters today, but neither Robocop, About Last Night, or Endless Love is projected to be a major box office success, and I doubt you're surprised: Lately, it seems like movie remakes have been arriving — and underperforming — with greater frequency, from Carrie to Total Recall to Footloose. Why, then, are studios still so determined to make them? Here are four of the big reasons why the remake trend shows no sign of waning (alas).
1. Because remakes appease shareholders.

Imagine you're a studio executive at Fox, and you've got to go in and pitch next year's slate to a bunch of shareholders and money men. Do you tell them that for February 2015, you've got an original haunted house movie starring Sam Rockwell and Rosemarie DeWitt? Or do you tell them you've cast those two stars in a remake of Poltergeist? It's the latter, a known quantity, that will put your investors at ease: Since these remakes are of movies that were presumably successful the first time around, they feel like less of a gamble. Studio executives have a short half-life, and angry investors can be a thorn in their sides — just look at how hedge funder Daniel Loeb hammered Sony in the press after original pictures After Earth and White House Down flopped — so green-lighting a remake or two is like throwing them red meat. If you want to keep your job and cover your ass, it's what you do.

2. Everything is now based on something else.

Look ahead to the month of March, and virtually every single film debuting in wide release is based on a pre-existing property, from Divergent and Noah (both derived from literary sources) to Need for Speed (based on a video game) to Mr. Peabody and Sherman (adapted from the old cartoon). This is partly because studios are reluctant to take a risk on a property that hasn't already proven itself in some format, but plenty of remakes are generated from years of passive development, too: Studio readers (who are tasked with finding movie-ready concepts in new books, graphic novels, etc., or the studio's own back catalogue) will recommend library titles for remake consideration, executives will then float those properties on open-assignment lists they send out to the agencies, and if someone comes in and pitches a take they like, then everyone is off to the races. (It's hard to imagine that Universal would have green-lit Endless Love, a low-budget teen romance starring two virtual unknowns, any other way.) Library exploitation is a priority for most studios and investors; it's why, after Qatar Holding and Colony Capital bought the Miramax library in 2010, they wooed Harvey and Bob Weinstein back late last year to remake and spin off classic titles from the brothers' glory days, a deal that will produce sequels to Shakespeare in Love and Rounders, amongst others. It isn't enough now for library holders to simply make money on home video and streaming deals — these studios are determined to recycle old titles for new movies and potentially bigger profits.

3. They know you'll pay more attention.
Most journalists panned the idea of the Robocop remake when it was first announced, but you wouldn't have known that by the amount of coverage they then gave it when the film went into production. If Robocop had instead been some generically titled, Joel Kinnaman-led action movie, would there still be so many articles analyzing and speculating about his new robo-suit? Would anyone have clicked on the casting stories? A remake carries built-in interest and can generate plenty of additional angles for press coverage that an original film simply can't, and they're an easier marketing sell to audiences, too: Had Pacific Rim been called Godzilla, I don't think it would have struggled to hit $100 million domestically. Confused audiences wouldn't have had to ask what the film is about — once they saw that name on the billboard, they'd already know.

4. Sometimes, remakes actually work
All it takes is one success to justify an endless ream of failures, and Sony got it in 2010 when the Jaden Smith–led remake of The Karate Kid grossed a mammoth $176 million (and $359 million worldwide). There, everything that could go right with a remake did: Parents familiar with the original movie knew that this was something they could share with their children, and when families turned out in droves to see the movie, there were enough tweaks to the formula (including its Beijing setting) that it still felt fresh. Yes, Sony struggled with its subsequent remake of Total Recall (which didn't earn even half of what its predecessor made in 1990), while Robocop opened softly on Wednesday and likely will stall in the mid-$20 million rage this weekend. But they'll be able to point to The Karate Kid and say, "It worked once, and we thought it would work again" … again and again and again.