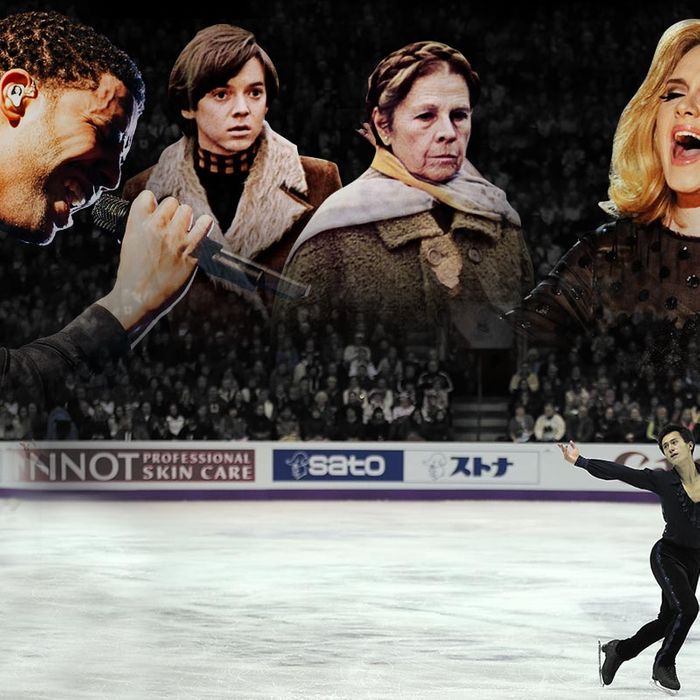 LONDON, ON - MARCH 13: Patrick Chan finishes first in the Men's short program at the ISU World Figure Skating Championships at Budweiser Gardens.
Photo: Steve Russell/2013 Toronto Star
This year's Olympics marks the end of an era for figure skating: After this season, skaters in all disciplines will be able to skate to music with lyrics. They're not obligated to, but they're allowed to — which could lead to some big changes. Not everyone can skate to Carmen every year! Here are a few suggestions of some songs or artists that might make for good skating fare down the road, both with and without lyrics.
1. "Let It Go," From Frozen
Come on, this is a gimme. Someone skate to this.
2. "Someone Like You," Adele
 Yuna Kim skates to this in exhibitions, but it's not one of her iconic programs, so we're declaring the song still up for grabs — for a woman, sure, but especially for a pairs couple. Picture a slightly modish, '60s-inspired ensemble, and a whole program about a breakup, with two people pushing and pulling at each other, wanting to stay together but finding themselves flung (gracefully!) apart.
3. Harold and Maude Medley, Cat Stevens
Something that made the women's programs a little blah this year were the "characters" skaters were portraying: a child during the Holocaust? Eesh. Figure skating's not exactly known for its sense of humor, but it would be great to see a skater embrace a slightly older character, like, say, the braid-wearing, funeral-loving Maude. She could start off to "If You Want to Sing Out, Sing Out," segue into the aggressive part of "Where Do the Children Play?" and end on the triumphant "Miles From Nowhere."
4. The score of Game of Thrones, Ramin Djawadi
First choice: pairs program as Drogo and Daenerys. Second choice: men's program as Jon Snow. Third choice: ladies' program as Arya. Fourth choice: ladies' program as Daenerys. Fifth choice: men's program as Hodor.
5. "Hold On, We're Going Home," Drake featuring Majid Jordan
There's something very dated about a lot of figure skating, particularly in ice dancing and pairs. Skating to Drake would immediately make you the coolest kids in town. Plus, imagine the dreamy ice dance people could do to this song: He's in a white-jacket tux with the tie undone; she's in a slinky silver number; everything is fluid and elegant.
6. Hall and Oates Medley
Sure, it's from the far other end of the coolness spectrum. But if someone embraced the cheesiness and really went for it, "You Make My Dreams" is suddenly the most darling possible song to skate to, whether in a 500 Days of Summer–style solo program for a guy, or as a lovey-dovey perky program for a couple. They could segue into part of "I Can't Go for That" to slow it down a little in the middle before coming back for the big finale.
7. Anything by Beyoncé

One problem with skating to Bey — or Britney or Madonna — is that there are many iconic dance moves already associated with her material. You couldn't skate to "Single Ladies" and not do the hand-waving gesture, just like you couldn't skate to "Vogue" without vogue-ing. Imagine the joy of a pairs program set to "Love on Top," though, maybe with the two in matching gold suits, with a big lift or throw at the climactic modulations in the song. This is but one of seriously hundreds of options.
8. The Rushmore Soundtrack
Maybe even more so than the ladies, men skate to the usual musical suspects — which is one reason Jason Brown's Riverdance program stands out so much. (He's also skated to Prince. Jason Brown is cool.) Start with the upbeat punchiness of "Concrete and Clay," moving into the more languid "A Summer Song," and closing with the heartfelt "Ooh La La."
9. "Wrecking Ball," Miley Cyrus
This is only sort of a joke — the song starts slow and builds to a huge climax, which really lends itself to those explosive skating moments. Picture some intricate choreography at the beginning and then boom, when that first "I came in like a wrecking ball!" kicks in, the skater is doing one of the glorious gravity-defying spread eagle glides.