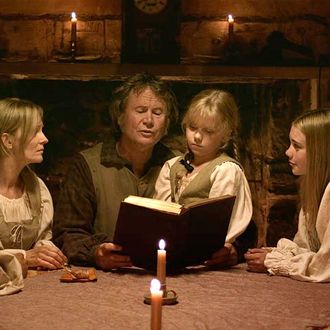 Earlier this week, the Academy took the rare step of rescinding the Best Original Song nomination of "Alone Yet Not Alone," which was composed by Bruce Broughton for the little-seen film of the same name. The reason? Broughton, a former representative of the Music Branch on the Academy's Board of Governors, had used his position to "improperly lobby" for his work. Today, the Academy released a statement that provided more detail about its decision to take "Alone Yet Not Alone" out of the running. It seems that Broughton e-mailed at least 70 of his 240 fellow Music Branch members during the Academy voting period to "direct [their] attention" to his entry (#57). What sounds quite similar to Sheryl Sandberg's "leaning in" in most other circumstances is apparently against the rules.
The Academy explained:
"Nominating process for Original Song is intended to be anonymous, with each eligible song listed only by title and the name of the film in which it is used — the idea being to prevent favoritism and promote unbiased voting.  It's been a long-standing policy and practice of the Academy — as well as a requirement of Rule 5.3 of the 86th Academy Awards Rules—­­to omit composer and lyricist credits from the DVD of eligible songs that are sent to members of the Music Branch.  The Academy wants members to vote for nominees based solely on the achievement of a particular song in a movie, without regard to who may have written it."
"The Academy takes very seriously anything that undermines the integrity of the Oscars voting process," the statement notes. "The Board regretfully concluded that Mr. Broughton's actions did precisely that." In an interview with Hollywood Reporter, Broughton said he is "devastated," but maintains that he only "indulged in the simplest grassroots campaign" in order to be noticed among "competition that had months of promotion and advertising behind them." "I simply asked people to find the song and consider it," he said. Exactly.