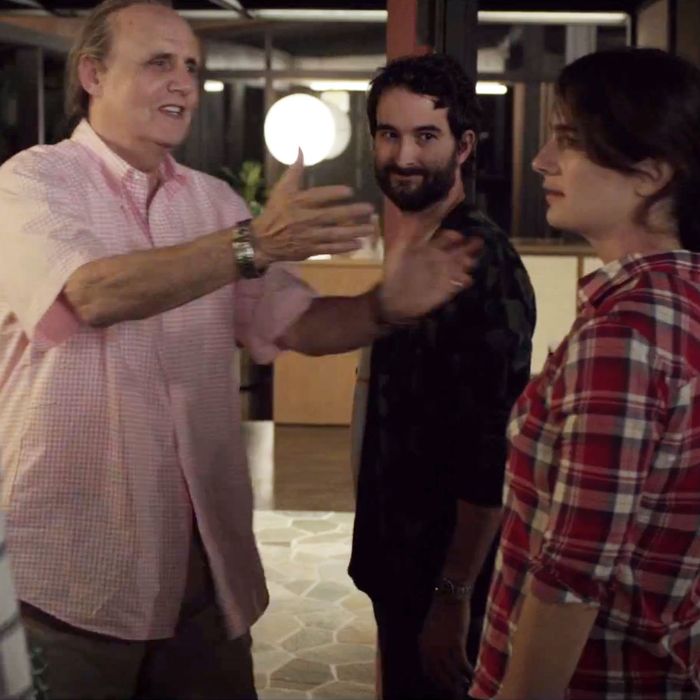 Amazon put up ten new pilots today: five kid shows, two dramas (one by Chris Carter; read Matt Zoller Seitz's review), and three comedies. Let's take a look at the comedies: One of them is dumb, one has promise, and one is magnificent.
Mozart in the Jungle
The setup: The show is loosely inspired by oboist Blair Tindall's memoir of the same name, and is set within the party scene of classical music. The show follows up-and-coming oboist Hailey; the symphony's retiring conductor Thomas; and the audacious, young incoming conductor Rodrigo.
The cast: Lola Kirke stars as Hailey, and if she looks familiar that's because she resembles her sister, Girls' Jemima Kirke. Malcolm McDowell plays the gruff outgoing conductor, and Gael García Bernal plays the sexy new guy. Bernadette Peters also has a small role. The show was created by Roman Coppola, Jason Schwartzman, and two-time Tony nominee Alex Timbers.
How is it? The idea of a show about the secretly debauched world of classical music is fantastic, and the dramatic potential within any rigidly stratified power structure (like a symphony) is tremendous. But Mozart's going for comedy, and it doesn't quite get there; the tone of the show just doesn't make sense. A sequence about how different kinds of instrumentalists make for different kinds of sexual partners (percussionists have great rhythm, jazz musicians like "ensembles," etc.) feels more like a bumper sticker come to life than an actual conversation anyone would ever have, and exchanges like, "Do your lips hurt after playing like that?" "They used to … but now they're used to being abused" might as well be from an oboe-themed porno (The Big O-boe?). At one point, Hailey heads back to her massive warehouse apartment, where she discovers her roommate is mid-party. Of course everyone is a musician, and of course this devolves into a drinking game/spin the bottle/instrument-playing contest, and if there's anything dumber-looking than fake oboe-playing, it's fake flute-playing. Sorry, Mozart.
The Rebels
The setup: When Julie's husband unexpectedly dies, she's left as the owner of a professional football team. Believe it or not, she does not know much about football!
The cast: Natalie Zea (Justified, The Following) stars as Julie, and Hayes MacArthur (Go On, Perfect Couples) plays the washed-up quarterback she can't stop fighting with. (If the show continues, those two are going to hook up. Mark my words!) Affion Crockett plays Lamont, a hard-partying football star, Billy Dee Williams plays the team's coach, and Josh Peck (a.k.a. Josh from Drake and Josh) plays a personal assistant who might secretly be a football genius.
How is it? It's okay! It's pretty silly, and the premise could have gone in a hokey USA-dramedy direction, but Rebels feels more like Californication than Necessary Roughness. At one point, Lamont screams out "who wants to snort some cocaine off my dick head?!" and later, a monkey fires a gun repeatedly at a party. It's not high art, obviously, but neither is The Hangover, and people liked that just fine. Rebels definitely wants to be naughty, and now that I've heard Billy Dee Williams say the word anus, it cannot be undone. But there's a sliver of earnestness and a glimmer of possible charm under all that screaming about dick heads. If you like The League and House of Lies, Rebels might suit you.
Transparent
The setup: Siblings Josh, Ali, and Sarah are each wading through their own brand of L.A. ennui: Sarah's the married mom wondering if her life is too boring, Josh is the hipster music producer cheating on his revolving door of musician girlfriends, and Ali has sort of a failure to launch. Their dad, Mort, calls them over to have dinner, though he can't quite work up the courage to tell them his big news. (I won't spoil it.)
The cast: Amy Landecker (The Paul Reiser Show) plays Sarah, although you'll be forgiven if you keep thinking she's Amy Brenneman. Jay Duplass is Josh, Gaby Hoffmann is Ali, Jeffrey Tambor plays the dad, and Judith Light plays the mom. The show is written and directed by Jill Soloway (Six Feet Under, Sundance darling Afternoon Delight).
How is it? Wonderful. Transparent is my favorite pilot in years, and by a lot. "Boy, it is so hard when someone sees something you do not want them to see," Mort tells Ali in a moment of candor, and that's the thesis of the show, that we hide some things and disclose other things but maybe not as well as we think we do. (Or maybe, accidentally, too well.) Transparent has that sibling intimacy that made Six Feet Under so compelling, and like Afternoon Delight, has characters who are trying to figure out who they are by trying to figure out who they are in bed. Sex, gender, gender presentation, how we see ourselves, how we see each other — a thousand times yes.