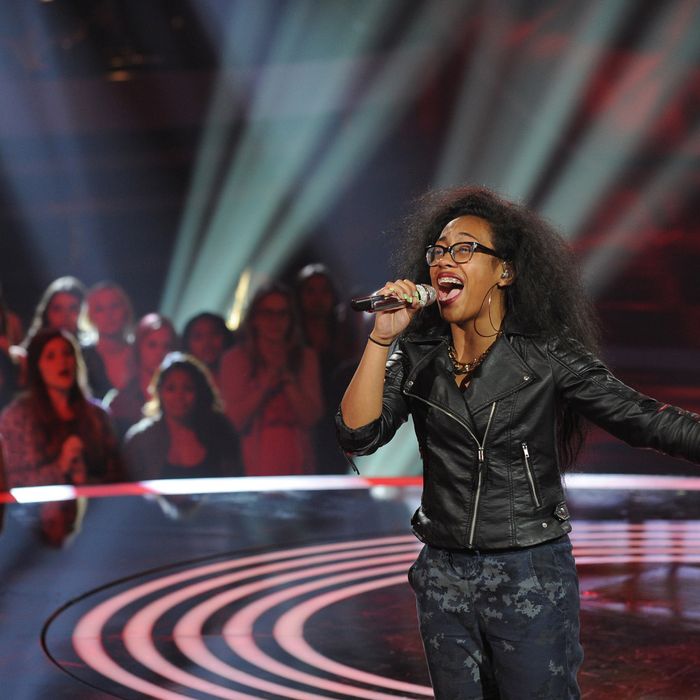 Malaya Watson on American Idol
Photo: Michael Becker / FOX
I know I've spent about 75 percent of these recaps raving about how fast everything is moving, but I seriously can't believe it. I'm so used to American Idol spinning its wheels, stretching everything (except the music) to ten times its normal length. But check this out: It is mid-February, and we are already at the live shows. We'll have a top 13 by the end of this week. If I didn't work in the television industry, I'd swear the producers actually started to have a little bit of respect for their audience.
It's RUSH WEEK! Just like in college, except somehow crueler and therefore much more fun to watch! And here's how it goes: We are down to our top 15 women, ten of whom will perform tonight, and then we will call in and choose the top five. In short, it is going to be a bloodbath. I am prepared to say good-bye to some favorites, and hello to some people I swear I'm only just seeing for the first time.
Alas, one person I will not be missing is Randy Jackson, who is back to act as a mentor this season — a Jimmy Iovine without the insight. Randy says, "I wanted to step away from judging" and take on this new role, and if you believe that, I've got a bridge in New Jersey to sell you. He says a quick hello to the crowd, and then we basically only see him here and there in the pre-performance packages, and when he is here it's still irritating. It's like watching a close pal try to stay friends with her dumbest ex. Just cut the guy loose, Idol.
Leading up to Rush Week, each of our top 30 singers have gone through a sort of Idol boot camp, replete with stylists, vocal coaches, movement coaches, expert advice from Adam Lambert and Chris Daughtry, and NONDENOMINATIONAL SPIRITUAL ADVISERS. No, really. Can we please watch a show that's just the spiritual-advising part? Maybe as a web extra? I need this in my life.
So the way it goes tonight is that all 15 girls are sitting in a backstage holding tank, and they'll just be stuck there until their names are called. Unless they're one of the five whose name is not called, in which case they'll just sit there, getting worse and worse at hiding their desperation. I really, really like this.
Here are your top ten girls and their performances, America:
Majesty Rose: "Happy," by Pharrell
This is a no-brainer. Majesty has charisma, an understated voice, and a rare quality we call "charm." She's a little like a funkier Corinne Bailey Rae. Onstage, she's utterly magnetic, so even if she does botch a few notes in the song's lower parts, I think America will be forgiving. She's just so goddamn likable. The judges praise her confidence, as they should.
Kristen O'Connor: "Turning Tables," by Adele
When Harry says that the next top ten female is a nurse, Kristen straight up starts sprinting for the stage, and I begin to hope that there's another nurse in the top 15. But nope, her instinct is correct. Her voice is mostly correct too, and that's about all I can say about it; she hits all the big notes, but there's just nothing there. She's the Oakland of singers. Somewhere around halfway through the performance, she starts to loosen up, but I fear it's too little too late. Harry says he's "looking forward to seeing how this all works out," which doesn't sound like good news at all. But check out the eyes she gives the camera.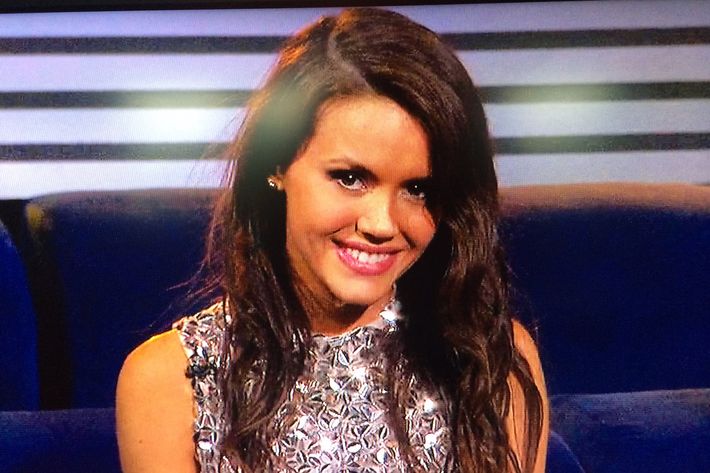 I think we've got a chance with Kristen O'Connor, you guys.

Back from break, Ryan says Randy and the spiritual advisers are trending on Twitter, and then says, "That sounds like a band: Randy & the Spiritual Advisors." Randy counters: "Yeah. Sounds like a band. We're gonna start a band. WHAT?" A little Randy Jackson goes a long way. Can we see how long a way no Randy Jackson would go?
Briana Oakley: "Warrior," by Demi Lovato
So it turns out Briana Oakley might be the Rachel Berry of Idol season 13. She's a little intense, a little icy, a little bit of a perfectionist. By which I mean: That's all anybody backstage can talk about. People line up to tell her to chill, and it sort of almost works; her performance is fine. Her last note is a bummer, and she lacks a real connection to the audience or the material, but … yeah, I don't know why I'm still writing this sentence. I bet she goes home.
Jena Irene: "Paint It Black," by The Rolling Stones
As though this Jena/Gina business wasn't confusing enough, Jena Asciutto is now Jena Irene. (Honestly, she should just start going by one name, and it should be Gina, but it's her life.) This is a bold song choice on a night of pageant-y pleasantness, but the gamble works. She stands out, which is really all you want to do at this stage. Afterwards, Harry asks her what the song is all about in a sentence, and she says "darkness," and then talks about what the song means to her, which is not an answer at all. He concludes that the point of the song doesn't get across, and he might be right, but I still think she'll make it through.
The new slogan for Diet Coke is "You're On," and there's a moment in their new commercial where the words are laid out in such a way that I'd have sworn my television was telling me YOU'RE ON COKE. (It would explain my enthusiasm, frankly.)
Bria Anai: "Wrong Side of a Love Song," by Melanie Fiona
Oh! There's a whole new set, also! It's a little more muted than we're used to seeing. And they're not making the studio audience do the joyless arm-waving they usually have to do through the ballads. They are clapping now, though, and their lack of rhythm may have thrown poor Bria off a bit. Though her song choice is interesting, Harry calls it shouty, and he's correct. Glittery lips can only get you to the top 30 of a national singing contest.
Marialle Sellars: "Roar," by Katy Perry
Okay, Marialle gives us the best and the worst of tonight's performances all at once. The bad: "Roar" is absolutely the wrong song for her. It's out of her range, she's out of breath from the start, and also you just can't bring lyrics these hackneyed to life. Plus she's out of breath and she sounds like she's pushing through the whole thing. But then! Then she falls right out of one of her too-high heels, and like a good improviser, she uses the mistake. She sits right down on the ground and finishes the song with that dumb old shoe held high in the air. She's got spunk, and I'll bet you it saves her. And it'll have to, because her vocals are no good. Harry tells her, patiently, "You have to try to stay in tune," which is kind of hilarious at this stage of a singing competition, but the guy who just won Top Chef had to keep being told to put salt in his food, so I guess you can get pretty far without knowing the basics.
Jessica Meuse: "Drink a Beer," by Luke Bryan
I will pause here to tell you that both Chris Daughtry and Adam Lambert look fantastic. Chris hasn't aged a day, and Adam's look is actually a little understated. (I know!) Plus, they're giving some decent advice: Daughtry wants Jessica to lose her guitar and focus on singing. She doesn't. Her nerves come out in her vocal; there's a ton and a half of vibrato. She sounds like she's singing through a fan. The judges aren't feeling it, and tell her she's disconnected from her material. Off you go, Jessica.
Emily Piriz: "Paris (Ooh La La)," Grace Potter & the Nocturnals
It's a surprise to hear her name called, just because we've seen so little of her. But once she opens her mouth, it's clear she'll go far. She's a bit of an Allison Iraheta in the body of an Olympic ski jumper. Plus she seems comfortable, which a majority of these girls don't. Harry (it's always Harry who says the interesting things, by the way) asks her to say the song's first two lines out loud, and then asks her whether she really, truly wants to be the kind of person who sings such sexy things. You can tell she totally does, and you can also tell her parents are there, and she feels awkward saying it in front of them. Tasty. Emily is officially one to watch.
MK Nobilette: "All of Me," John Legend
Another shocker, if only because Idol's track record with gay people is so spotty. Plus, MK hadn't ever left much of an impression on me. Well. Tonight, she stands out. Her vocals are soulful and subtle, and she's slowly coming out of her shell, which will be an interesting thing to watch unfold. I hope she doesn't get lost in the shuffle. Harry (again) says he found her a little dour before, and it's because she didn't feel like she belonged. But he assures her, "You do belong here," and I'll be damned if it isn't moving.
Malaya Watson: "Hard Times," Ray Charles
And then this goofball comes in and tears the roof off the damn building. Now, listen: It's not a perfect performance. But it has such spirit, such joy, such total uniqueness. She jumps, she hollers, she pouts, she has thick-ass glasses and braces and it works. Put it this way: Malaya has the potential to be a Sanjaya with talent. Can you handle it?
So that means Jillian Jensen, Kenzie Hall, and three other people whose names I've already forgotten are going home. Cold.
Tomorrow, the top 15 boys show up, and Ben Briley — who won the audience vote to come back for the live shows — will be one of them. But will he perform, or will he have gone through that whole exercise just to be sent packing? There is actual suspense!
And for the record, I'm saying Malaya, Majesty, Marialle, MK, and Emily, with Jena coming back as the judges' wild card. Your thoughts?