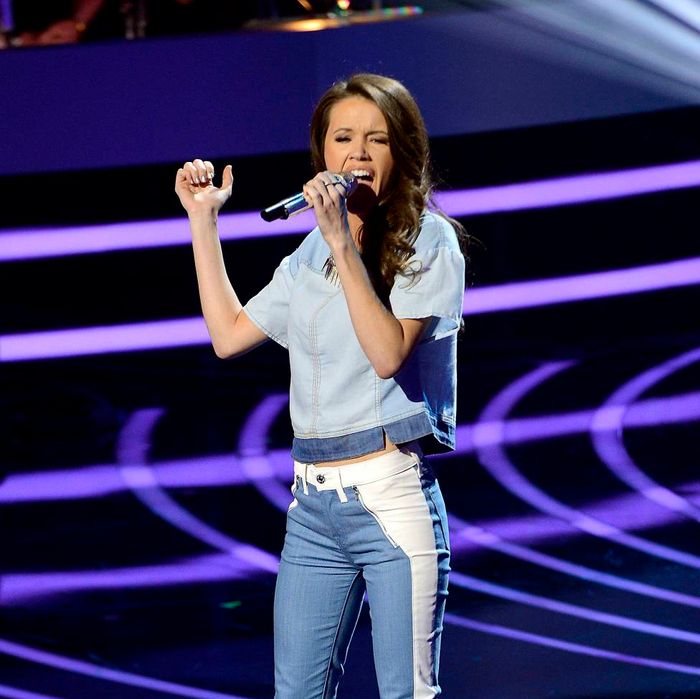 Tonight, the top 13 becomes the top 12! Unless the judges use their save, which they absolutely would never do this early! Are you ready for someone's Idol journey to end? Are you ready for us to quit talking about stints on reality shows as "journeys"? Me too. Television, say something else; I'm giving up on you.
Okay, before we get into it, there's something I have to say: I'm not hating Randy Jackson this year. His new "mentor" role is really just the thing for him; it allows him to dole out little tiny bits of shallow advice, and it speaks to his experience in the studio in a way his judging role never could. Plus, his major on-camera job during the live shows is to set up each performance as the singer is approaching the microphone, so he can't holler and waste time endlessly. He's as quiet and succinct as a golf announcer, and that's the way I like him. Randy, you are … safe.
Tonight's show begins with a tantalizing look at the Idols offstage. This show will never turn into The Real World, but I have always wondered who gets along with whom, and these little peeks get my mouth watering. In tonight's, we learn that Ben doesn't know what kitschy means, which is a thing you could tell just by looking at him. We also learn that Janelle Monae tweeted Majesty after last night's "Tightrope," and the guy from Shinedown did the same for Jessica. I would lose my damn mind if Janelle Monae tweeted me. I would not know who the guy from Shinedown was if he sat in my lap. Anyway, everyone seems to get along just fine, which is a disappointment.
The kids are brought up in groups of four and five, and from each one, a kid is torn from his fellow-journeyers and forced onto a Stool of Shame. Malaya, Jena, Alex, and Ben are our first group, and though I fear for Jena's safety, it is Malaya who's in the bottom three. Jen says she's upset, but that Malaya should have chosen a song that showcased her voice, which is a thing she totally didn't do. Kids today. Alex, it must be said, is in an all-white ensemble that calls to mind a 1982 high-schooler trying to dress like Duran Duran's "Rio" video.
Last year's winner Candice Glover is in the house! It's possible that she's been locked in the house ever since last year's finale! God knows I haven't seen her. Have you? iTunes tells me she has an album out, but there's nary a Glover single in the top 200. She is getting the Melanie Amaro treatment, is what I'm saying. Can Jennifer Hudson lightning strike twice? It'll have to, because the songs are snooze city: "Cried" is a standard-issue belt-a-thon, while "Same Kinda Man" aspires to funk and lands on smooth jazz. She still has a great voice, but she still lacks charisma, which is still a thing you need in 2014. Watch for her on the gay-pride parade circuit this summer.
Oh! Also, the judges have to go through the same video ambush as the contestants did last night: In 20 seconds, they must list five things about themselves that nobody knows. Keith can't do it, because he's thinking too hard about how each fact will impact his brand. Harry does it with ease, all while piling craft-service cheese cubes and a cupcake onto a paper plate. Harry is always ready for action. I respect it. Among Jennifer's fun facts is that her kids are her life, which I guess I believe, but the real thing I learned is a thing she showed but did not tell: Jennifer Lopez chews gum with her mouth open. Knew it.
Next group: MK, Dexter, Majesty, and Sam. I would have pulled Dexter out of this group, but instead the audience has failed MK. Harry says she might not have put enough emotion into her performance, which may have been the case. Or America is in a Fox News–fueled gay rage at this particular moment in history. Probably both.
Our next live performance comes from Jake Bugg, which is a thing I cannot believe. Aren't you a little … credible for this, Jake Bugg? It's like getting 1994 Oasis onto Regis & Kathie Lee. It doesn't make sense, and that's why I love it. It's all part of this season's "tastemakers" program, in which each judge (and Randy) will bring on some of their less-well-known favorites. Watch Randy bring on Jason Derulo or some shit.
The last group consists of CJ, Emily, Kristen, Caleb, and Jessica, and not even Ryan will try to drag out the inevitable: Kristen is in the bottom three. So that's an all-female bottom three, which I believe means the 13-year-old girls of America are once again at the driver's seat.
And indeed, poor, sweet, beautiful Kristen ends her Idol journey tonight. The bummer about coming in 13th is that you can't even come back next year, the way a Casey Thrasher or a Marrialle Sellars could. The Idol journey of number 13 is capital-O Over. And in a delicious new illustration of this fact, the new stage is framed by illuminated photographs of the top 13, and one by one, as the kids are eliminated, their lights are extinguished. Harsh! I love it.