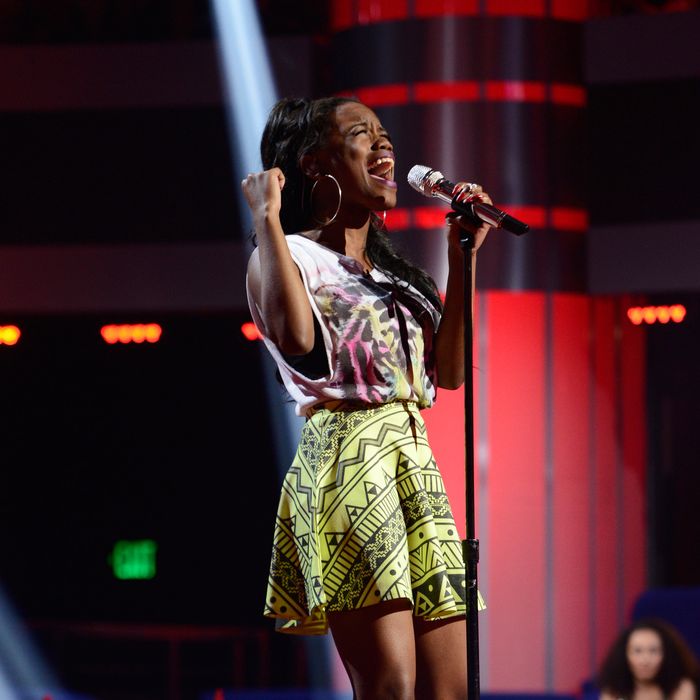 Photo: Michael Becker / FOX
Tonight we announce our top 13, and the real business ofAmerican Idol can truly begin. And not to get all Randy Jackson on you and say the same thing over and over again, but I truly love how we got here. The show is moving along briskly; we're not exhausted the way we usually are at this stage; and, most important for a show of this kind, we've gotten to know just enough of the contestants. We have some favorites, and it's mathematically impossible that we won't say good-bye to at least one of them tonight.
Here's how it's going to work: Ryan will call for the lights to be dimmed — how I have longed to hear that phrase again! — and will call out the top ten from the official voting. Then five more people will sing for the three wild card spots. It's going to be tense! I'm going to be watching from the edge of my seat! Is that weird? It feels weird.
Whatever. Let's meet our top ten:
Malaya Watson! Called it! And how do you think she takes the news? Exactly: She immediately starts playing to the crowd, all but stage-diving before Ryan wrestles her back to her chair. I don't quite know how to feel about her as a singer, but I am in love with her as an entertainer. She is a woman of the people and she is going to be a pleasure to watch.
Ben Briley! Called it! Ben does not acknowledge the crowd, instead basically bouncing to his chair from clear across the stage. He's got spirit, yes he does. Of the men, you have to admit Ben's got the most distinctive look, and I look forward to seeing how he adapts to theme nights and group numbers. (Will there still be theme nights and group numbers? I could take them or leave them, honestly.)
Emily Piriz! Called it! Looks like all that Grace Potter sexy talk paid off. We're just getting to know her, but I for one am intrigued. And let's not forget: At around this time in season one, we hadn't heard much from Kelly Clarkson either.
Alex Preston! Called it! Sort of! (I thought the judges would be the ones to put him through, but America, you done surprised me.) I'm happy about this one: He doesn't fit into any of the easy Idol categories, but I feel like he'll keep us engaged. Dude will have some good song choices, if nothing else.
Jessica Meuse! Did not call it! This is the surprise of the night, by a mile. So far, she's gotten a ton of screen time yet has failed to leave an impression on me as a singer. Oh, I'm aware she's a singer-songwriter, as she's mentioned it 500 times, but her voice hasn't done much for me. Who am I kidding; I don't like her because I can't stand it when people say "drama follows me everywhere" and fail to notice that they bring the drama with them. It's like with roommates: If you hear yourself saying that you have a bad roommate more than once in a row, you are the bad roommate. I digress.
Dexter Roberts! Did not call it! Another shocker, but a much more pleasant one! This makes me happy, because country people who make it to this stage of American Idol are pretty much guaranteed a recording contract, and I genuinely want things to work out for this giant baby.
Caleb Johnson! Called it! And now we're talking; Caleb is going to marry an Adam Lambert level of showmanship to a rootsier singing style, and though I shudder at the Hot Topic rock pants we'll be forced to endure, at least we won't be bored. He picks Ryan up in his victory dance, after which Ryan immediately gets back to business. Harry stops him: "It took you a half-second to be Ryan Seacrest again. You're a genius." He's not wrong. Ryan counters: "I'm like a Christmas ornament being thrown around." Do you throw Christmas ornaments around? Has my family been doing Christmas wrong this whole time?
Majesty Rose! Called it! Of course. What can you even say here?
MK Nobilette! Called it! MK is already divisive, with some people thinking her quiet, understated tone is indicative of a lack of talent, and other people pointing out that that's her whole thing. She's definitely going to have to step it up, confidence and dynamics-wise, but I bet she has it in her. (Also, those two women they keep cutting to: Are they her mothers? Is the gay daughter of two gay women going to turn up on Fox News as an argument against the marriage equality movement?)
So there's one spot for the boys left, and Sam, Spencer, and CJ are all up there. Spencer can take a hike for all I care, but I want Sam and CJ in the top 13. Ultimately, the last spot in the top ten goes to …
Sam Woolf! Called it! It's as much of a no-brainer as Majesty, but I'm still happy to see it.
So now to the wild card performances:
Up first, CJ Harris, who tragically still has his old-timey Banana Republic hat on. He does "Bring It On Home to Me" without his guitar, and his voice is definitely stronger than last night. This particular performance doesn't showcase him in the best way as a singer, but the dude's got heart. Harry tells him he could tell there was a lot of weird stuff going on between him and the band, and that it wasn't his best performance. Jennifer says his soul showed through; Keith says he drifted away from emotional connection to the song.
Next: Jena Irene sings her original song from Hollywood Week, and it's right on the money. Great pitch, tons of emotion — she'll be fine. Keith praises her for staying in the moment, despite the swell of cheers from the crowd. "I'm not gonna lie, I felt pretty good," she replies. Only Keith gives feedback to Jena. It seems like nobody's sure how this is supposed to work.
And then it's Spencer Lloyd, OF COURSE. Ryan takes an extra moment and gives him a totally uncalled-for pep talk: "Think about all those things the judges told you and go get it. Stay in this competition." I've never been one of these people who thinks Ryan Seacrest is gay just because his hair always looks combed, but it is totally possible that in this exact moment, he is looking into Spencer's dreamy youth-pastor eyes and discovering his sexuality. I've seen it happen! Anyway, Spencer does that wet noodle of an original song from Hollywood Week, about how you don't need makeup or whatever. It's "What Makes You Beautiful"–lite, which, I mean, think about that. Also, even though it's a song he wrote for his own voice, he doesn't actually sing it all that well. Jennifer says: "We're gonna talk about it and see how it goes." Good-bye, Spencer Lloyd.
Bria Anai goes next, which is a surprise. She promises "I'm 'bout to put on a show," and her version of "It's a Man's Man's World" is exactly that. I'm not sure if I like the show, but she's at least trying. She's the first wild card person to really sing like her future depends on it. Harry says, "You definitely sang for your life, but it was all over the place. You overshot the mark." Harry says what we're all thinking. Don't you ever leave us, Harry.
And then the super-shocker of the night. With Emmanuel, Malcolm, and Marrialle up there, the last wild card spot goes to Kristen O'Connor. She does Katy Perry's "Unconditionally," and while she is out of tune on the lower notes and shouty on the higher, so is Katy Perry. She's also a little out of sync with the band — what's going on with the band this year? — and Keith tells her she could have brought it up a step or two, but she's definitely got charisma.
I bet it'll be CJ, Jena, and Kristen. And … called it!
This is a talented, diverse top 13, and though I wish Malcolm were in there, I can't complain.
So there it is! Next week, the real shows begin! May we continue at this snappy pace, and may the Ford Focus Music Video never darken our door. See you then.