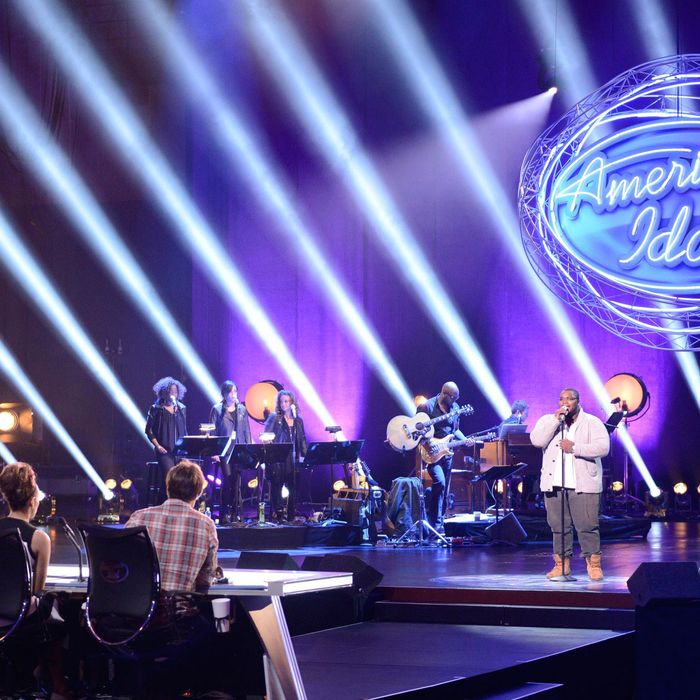 Photo: Michael Becker/FOX
You guys, I've rekindled my relationship with American Idol and things are moving really fast. We are somehow already at the "long, somber walk across the weird hotel ballroom" stage, in just over a month! Live shows will start next week! It's like we're on our second date, and Harry Connick Jr. has already cleared us a drawer.
We get right into the action with a truly solid piece of advice from Harry, who tells the remaining singers never to admit to being sick. He doesn't want to hear it, the audience doesn't want to hear it, nobody can think about anything else after you tell them, and everyone gets sick anyway, so get over it. It's wonderful advice, and it makes me wonder why they sent Sikenya on to the next round last week after she complained about how sick she was. But hey, people are complicated.
The rest of tonight's episode is the top 48 being whittled down to the top 30 (and the producers trying to make us forget that Group Night left us with 77). They take it one by one, so I'll do the same:
Emily Piriz thinks she's been under the radar so far, and she's absolutely right because neither her face nor her name rings a bell. But she makes quite an impression tonight; her earnest version of "Stars" is a real revelation, and her piano skills might make her a less divisive Angie Miller. She's in.
At least they get Spencer Lloyd out of the way early, because there's very little suspense here. He's like an olive-skinned Gaston from Beauty and the Beast, and he's a worship leader, so he's pretty much bulletproof at this point. Jennifer tells him he was an early front-runner, but that he stumbled with the original song he did for his final Hollywood Week performance. And then they show us, and hoo boy. If I may quote Drake, it is wack as fuck: something about how nice clothes make you look nice, and it's nice to look nice because you're beautiful. Yikes. But then we flash back to the Ballroom of Judgment, and we get a nice close-up of his gorgeous lips, and there's no way they're letting him go. In.
Jillian Jensen got eliminated right around this time on X Factor, and I recall she has a really unfortunate cry face. Yep, it is just as I remember, except here on Idol it's tears of joy, because she's in. My other X Factor memory of Jillian is that her grandmother looks like Maxine from the greeting cards, so we have that to look forward to.
We're on quite a roll here, so we're due for some heartache. And we get it: Madelyn Patterson falls short of the mark, but takes it like a champ. Same for Michael Simeon and Sabrina Lentini, but I've been preparing for this moment by forgetting about them both.
You know what the definition of "cockiness" is? It's George Lovett singing Jason Mraz's "I Won't Give Up." George is basically saying: "I can even make this song interesting, just listen." And I'll be damned if he doesn't succeed. He's in.
It turns out the top 48 can either pick a song off a list or do an original, which seems like a new twist. It also seems like a bad idea, because a lot of these originals are bad news. Connor Zwetsch's sounds a lot like "Sweet Home Alabama," and mega-dreamboat Ethan Thompson's is apparently no good either, because the judges talk over it. I don't know whether this means they're both out, but I hope not. Don't you leave me, Ethan.
But some originals are straight beautiful. Sam Woolf's is called "I Tried," and it's an Ed Sheeran—style gut-wrencher about his mother leaving his family. He is of course in. And his adorable gramps is back with him. All is right with the world.
It doesn't last. Total winner Kari Lynn Roche gets tonight's only shocker of a no. Next year?
Malaya Watson looks like someone Denise Huxtable would be friends with, and that would be enough for me. But her voice and her spirit are irresistible. Her final Hollywood Week performance gets off to a bit of a rocky start, until Harry calls a time-out and tells her to make sure she and the band are in the same key. She fixes it, starts again, and slays the shit out of it.  She's in, obviously. Harry doesn't intervene for just anyone.
I'd kind of forgotten about young dad Maurice Townsend, but his version of "Wrecking Ball" is perfect in every way. In!
And then Randy Jackson comes back and is still everything I hate about Randy Jackson. He yells "YO" a million times, and then Harry and Keith do a mock audition for him and they shake their asses and he's all, "NO! NOOO! HA HAAA." Get it? He doesn't want to see male behinds, because he's not gay. Man, that dude's funny.
His cameo is mercifully brief, as are the next couple of judgments. Bria Anai with all of the bold lipstick choices? Yes. Dexter Roberts with all of the flannel? Yes. Emmanuel Zidor with all of the moves from Paris Is Burning? Yes. It's going to be an interesting season.
And then there's MK Nobilette, a lesbian urchin from a Dickens novel. I personally find her "A Team" to be a little shaky, but the judges love her, and in the Ballroom of Judgment, Harry asks her how she feels about being in the competition. She says she's a little scared, because she's "very obviously gay, there are always gonna be people in America and everywhere else who will definitely hate me for it. But I think that in the last two years there have been a lot of things that have really changed that, and have made it a positive thing." "Thank goodness," counters Harry, the guy who couldn't abide Keith London singing "If I Were a Boy" last week. MK is in the top 30, and in the race to have the first openly gay competitor, American Idol is beaten by 72 hours by the University of Missouri football program.
Beautiful, viciously talented nurse Kristen O'Connor: IN, and almost gets me to like Katy Perry's "Unconditionally." Jordan Brisbane, who looks a lot like Shirley Hemphill when you really think about it: IN. Impressive singers Casey McQuillen and Nica Nashae: OUT.
Alex Preston looks like someone who'd play a posh hotel guest on Fawlty Towers, and while I like his voice and song choices, his is going to be a tough face to spend time with. I will have to, because he's in the top 30. So is Malcolm Allen and his Very Yellow Sweater, after a version of "I'm Goin' Down" that makes me forget how tired I am of that song.
And then it's those Thunderdome one-on-one judgments this night is famous for. Andrina Brogden and Leah Guerrero with the Skrillex Hair go in together, and a quick review of their final performances reveals that Andrina is the stronger and more charismatic of the two. So it's a shame that she gets her yes just as Leah's getting her no, and she has to calibrate her celebrating so as not to offend her. (It's a shame and it's also really deliciously awkward. Like, just when Andrina thinks she can pump a fist for the camera, a blubbering Leah is right there. Cold.)
And then we're led to believe that the race between Jessica Meuse and Jesse Roach is so close they actually have to sing again in the B of J. Jessica does a "Simple Kind of Man" with an extra helping of affected rasp, and Jesse does an oddly listless "A New You." The judges send them to the other end of the room as they deliberate, and while there, the ladies have this exchange:
Jesse: You sounded great.
Jessica: Thanks.
[Pause.]
Jesse: How did I sound?
Jessica: [Nods.]
Ice cold! The judges send Jessica through. This one is trouble, folks.
And they save the toughest for last: CJ Harris goes in with Casey Thrasher. Now, I like Casey, but CJ is clearly the better and more interesting singer. Again, they are forced into an a cappella sing-off. CJ goes first, removes his hat like a gentleman, and then blows the roof clean off the building with "Whipping Post". Poor Casey can't help but sound thin by comparison, but his charm and charisma come through, and he's awfully dreamy and marketable. Only one can make it to the top 30, and it's …
To be continued. I am legitimately hanging off a cliff. Damn you, Idol!