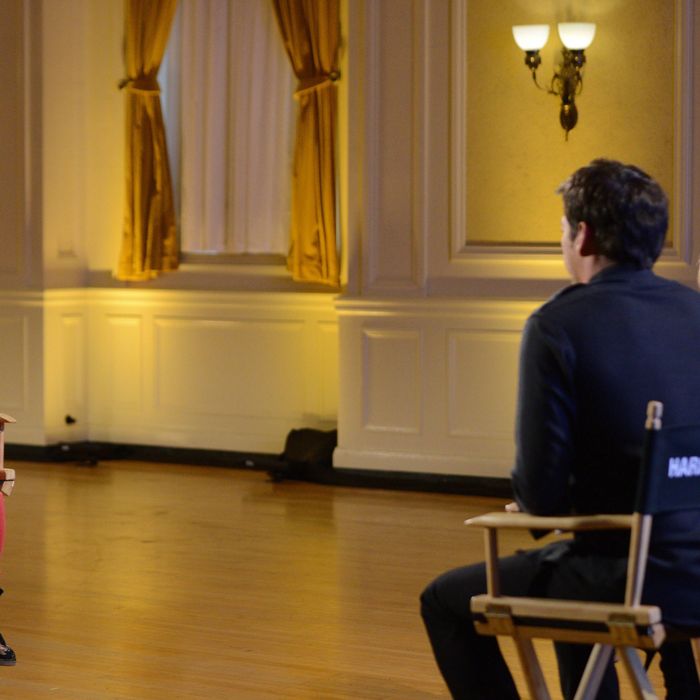 Photo: Michael Becker/FOX
So we pick up right where we left off, with CJ Harris and Casey Thrasher squirming in director's chairs in the Ballroom of Judgment. Remember last night, when they took a year and a half to hem and haw and remind us that only one can go through? And made me think about it today for a longer time than I'm comfortable admitting, even to you? It could go either way, and I'd be happy and bummed-out with either outcome. Both can sing, CJ is a Taye Diggs in the rough, and Casey has charisma even if he does look like Emmet from The Lego Movie. I like both of these guys.
Well, anyway, they're both going through. What a big, dumb waste of time. This is Idol's way of manipulating us emotionally, of creating sympathy for two very marketable guys. They're moving more quickly this season, and they're being less mean, but we are still pawns in their game.
Marialle Sellars opened this whole season, so there's not much suspense as to whether she'll make it to the top 30. She does, even if Harry calls her inconsistent and gives her a spot-on diagnosis of try-too-hard-itis. If she dials back the Hannah Montana act, she could really be a contender.
Harry calls Jena Asciutto "The Sleeper," defining the term as "a movie that nobody thinks it's gonna do well and it ends up exploding." He then stumbles over himself to tell her it's a compliment, because it could very easily be taken as "you look like the kind of person who doesn't succeed." He's right, though; I'd written Jena off as just another brassy, big-voiced Jersey girl, but her original song shows she has layers left to reveal. Which she will, because she's in. (Is she even from Jersey? I could rewind, but I don't feel like it. She exudes Jersey, let's agree on that.)
Caleb Johnson looks like a character from Metalocalypse Babies, and he stops just short of doing the long Ballroom of Judgment walk on a winged horse. Again, Harry and Keith give him a good read; after Caleb's perfectly good solo night performance of "Radioactive," Harry says "I wish he wasn't so committed to the character," and Keith adds "It's all very Rock of Ages." All true! He's got such a huge voice, he doesn't need to pile on all the rock & roll signifiers. But get ready for a lot of leopard print; he's in.
I'd totally forgotten about Ethan Wright, the reedy-voiced country-ish guy who looks a little like a young Paula Poundstone. But here he is, singing "Amazed" on solo night and making the judges wish he'd have picked something else. But he's in, so maybe soon we'll find out what they see in him.
Sarina Joi Crowe and Nalani Quintello are both out, but they're also both 18 and talented, so I'm not going to waste a moment feeling bad for them. David Oliver Willis also gets the boot, which is a little bit more of a bummer, but just a little. (He's 22. Plenty more chances.)
Majesty Rose York is why am I even still writing this sentence you know what happens here. She's a lock for the top three. Mark it. I SAID MARK IT.
Where is my Paula Hunt? You get a Paula Hunt once in a lifetime, Idol! You treat that Paula Hunt with respect. Showing her the door without even a goodbye? I'm legitimately wee-wee'd up about this.
Briston Maroney is that 15-year-old who sounds like Andrew McMahon and plays his great-grandfather's guitar. I wonder how marketable he is, until I hear his solo night rendition of Passenger's "Let Her Go" and remember how many billions of times I've heard that song in the last 12 months, and then it's like: oh, this kid's going to be huge. Harry keeps him on the edge of his seat for a little too long, and then does a big head-fake before telling him he's in, to which Briston immediately responds, sotto voce, "You are a wicked man." He has the poise of a professional and the speech patterns of a Designing Woman. Keep an eye on this one. (What is a briston, though? Is it a car part? A dog breed? A charming British town full of magical secrets?)
Briana Oakley and Brandy Neelly go up the elevator together, and I really hope this is one of those things where they put them both through; even though I like Briana better, I feel Brandy would benefit from some time with the make-up department. Thank goodness, they're both in. Please, someone at Fox make Brandy Neelly's face look less like a Kabuki mask.
Do you want to watch a child endure a difficult session of psychotherapy? I can't help you there, but a glance at Kenzie Hall in the Ballroom of Judgment is probably pretty close. She grimaces, she weeps, she looks like she's going to wriggle right out of her director's chair. But then she makes it, as she should. This season is really firing on all bristons.
Savion Wright comes in playing a ukulele, which makes me pray he'll make it through, because boy, would it be tough to do the Walk of Rejection with a ukulele. The judges serve up a rarely-seen reverse psych-out, making us all think he's in before pulling the rug out. And now the ukulele is going to become a totem of failure for Savion Wright, and for reasons he will never fully understand, he will be strangely tense and moody whenever he sees Zooey Deschanel.
And then we are down to four hopefuls and just two spots. Early favorite Austin Wolfe goes in with Sandie Lee, whose solo-night version of "Bring It on Home to Me" makes me wish I had seen her even once before this moment. Austin did her initial audition with Imagine Dragons' "Radioactive" and revisits it for her final Hollywood Week performance, because why mess with a good thing? Austin is in, Sandie is probably unsatisfied with her amount of airtime.
So the one remaining boys' spot will go to Ben Briley or Neco Starr. Ben's final audition of "Stars" is probably not the kind of thing he should be doing, but he's better at belting than you might think. Neco had to sing for his life in the airplane hangar at the beginning of Hollywood Week, and then later got sick — what did Harry just say about mentioning your illnesses? — and his solo round performance of "Halo" is decent but not much more. Overall, I like Ben's style; in his interview, he says: "All you're gonna git from me is Ben Briley, and that's the only time you're gonna hear me talk about myself in the third person." Team Ben.
And tonight's shocking twist is that America will vote on who gets that last spot! They have never done this before! And by the end of the show, they have told us that they've never done this before seven separate times! Choose wisely. Someone's very special dream hangs in the balance.
Or maybe we can pick them both. Or maybe they'll tell us they named Paula Hunt the winner and call it a day. You never can tell with these people.