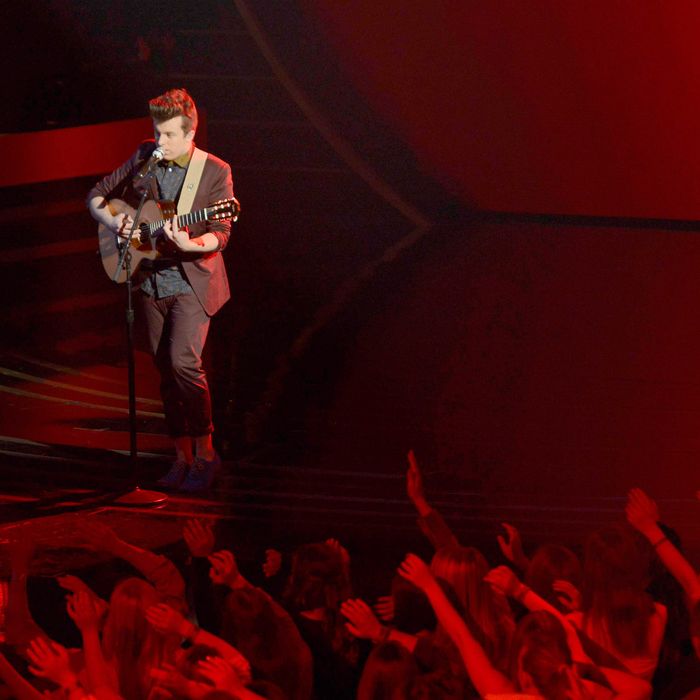 Photo: Michael Becker / FOX
We are finally at week one of American Idol (observed)! We have a top 13, we have a variety of ways to vote for our favorites, and it's still February. This feels like heaven to me. Jennifer Lopez seems to think this whole thing is happening too fast, that the finalists are up onstage before they've had a chance to acclimate themselves to the process, and, you know, yeah. That's part of the fun of this show. If people wanted to watch uniformly polished performances, MTV and VH1 would still have dedicated music-video blocks. We want an occasional train wreck. Bring this shit on, Idol.
The show begins with a montage of the top 13's original auditions, with some of the weirdos mixed in, including the guy who we have since found out was arrested for jacking off in his ice-cream truck in front of children. We could leave that dude out, and let someone's performance go on for two seconds longer, guys! Gross!
Tonight's theme is This Is Me: The Idols get to pick any (preapproved or affordable) song in the American songbook that defines them as artists. To set the tone, Jen is wearing an outfit that says I Am Wendy and/or Lisa in the "When Doves Cry" Video.
So here's how it all goes:
Dexter Roberts, "Aw Naw" by Chris Young
Dexter is a fairly interchangeable country guy, so it makes sense that he would choose an interchangeable country song from a currently successful interchangeable country guy. He doesn't make much of an impression on me, and that might be the point; the country charts are littered with guys I can't tell apart. Keith says he needs to turn it into a Dexter Roberts performance, rather than a karaoke version of a hit country song, but I don't know whether that's true. Chris Young is doing a karaoke version of Luke Bryan who's doing a karaoke version of Kenny Chesney, and they're all millionaires. The only other thing that stands out is that Dexter's mother looks like a character Melanie Hutsell would be playing right now.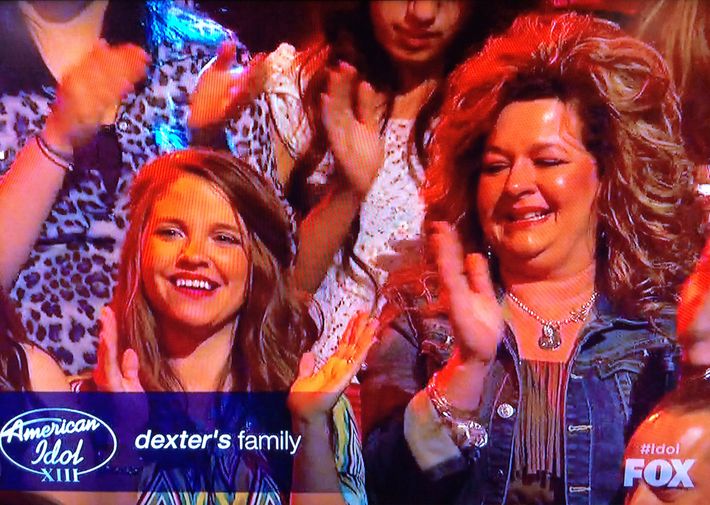 Malaya Watson, "Runaway Baby" by Bruno Mars
One of the running gags of tonight's show is that the producers surprise each Idol and try to get them to say five things about themselves in 20 seconds. It won't surprise you to learn that Malaya is one of the only ones who manages it with time to spare. Oh, this girl's a firecracker. And you know that saying "the best music in all of history came out when you were 13"?  "Runaway Baby" came out when Malaya was 13. So, two things: (1) the rest of us are a billion years old, and (2) it makes sense that she's as attached to this song as she is. But it's not a great fit for her voice; she's sharp all over the place and her braces prevent her from enunciating the way she needs to. The judges all give her actual guidance — things like "sing in tune" and "don't be nervous," because they know what's up: She'll be here for a while. And really, we should be amazed she can do any of this, because look at her mother's rhythm.
Kristin O'Connor, "Beautiful Disaster" by Kelly Clarkson
I wish I liked her more. But as with everything she's done so far, her performance feels like the talent competition in a pageant. Also, she says she's making the song about herself, and when Harry presses her for what she means by that, she says "I came in on the wild card and I have a lot to prove." Oh, she seems nice, but she's just too reserved to make a real impression. More than any other finalist, I want her to cut totally loose, like Olivia Newton-John at the end of Grease.
Ben Briley, "Folsom Prison Blues" by Johnny Cash
I am as surprised as anyone by what I am about to say: Ben Briley is my season 13 crush. Sure, he looks like someone who'd pick a fight with your dad at a barbecue, but there is soul behind those lovely eyes, and a surprisingly versatile voice to boot. He kind of Adam Lamberts this song up a bit, and succeeds in making a very (very, very) familiar song his own. Keith warns him against becoming kitsch, and when I think about it, Ben really does make this prison song oddly cheery. Whatever, I'll take it. Harry calls it the best of the night.
CJ Harris, "Radio" by Darius Rucker
Okay, singing the big song by the other black guy in country is kind of a sucker move, especially when it's as shallow as this one. Coming in as a wild card, CJ needs to remind viewers that his voice has ache. Plus, he doesn't have the bass that this song needs. But he's still incredibly charming, and no matter where they all land, this season is going to launch at least three huge country stars. Harry agrees that it's a weak song choice, and people boo him, but he is right.
MK Nobillette, "Satisfaction" by Allen Stone
MK is wearing makeup! Lots of it! Like, maybe too much! It's like the end of The Breakfast Club when Molly Ringwald goes all MAC Store on Ally Sheedy! She looks pretty, but she never didn't look pretty. (She looks like a low-key Gina Schock from the Go-Gos, actually.) The real problem is that when she's onstage, she looks like she'd rather be anywhere else. There's one moment in the song's breakdown where she sounds super-comfy, but the camera is on a wide shot and then a cutaway of the band. I like this kid, and I hope she sticks around for a while, if only to watch her unclench a bit. Harry says that when she's not singing, she's waiting for her next line, which is true, and which she should watch. Harry is the fucking best; can you even remember the last time there was practical advice on this show? It's a goddamn miracle.
Majesty Rose, "Tightrope" by Janelle Monae
Attitude-wise, this is a fabulous song choice for Majesty. Vocals-wise, maybe not; she can't sustain the crucial sass through the tricky verses. But her natural charisma shines through, and I want to see what she chooses next. All the judges love her. She is wearing a skort, and I will do my best to look past it.
Jena Irene, "The Scientist" by Coldplay
This is an odd choice for ol' Jena. There's not much for her to do in the verse, and while she can get belty in the chorus, she doesn't serve up a lot of vocal variety. I still like it, but I think she's capable of much more, especially in a wide-open week like this one. Also, she is dressed like one of the girls who wanted Punky Brewster to try drugs. Harry says he felt that she understood the meaning of the song, but then he asks her to explain why it's called "The Scientist" and she cannot. Keith says it was best when she leaned into the song, then tells the rest of the gang to lean into theirs as well. Keith has Sheryl Sandberg on his Kindle, I know this much is true.
Alex Preston, "A Beautiful Mess" by Jason Mraz
I have so far failed to mention that Randy Jackson is a part of tonight's show, and that is because he's mostly inoffensive. He's there to give a quick pre-performance appraisal and not much else, and a non-bellowing Randy is a good Randy. He's wrong on his assessment of Alex, though: He wants to make sure Alex's performance isn't too quiet and intimate, because for Randy, everything that isn't a big explosive run-a-thon is garbage. But Alex's whole entire thing is the quiet, intimate moment, which he gives us nicely here. It definitely is weird to have a singer-songwriter type on a show like this; the audience cheers at the big note, because that's all they know how to do, but that's not what Alex is going for. Harry says it was so inward that it alienated him; Randy says just the opposite, and Jen agrees with him. Most pressing, Alex is dressed like Buddy Cole.
Jessica Meuse, "The Crow and the Butterfly" by Shinedown
You have to wonder about a person who can pick any song in the world (or even any song on the preapproved Idol list) and chooses Shinedown. I don't know this particular song, but it strikes me as the kind of thing your local classic-rock station plays once a month to show they're not stuck in the '70s. Vocally, she does well, but physically, she is sub-MK. Jen calls it her favorite vocal performance of the night so far, but that she wants Jess's body to relax. Jen should teach a movement class for these kids, and it should be an online extra.
Emily Piriz, "Glitter in the Air" by Pink
Okay, I love this song, and Emily might be my favorite singer of the bunch. Pitch-wise, it's the best performance of the night, but interpretation-wise, it leaves me cold. This song is about every crazy, strong, terrifying emotion you feel when you're in love, but Emily expresses each one of them by smiling. I get it! Smiles make people like you, and you want people to like you at this stage. But get inside those lyrics, girl! I still dig her, and so do the judges. Even Harry's praise is unreserved.
Sam Woolf, "Unwell" by Matchbox Twenty
Sam looks like the boy who played Tony in the original Witch Mountain movies.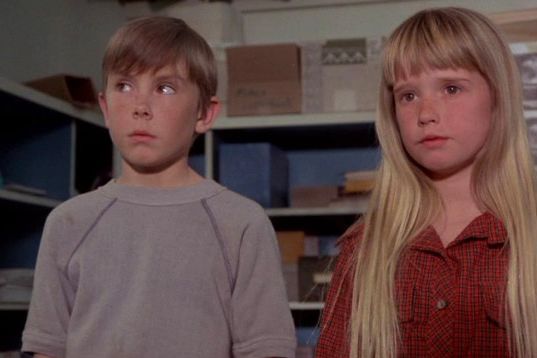 And his version of this song is a little bloodless. Harry agrees: He says it was nice, but that it needed to sound like a person who was actually unwell. Keith thought the tempo was slow. Jen wants him to come alive onstage a little more. None of this matters, because there's no way he won't sail right through to next week.
Caleb Johnson, "Pressure and Time" by Rival Sons
Caleb gets the pimp spot tonight, and deservedly so; he makes a bold song choice, and just absolutely Chris Cornells the ever-loving shit out of it. There's not much that makes me think he'll make it any further than any of the rockers in Idol's history, but he sure does perk the whole show up. Also, there is a curious and very long shot of Taylor Hicks in the audience giving Caleb a judgey look, and I wish it could go on forever.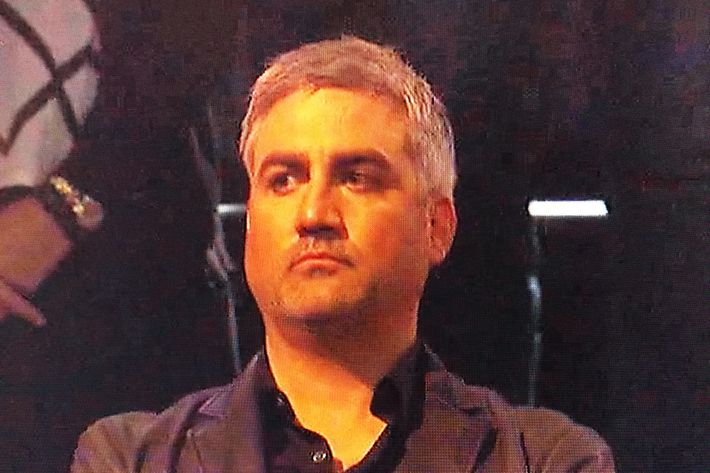 Also also, let's get this kid some leave-in conditioner.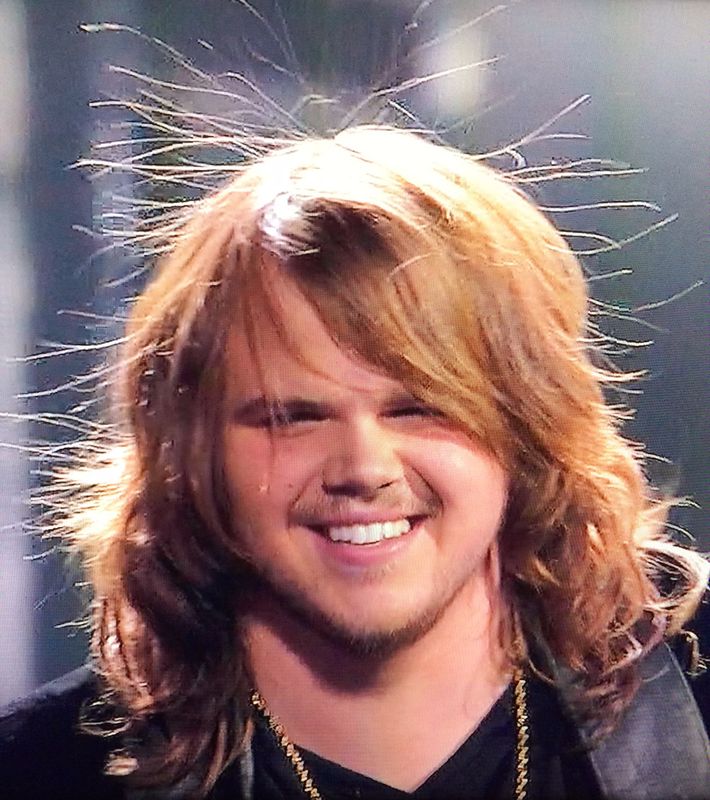 Got some flyways there, dude.
The judges love it, but say they want to know who he is now, which was kind of the point of This Is Me week, so if he didn't show them that, then the case could be made that he lost. (I am dismissing that case.)
Tomorrow, I think Kristin and Dexter are the bottom two, with Kristin going home. But I cannot stress this enough: I am bewildered and confused by my country's choices at all times.