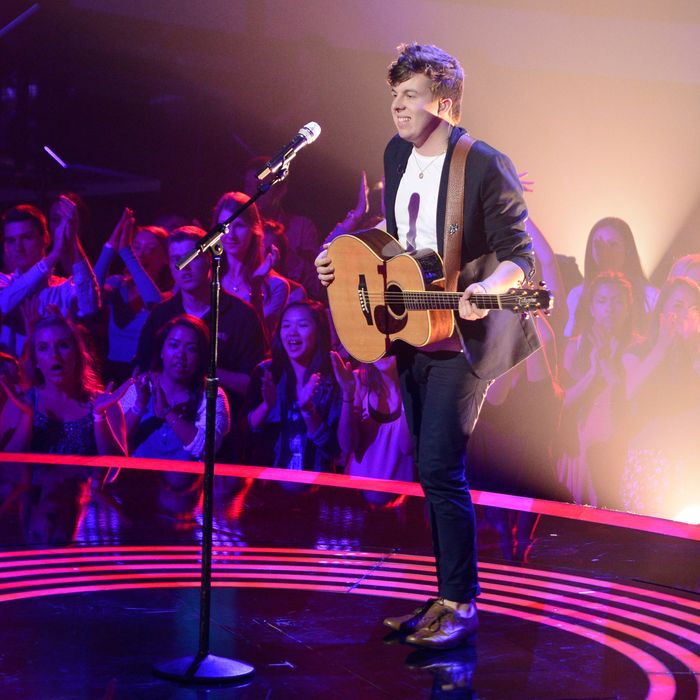 Photo: Michael Becker / FOX
So tonight's Idol starts off with a recap of last night's top ten women, and upon a second viewing, that shit was rough. Almost everyone was shouty and sharp, nervous and breathless, desperate for stardom. There were some standouts for sure, but it's possible that we got these kids on stage in front of a live audience just a touch too quickly. (Too quickly for their sake, that is. For the viewers, who just want to identify who we're rooting for and rooting against, some disasters just keep us engaged.)
Tonight, the top 15 men take the stage, and right off the bat, I don't like Casey Thrasher's chances.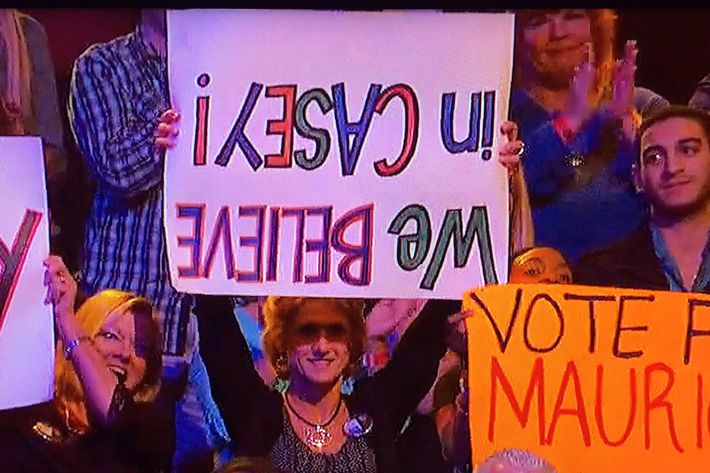 As they did last night, the producers throw together a top-15 montage, and it's a pretty good road map of where this season is going to go. On Saturday Night Live back in the very early 1980s, when Don Pardo would list off the names of the cast, there would be polite audience reaction until he got to Eddie Murphy, at which time the applause would damage the microphones. Even as a kid, I thought: This guy's going to be a superstar. (To a lesser degree, they also exploded for Joe Piscopo. It was a different time.) Tonight, when Spencer Lloyd's name and face are shown onscreen, the girls in the crowd give him the Eddie Murphy treatment (with CJ and Sam in the Piscopo role). At least one of these ten spots is taken, we know that for sure.
Caleb Johnson: "Stay With Me" by Faces
Caleb is this year's Big Rock Guy, kind of a Bo Bice who's been to a lot more Black Crowes concerts. In his mentoring package, he says he wants to work on keeping his eyes open and smiling, and in his performance, he looks like someone who's trying to remember to keep his eyes open and smile. Vocally, he's pretty damn impressive. His voice has a Chris Cornell-ish quality, and even if he comes across as a person who's practiced his swagger, it's still swagger, and I will take it. The judges love it! He also says he wants to lose some weight through this whole stressful process, so bless his heart.
CJ Harris: "Shelter" by Ray LaMontagne
CJ is everyone's sentimental favorite, am I right? It's just impossible to dislike the guy, plus there's truly nobody in the current pop marketplace who's anything like him. I just want this to work out, you guys. And his performance is decent, though he's sitting on a stool, so his voice can't help but feel a tiny bit pinched. Harry tells him he sings consistently sharp, Jen and Keith acknowledge that he's correct, but they don't care. This is the kind of judging I can support. Also, CJ had a root canal yesterday, so he's either in terrible pain or he's out of his head on Vicodin. Really, either case can be good for a singer.
Emmanuel Zidor: "Best of My Love" by The Emotions
Okay, I don't love Emmanuel's voice as much as the judges seem to, but I do love a great big proud sissy on the American Idol stage. This dude has got charisma, I will tell you that much. The performance coaches tell him to nail his vocal, because "the judges won't give you a second chance," and then he goes on to give the most entertaining and worst-sounding performance so far. He's too focused on the prancing, so he sounds out of breath, and the song isn't really in his range. So what do the judges do? The judges give him a second chance; Jen asks him to sing a little of "I'm Goin' Down," just to prove to America that he can sing. Will it be enough? Also, which Paris Is Burning vogue house would you put him in? Extravaganza? LaBeija? Pendavis, probably, right? (Also also, he says he did this song in honor of his favorite Idol contestant, Vonzell Solomon, whose Google Alerts are going fucking crazy right now.)
Sam Woolf: "Babylon" by David Gray
Sam has just been accepted into the Berklee School of Music, so really he's going to be fine no matter what happens. Please don't worry about this ferociously talented, nonthreatening white boy. Also, here's a fun fact: "Babylon" was released when he was one year old. I'd really like to hate this, but oh my goodness, it's pretty great. One gets the impression that he'd rather have done the performance without the accompaniment of Rickey Minor and the band, but even so, his voice is pitch-perfect and clear. The judges agree, with the only minor complaint coming from Harry, who wants him to be more confident. Seriously, Sam: Your fallback position is Berklee and you look like you're made of porcelain. Chin up.
George Lovett: "Grenade" by Bruno Mars
This is a guy who hasn't gotten a lot of screen time so far, but he seems desperate to make up for lost time here. His performance of this song is 100 percent runs, Emotion Dial set to 11. Plus, when you strip it of its production, "Grenade" just isn't that great a song. The judges give George their most severe criticism of the night. Just look at the boss-level stink-eye George's mom gives Keith.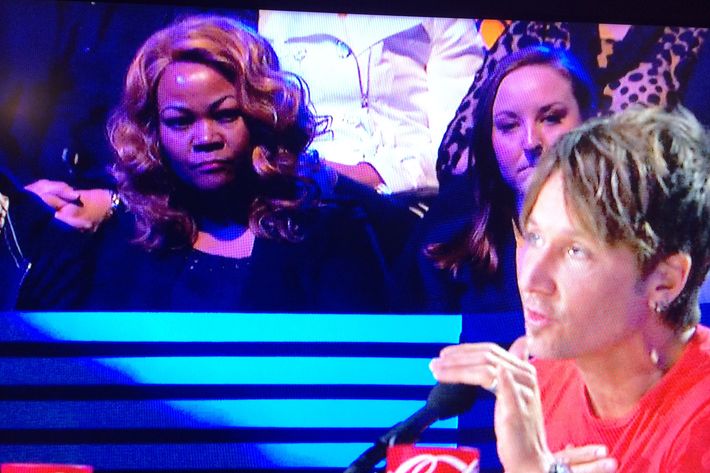 Dexter Roberts: "This Old Boy" by Craig Morgan
I love Dexter Roberts, but he looks like a giant baby, and it's starting to become a distraction. He goes into the mentoring package hoping the stylists can fix his hair. They cannot, but he soliders on admirably, giving the most confident performance so far in the show. He's having fun up there, and even if it's hard to see where he'd fit in a competition with CJ and Ben Briley, you have to know there's a place for him on country radio. The judges are lukewarm, with J.Lo giving the ultimate in faint praise: "You did your thing."
Alex Preston: "Volcano" by Damien Rice
I'm starting to come around on this guy. Alex sounds like the kind of person I would listen to in real life, and there's a weird dissonance seeing him on the Idol stage. He's got a bit of an early Howie Day vibe, and once you get past the face, he's actually enjoyable to watch. There's really never been anyone like him in the Idoldome. My only complaint is that it's a weirdly truncated version of the song, which doesn't give him an opportunity to build. The judges love it. Harry says, "you ended on a nine," and I don't know what that means, but Alex does. End on nines, people. That seems to be the key.
Malcolm Allen: "Comin' From Where I'm From" by Anthony Hamilton
The boys are absolutely crushing it with song choice tonight. This is another early-2000s classic, and while the judges aren't feeling it, I respect the way Malcolm put the emotional content of the song across instead of oversinging it. Malcolm made me listen. And even though Jennifer's review is lukewarm, you know she agrees with me.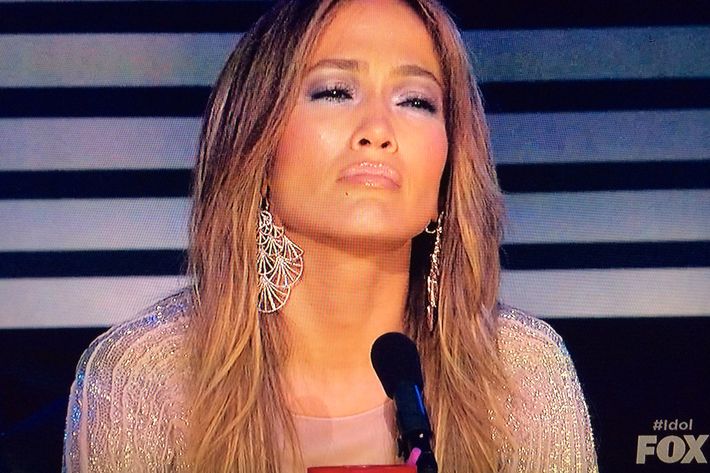 Malcolm, understand: She's feeling you.
Ben Briley: "Soulshine" by The Allman Brothers
So after what they've just put Ben through, there's really no way they couldn't put him on that stage tonight. And he belongs there; he has a strange, scruffy charisma, and I need for him to do some kind of a duet with MK Nobilette. Plus, he plays electric, and takes time out of the middle of his song for a solo. Has anyone even done that before, in 13 seasons of this show? (Rhetorical.) The guys have had more fun tonight than the girls did, and nobody has looked like they were having more fun than Ben. Plus, I respect his massive tie knots. Harry puts it best: "That's not a half-Windsor, that's Windsor Castle, and the whole royal family lives in it." The judges are making good jokes this year, and I don't know what to do about it. Anyway, Ben is a big sexy moose and I hope he goes far.
So we're down to our last pick, and there's no way it won't be Spencer. And so …
Spencer Lloyd: "Love Don't Die" by The Fray
He's a Robby Benson for our multiracial time, this Spencer Lloyd. Too bad his voice isn't all that great. His performance is all Chris Martin in its physicality, and he doesn't have the breath control to sing and move at the same time. Harry says, "This is not your strong suit. This was not good," and he's right. But he gets booed all the same. I think we're just primed to boo whoever sits in the Simon seat.
So mo more Casey Thrasher or Briston Maroney or Shirley Hemphill or the other two. Keith makes the very good point that their mentors Chris and Adam didn't win either, so they have nothing to worry about. Carry on, thwarted young Idols! (Casey's sign-carrying fans don't take it too well.)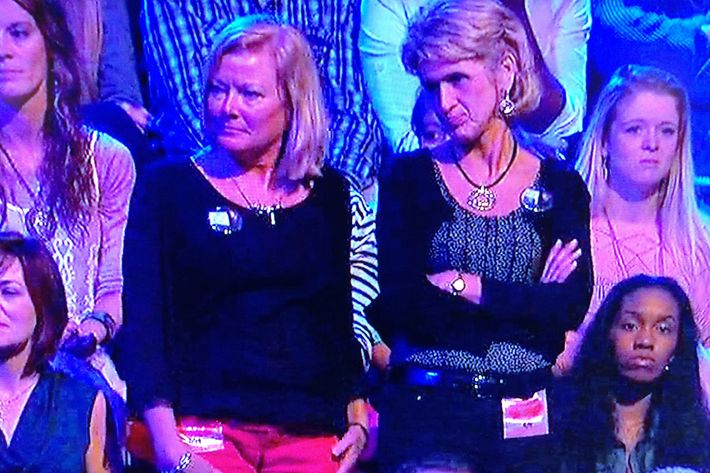 Overall, the boys mopped the floor with the girls, and it's a miscarriage of justice that the top 13 has to be roughly evenly matched. My feeling is that — with a few exceptions — the judges chose boys who want to be musicians and girls who want to be famous. Plenty of strong, quirky women got the shaft in the last few weeks, and I can't say I agree with a Top 20 that includes a Bria and a Kristen.
My predictions are: Caleb, CJ, Sam, Ben, and Spencer, with Alex and Malcolm as the wild cards. But, as I have proven many times before, I have no idea what I'm talking about. Your thoughts?