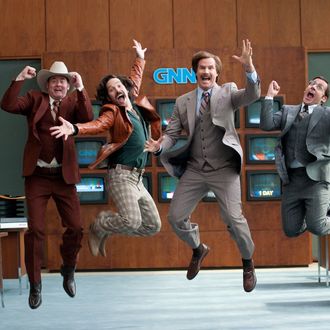 In the re-release, this jump is slightly to the left.
Photo: Paramount Pictures
As is its style, Anchorman 2: The Legend Continues was made with tons of on-camera riffing and improvising. Though that resulted in one of the most joke-heavy movies ever, it also meant a lot of jokes were left out. Well, some of them are going to get their time in the sun, as Anchorman 2 is getting re-released with a complete joke transfusion. This new version, which comes out next Friday and will run for one week, features upwards of 763 new jokes. On the Tonight Show last night, Will Ferrell revealed it will be rated R, about 20 minutes longer than the original's two-hour running time, and include a musical number. (A musical number!) Talking to the New York Times, Adam McKay explained that he knows people will either love or hate the "stitched up, Frankenstein version," with its raunchier jokes and more obscure references. It's good, because the original version definitely wasn't already super weird.