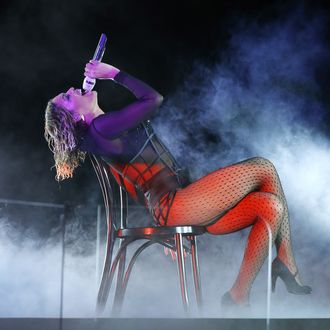 Photo: Michael Tran/2014 Michael Tran
Late on Valentine's Day, one Kanye West released his official remix of Beyoncé's #surfbort anthem, "Drunk in Love." Then everyone else had to release theirs. Below you will find remixes from the Weeknd, T.I., Diplo, and a cover from the lovely Katy B. Never stop listening to "Drunk in Love."
There's Future, who didn't so much as remix or cover the song, but turned it into his own thing — which turns out to be super endearing: "Changing up your last name / F**king in my gold chains." The Future/Ciara fairytale continues.
Angel Haze does a good cover song — that's already well established. But she's not only got the sing part and the rap part of Bey and Jay's "Drunk in Love" on lock ("Skateboard, surfboard, Tom Ford), the flow she uses to replace Jay's verse is one hell of an improvement. Not that it would take much.
James Blake puts the ghosts into "Drunk in Love" — in case you're like me, heard the original, and immediately thought, There are not nearly enough ghosts in this thing. Ridin' on that spoOOooooOOooky surfbort.
The Weeknd also goes big on the creep, changing lyrics to suit his own fantasies: "I woke up in the morning / Models passed out in the shower."
From T.I., an EDM take? Sure:
Same-ish from Diplo:
Rico Love and Plies jump on the surfbort. Together. (It's a longboard.)
Even Detail, who produced the original "Drunk in Love," gets on the remix bandwagon. It's confusing as to why: He made the original and people seem to really like it! This one's got strings and pomp and echoes.
Katy B does a sad surfbort medley — mixing Tinashe's "Vulnerable" with Bey's original:
And how could we forget Vin Diesel, whose future comeback as the leader of a cover band is inevitable (and something I truly cannot wait for.)