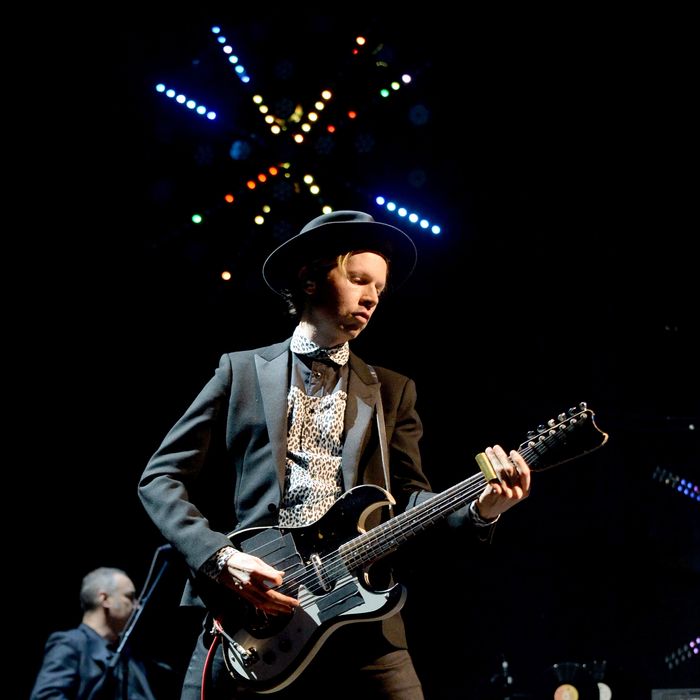 Photo: Jeff Kravitz/FilmMagic

Like so many other Beck albums, Morning Phase is a stylistic shift from its predecessor. The 2008 release Modern Guilt was a terse, gently propulsive affair; the new record is all about stretching and brooding, with languorous codas and moody strings. Beck told Rolling Stone that the overarching theme is "how things do get better" after "long, dark night[s] of the soul — whatever you want to call it." It's a long way from his breakthrough hit, the surrealistically sardonic 1993 Gen-X sing-along "Loser," and an even longer one from the Rio-flecked track "Tropicalia" on 1998's Mutations and the flexing funk of 1999's Midnite Vultures. But if the conventional wisdom is that Beck is a musical chameleon, he's also both an omnivore and a scholar, breaking pop music down to its individual building blocks in order to re-form it. His catalog certainly has a lot to dig into, both in terms of mass — in addition to his dozen studio records, he has been a prolific contributor to soundtracks and written an entire album for the purpose of being recorded by others — and stylistic shifts. But which Beck is the best Beck? Let's tour the canon.
THE EARLY WORK
While Beck's earliest albums, released on independent labels, established him as a master of pastiche and hinted at the way his songcraft will develop, Golden Feelings and Stereopathetic Soulmanure are largely forgettable, their best qualities deliberately dredged in at least an inch of sonic mud. Yet they do have their moments: On "Rowboat," off Soulmanure, Beck sounds as though he's coming off the effects of Novocaine, but the plainly bummed-out lyrics ("she dug a hole in the bottom of my soul / she don't wanna be my friend no more") slice through the fuzz enough for Johnny Cash to have deemed it worthy of covering.
CUT-AND-PASTE BECK
This is probably the version of Beck that casual followers are most aware of, thanks to the huge crater "Loser" made when it crash-landed on the singles charts two decades ago. Beck's mad-scientist approach to genre is a common thread throughout his work, but on certain records, it dominates more than others.
Mellow Gold, his first major-label release, is largely made up of post-folk — just enough of the gunk of his first few releases is cleared away to make the songcraft really shine, particularly on the down-and-out "Pay No Mind" and the shuffling "Nitemare Hippy Girl" — although his slack rapping on "Loser" and "Soul Suckin' Jerk" (as well as the remix of "Flavor," a contribution to Jon Spencer Blues Explosion's 1995 Experimental Remixes EP) would prove a portent for the alt-rock that followed. Odelay opens with "Devil's Haircut," which is built around a riff that thunders into the listener's ears and remains one of his best songs: Its simple driving force is adorned not just by cryptic lyrics ("Love machines on the sympathy crutches/ Discount orgies on the dropout buses," etc.), but by space-age flourishes that wouldn't sound out of place on a Perrey and Kingsley album, as well as the occasional harmonica. Mutations dialed back the big-ticket showmanship a bit, but this tempering showed how Beck's songwriting had grown more conventional since his early days while still having enough left turns — the barroom camaraderie on "O Maria," the spaghetti-western-on-a-budget feel of "Canceled Check" — to make it stick out from the rest of the pack. Midnite Vultures is probably the peak of this edition of Beck and, therefore, of his entire ouevre; it's delighted with itself but not self-satisfied, from the polymorphic pleasures of "Sexx Laws" to the electro-grinding of "Milk & Honey." "Peaches & Cream" hearkens back to the wavering folk of his earliest days, but Beck's lusty falsetto gives it an extra dimension of delight.
These records are Beck's most immediately pleasing efforts, in part because they show him at the peak of his powers. The swagger shooting through "Devil's Haircut," the winking cool of "Tropicalia," the Prince refractions all over Midnite Vultures; Beck would have other peaks later, but they would be slightly smoothed-out compared to these giddy heights.
FOCUSED BECK
In the 2000s, Beck settled into his role as one of alt-rock's elder statesmen, releasing albums (and one-offs like "Everybody's Gotta Learn Sometime," from the soundtrack to Eternal Sunshine of the Spotless Mind) that had a palpable maturity. Earlier in the decade, the idea of popular alt-rock had started to split in the public (and commercial) consciousness: The bands that got radio airplay dug in even more to bro-heavy bombast, while the lighter, sometimes more oddball strand referred to incorrectly as "indie" were more tasteful, worthy of fashion-page mentions and suitable for inclusion in advertisements for cars and iPods. Beck's three records between 2002's Sea Change and this week's Morning Phase split the difference: They were crisp and focused, and further solidified his status as an elder statesman of the 21st century's post-alt landscape, one who could make solid records that, while not as galvanizing as his earlier releases, were brisk and respectable.
"E-Pro," the grimily hummable first single from Guero, conjured enough "Devil's Haircut" memories to get airplay on alt-rock radio, while the The Information track "Think I'm in Love" was a gorgeous, glimmering paean to romance. At times during this period, the extra-musical aspects of Beck's records began to take, if not center stage, at least a more prominent place in the overall picture: "Girl" had a video inspired by Mad Magazine's back-page "Fold-ins"; The Information came with stickers that allowed listeners to design their own covers; he toured with puppets; he embarked on a project where he and his pals remade notable albums over in a day (candidates for reinvention included the Velvet Underground, Leonard Cohen, and Yanni). This extra-musical stuff provided more content for the online music press's ever-turning mill, and could sometimes paradoxically garner more clicks than the simple release of a song. Still, these nods to the changing nature of the industry weren't as callow as, say, Scott Weiland's Christmas album or Dave Grohl's willingness to serve as the unofficial spokesdude for alt-rock.
SERIOUS SINGER-SONGWRITER BECK
If Odelay is the record that one strain of Beck fans gravitates to, the 2002 album Sea Change is the other, and it's come up a lot in the discussion surrounding Morning Phase. Both albums represent a simple, stripped-down, sincere Beck seemingly at odds with his antic side. (Beck bristles at the "sequel" talk put forth by some, though; "It was going back to the same place and seeing where we're all at, like those Seven Up movies, where they go back and see those people every seven years," he told Rolling Stone last year.) Sea Change was produced by longtime Radiohead collaborator Nigel Godrich and featured a top-flight backing band, but it felt almost too restrained, as if Beck's drive to write an album free of tropes borrowed from non-rock popular music drained his songcraft of some fundamental aspect of what had made it fun. (When it came in second in the Village Voice's 2002 Pazz & Jop poll — it lost to Wilco's Yankee Hotel Foxtrot — Robert Christgau groused that it "signal[ed] a retreat [for Beck] by abandoning the sampler for sour strings, gobs of reverb, and passably parsable lyrics.")
Looking back, Sea Change could also be read as a reaction to what was happening in the world that Beck had helped create. After all, he almost instantly became a titan of alt-rock during its heady '90s entrée into the rock-radio canon. Sea Change's release came during a year when the likes of Puddle of Mudd and Nickelback — artists who had taken the message from the "Loser" chorus and decided to run with its most literal, thuddingly self-pitying interpretation — had staked a claim on the format that would eventually leave rock in a pickle, particularly on the radio. Deliberate quietude almost seemed like a direct repudiation of the louder-than-hell hyperventilating and record-scratching elsewhere. "Lost Cause," the first single from Sea Change, peaked at No. 36 on Billboard's Hot Alternative Songs; its follow-up, "Guess I'm Doing Fine," did not chart.
Beck's mellowing out on Sea Change doubled as a sort of energy trough, a reflective period that preceded albums that stood up to the earlier, more sprawling records in his catalog. Morning Phase is more slippery, which makes for a richer listening experience; with age came a crucial loosening up. Watercolor harmonies abound on the quietly rambling "Blackbird Chain"; "Wave" is a brooding, string-laden hymn in which Beck places the word "isolation" in front of a funhouse mirror, turning each syllable into a distorted rumination on being alone. (It brings to mind, of all things, Spiritualized.) "Waking Light" begins as a piano ballad before opening up into a gorgeous, glimmering track with ornate backing vocals and lush strings — it glides into its closing guitar solo, the melancholia never tripping on itself. "Blue Moon" nods slightly toward Americana, Beck's vocals echoing over delicately plucked guitars and drums that recall a pounding heart. These songs might seem far afield from Beck's earliest experiments committed to tape, but they represent a steady evolution by someone who's struck out his own pop music path, and done so unwaveringly.
QUINTESSENTIAL BECK
In 2012, Beck put out a project that looked at first like an exercise in quirk, but turned out to sum up his ethos better than any traditional song or album. Song Reader was published as a 108-page book, containing sheet music for 20 songs and impeccably designed in a way that recalled old publications of "popular music." Many of the titles were straightforward, telegraphing their intent in just a few words: "Don't Act Like Your Heart Isn't Hard"; "Why Did You Make Me Care?"; "Last Night You Were a Dream." In a way, the album's form dictated the function of the songs within. Around the time of its release, Beck told McSweeney's that "attempting, in my own limited way, to get to some idea of what songwriting is at heart — attempting to work from that place — would, at least conceptually, help give the songs a direction." This earnest intent seemed like a big shift in message and a leap toward the almost fetishistically sincere arms of its publisher, McSweeney's.
Beck also said he wanted the project's individual numbers to sound like entrants in the Great American Songbook. And it's true that few parts of his catalogue have material precisely akin to Song Reader compositions like "America, Here's My Boy," which pays homage to those early-20th-century songs told from the perspective of mothers sending their children off to war, sometimes forever. (Sample verse: "I taught him to say words and stand up on his feet / I held his tiny hand as we crossed the street / I told him that his days should be sown with joy / America, where's my boy?") The versions of Song Reader's compositions that have proliferated online since its release only move this idea forward, even if it's not hard to wish that more of the cover versions had Beck's penchant for experimentation — after all, Beck himself told McSweeney's that "these songs are meant to be pulled apart and reshaped."
In that sense, Song Reader actually combines the two poles of Beck, cut-and-past eclecticism and singer-songwriter purity. This spirit of reinvention was on display when Beck incorporated two selections from Song Reader into his set during a show in Prospect Park last summer. On "Heaven's Ladder," he augmented the song with slide guitar and piano, allowing the mournful lyrics and clarion melodies to shine. It gave those on hand a glimpse at the two best-possible Becks, and it sprang, oddly enough, from a project that you can't even listen to.