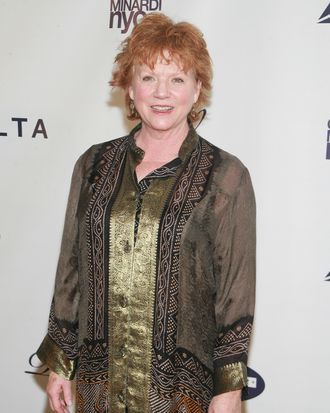 Becky Ann Baker.
Photo: Sylvain Gaboury/?Patrick McMullan
Last night's 30th Annual Drama League Gala was held in honor of Neil Patrick Harris, star of Broadway's upcoming Hedwig and the Angry Inch. But it was apparent that the man on everyone's mind was Philip Seymour Hoffman, whose death was as great a loss to the theater community as it was to the film industry. (Broadway is going to dim its lights tomorrow as a tribute to the late actor.) We asked Becky Ann Baker, whose husband, Dylan Baker, starred with Hoffman in Happiness, for some of her fondest PSH memories. And because there can't be enough fond memories shared about him, she obliged:
He was a great friend of ours … My first great experience with Phil was, he and Dylan were both nominated for Independent Spirit Awards for Happiness, and we were of course at the same table, and he and I were getting really, really bored with the entire proceedings. It was a long, long day, and we went out back and just started chatting, and he told me that day, for some reason — oh, I think it was because everyone was drinking wine — and he started talking about his sobriety, and told me the whole story about going into rehab at a very young age and that he had been sober, and how proud he was of his sobriety. And so I just hope people remember that he was sober for 23 years. And this was — it's a disease, addiction is …

We also would run into Mimi [Hoffman's partner] and Phil and their three kids every Christmas Eve. Our families both did the Christmas caroling under the Washington Square arch. I want people to remember that he was this family guy, too. You know what I mean? He was always known for being this eccentric, but he had this wonderful family and he loved those kids. And every New Year's Eve at five o'clock there's Christmas caroling under the arch with this brass orchestra, and it's a lot of villagers — not that we're villagers, but we pretend that we are. Anyway, those are the things I'll remember, as well as his brilliant work.