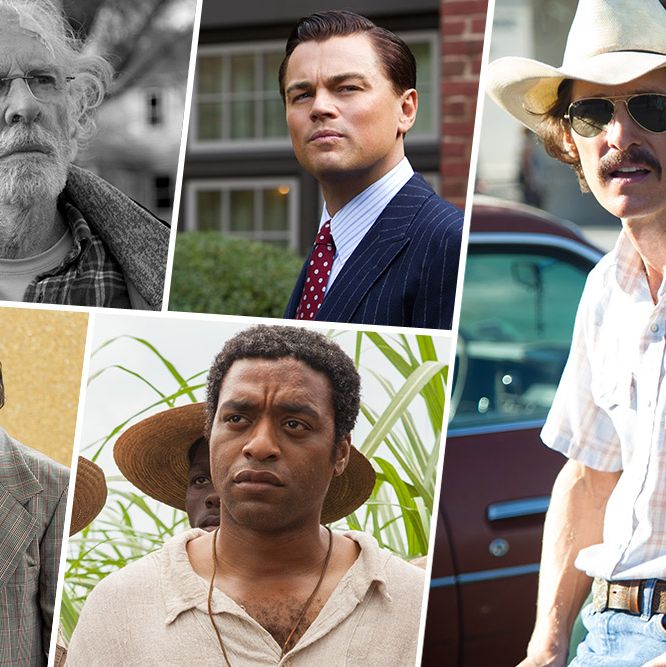 The Nominees
Christian Bale, American Hustle
Bruce Dern, Nebraska
Leonardo DiCaprio, The Wolf of Wall Street
Chiwetel Ejiofor, 12 Years a Slave
Matthew McConaughey, Dallas Buyers Club
Does it seem like all the suspense has gone out of the Oscars' Best Actor race, and that at this point, the only real question left is how lengthy and charmingly Southern-fried Matthew McConaughey's acceptance speech will be? Don't fret, dear Oscar watcher: This category has seen shake-ups all year, and another could happen on March 2. Let's dive deep into this category to determine which dark horses McConaughey ought to keep an eye on. (And feel free to mark your own pick for Best Actor, and all the other Oscar races, over at Vulture's Oscar ballot.)
Yes, 23 out of 24 pundits surveyed by Gold Derby currently have Matthew McConaughey favored to win for his Dallas Buyers Club performance, which has taken home some big baubles of late from the Golden Globes, Screen Actors Guild, and Broadcast Film Critics Association. But it wasn't always so! For much of last year, those same pundits anointed Robert Redford the Best Actor front-runner for his one-man show in All Is Lost, and in the end, that performance wasn't even nominated. Even a few weeks after Dallas Buyers Club debuted for the press at the Toronto Film Festival, Oscar prognosticators still weren't bowled over by McConaughey's chances, as a mere two Gold Derby pundits picked him to win in mid-October, far fewer than those who clung to Redford and 12 Years a Slave star Chiwetel Ejiofor.
The point, then, is that voters will always go their own way. But is there anyone in this category that we can reasonably recognize as a long shot?
With due respect, that'd be Christian Bale. Like his American Hustle leading lady Amy Adams, both are riding a late wave for their movie into Oscar season, but it seems to be carrying her further; Bale, almost without fail, is the nominee that industry folks struggle to remember when I'm discussing the category with them. ("McConaughey, Dern, Dicaprio, Ejiofor … wait, who's the fifth one? Oh yeah, Christian Bale.") To be sure, voters are enamored of American Hustle, which took home the SAG award for Oustanding Performance by a Cast (though Bale himself wasn't nominated), it's just that in the acting races, Hustle's distaff nominees seem to have more heat.
After that, things get interesting, and you could make a reasonable case for each of the three remaining competitors for McConaughey's crown. Let's start with Leonardo DiCaprio, who delivered a dynamic career high point in The Wolf of Wall Street and took home the Golden Globe for Best Actor in a Comedy thanks to a category division that kept him out of McConaughey's race in Drama. That was a high-profile victory over some very worthy nominees, but it's hardly the most predictive precursor: The Globes have also anointed plenty of WTF winners in this category over the last decade, like Robert Downey Jr. for Sherlock Holmes and Paul Giamatti for the already-forgotten Barney's Version.
There are a few other things going in DiCaprio's favor, though, including a big advertising spend (there are billboards in L.A. that no longer even bother to tout the movie's title, merely announcing "HIS BEST PERFORMANCE EVER" over a Wall Street still of DiCaprio) and the sense that he's overdue for a win. This is, after all, DiCaprio's fourth nomination, and he has starred in several Best Picture nominees as well as two winners, Titanic and The Departed. The flipside of that consistent Oscar-worthiness is that it can work against you: As Meryl Streep learned during the nearly 30 years that separated her Best Actress Oscar wins, once the Academy expects you to be nominated on a regular basis, there's no urgency to give you a win, no career spike to construct a compelling narrative from. If DiCaprio loses, he'll surely be back in the hunt again soon.
Chiwetel Ejiofor is a real threat to take the Oscar, too, and after Redford eased his hold on our pundit class at the end of last year, the 12 Years a Slave actor briefly took the front-runner position. This is Ejiofor's first Oscar nomination, and he's also collected some Best Actor wins this season from several critics' organizations, though a really high-profile victory has so far eluded him. It helps that out of all the nominees in this category, Ejiofor's film is the likeliest to win Best Picture, and a 12 Years sweep in key categories like Picture, Supporting Actress, and Adapted Screenplay could give him the edge he needs to triumph in Best Actor. The thing to look out for here is whether Ejiofor can come out ahead in ten days when the BAFTA Awards are handed out. The British awards show is considered the across-the-Atlantic counterpoint to our Oscars and many of its voters are in the Academy; they failed to nominate McConaughey, so this is Ejiofor's best chance to show some strength.
And then there's Bruce Dern. When the 77-year-old actor originally announced his intention to submit for Best Actor instead of Best Supporting Actor — despite the popular opinion that his taciturn character in Nebraska would be far more competitive in the subordinate category — many pundits underrated his chances. They shouldn't have, as Dern has worked harder than anyone to build momentum this awards season, assiduously courting voters all year with a comeback narrative that could prove irresistible. Dern frequently tells the story of how Sydney Pollack once dismissed him as a potential leading man, informing the veteran character actor that he was too woolly and offbeat for those roles; what better victory, then, than one that would come in the Best Actor category up against A-list leading men like DiCaprio, Bale, and McConaughey? It's a triumph against typecasting, and one that the large voting body of actors can relate to. And unlike the other nominees, all of whom are under 45, Dern's presence in this category carries with it an unmistakable last-chance plea.
So can he beat McConaughey? He can, but it won't be easy. McConaughey's role in Dallas Buyers Club is practically catnip to Oscar voters: It's a period piece, he's playing a real person devastated by AIDS, and he lost tons of weight to do it, radically transforming his body. The Academy loves to reward blockbuster stars when they really stretch themselves onscreen, as past beneficiaries like Julia Roberts, Charlize Theron, and Sandra Bullock can attest. And there's a narrative here, an admirable mid-career comeback, that is just as compelling as Dern's. (Not to mention a make-good for McConaughey's nearly nominated Magic Mike performance last year.) So why were pundits so low on McConaughey's chances for so long, before coming around in lockstep agreement just recently? Perhaps that's apropos: McConaughey spent his entire career being underestimated. If everyone agrees he's now the front-runner, it just means they've caught up to what he's capable of.
Likely to win: Matthew McConaughey
Dark horse: Bruce Dern