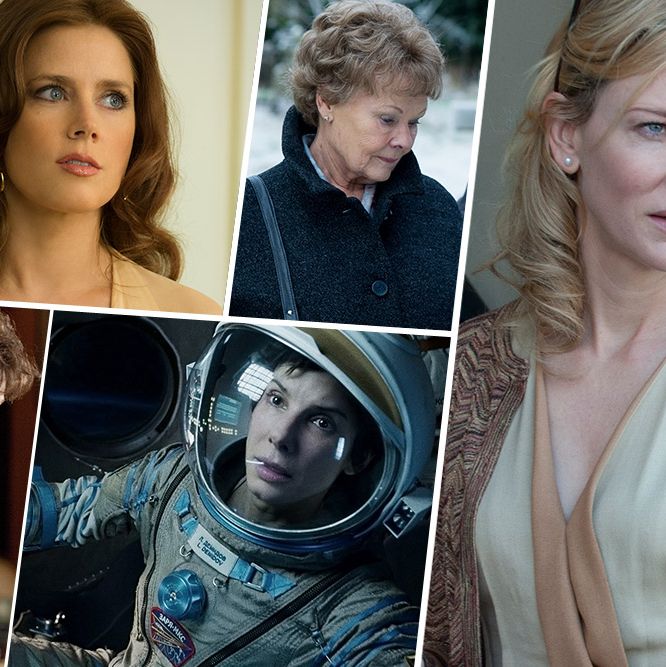 The Nominees
Amy Adams, American Hustle
Cate Blanchett, Blue Jasmine
Sandra Bullock, Gravity
Judi Dench, Philomena
Meryl Streep, August: Osage County
The women who've been nominated for Best Actress aren't playing around this year. Usually, you can count on this category to feature at least one out-of-nowhere newcomer (like Quvenzhané Wallis or Gabourey Sidibe) or ingenue earning her first nomination (like Rooney Mara, Jennifer Lawrence, or Ellen Page), but this time around, we've got a clash of titans: Four of the nominees are former winners, and the fifth, Amy Adams, has already been nominated five times.
And it's exactly that matchup that can work to Adams's advantage. Perhaps the most compelling Oscar narrative that a nominee can leverage is "I'm due" — so much of winning an Oscar comes down to good timing, after all — and when you're up against four ladies who've already taken home the gold before, that angle is thrown into even greater relief. The question, though, is whether it will be enough, since Adams is going up against a formidable competitor in Cate Blanchett.
But before we get to those two (and before you mark your own pick in Vulture's Oscar ballot), let's run down the other three ladies in this category. Do any of them have a shot?
First, there's Meryl Streep, who managed to earn an Oscar nod this year even though many pundits felt she was on the bubble. (Turns out, that bubble popped for Emma Thompson.) Typically, Streep is treated like she can do no wrong, but she got plenty of high-profile pans for her capital-p Performance in August: Osage County, and the movie never quite caught fire with the press or the public. Absent strong reviews coming out of the Toronto Film Festival, the only real buzz on August for months was that the ending was changed to de-emphasize Streep's character, which isn't exactly the sort of takeaway a strong awards campaign is built on. When Streep won two years ago for The Iron Lady, she was out there working it at every event, doing plenty of press, and showing up even to the parties she wasn't obligated to attend. This year, Streep's been considerably lower profile. She knows.
With some of the ladies in this category, you could question whether they're the true protagonist of their nominated film (Julia Roberts, Christian Bale, and Steve Coogan would seem to have the prevailing point of views in August: Osage County, American Hustle, and Philomena, respectively), but there's no doubt that Gravity is the Sandra Bullock show through and through. She's got a terrific character arc that's well-served by how director Alfonso Cuarón chooses to shoot her: Introduced as a meager speck in the distance, so small and unassuming that you don't even realize she's there at first, Bullock ends the movie so heroically swollen that the camera shoots her from below as a staggering giant who can barely fit into the frame. Had Gravity been the first film in this category to screen, I think Bullock would have been considered more of a threat, but everyone who came after Blue Jasmine had to contend with Cate Blanchett's long shadow, and Bullock never quite got out from underneath it.
At 79, Judi Dench is one of this year's oldest nominees, and I'm sort of shocked that Harvey Weinstein didn't engineer a shameless Philomena campaign for her akin to the one Paramount is using for Nebraska, where the constant reminders that Bruce Dern is 77 and June Squibb is 84 carry the distinctly distasteful undertone of "Last chance!" Dench has been nominated for a truly impressive seven Academy Awards, and unlike Streep and Bullock, who both won Oscars recently, Dench's only trophy came over 15 years ago for Shakespeare in Love. (Yes, over 15 years ago. You're old now.) With a track record that stellar and a career that's nearing its end, it's entirely possible that the Academy will want to reward Dench with a second Oscar soon, but she hasn't won anything of note for her Philomena performance, which suggests that a nomination is as far as this one's going to go.
And now we come to Amy Adams and Cate Blanchett. The former has a few things on her side that have allowed her to ascend to dark horse status: In addition to her "I'm due" narrative, Adams is cast against type in American Hustle and plays the lead in a Best Picture nominee, which can't be said of Blanchett. It helps, too, that her performance has momentum. American Hustle was the last of these nominated films to start screening, and it was still in 1,640 theaters as of last weekend, so Adams feels fresh; Blanchett, meanwhile, established her front-runner status last summer, which is an awfully long time to hold onto something. Whether you're looking at the long arc of her Oscar-courting career or the short-term success of her currently popular and profitable movie, it can't be denied that Adams is on an upswing.
But what of Blanchett's momentum? Has she been able to sustain it for several months, or is it fading fast? It's here that I am obligated to bring up the Woody Allen imbroglio, which Blanchett has deftly ducked but that has inspired no end of worry by the pundit class, who think that voters will be less inclined to reward Blanchett if they feel it will be considered an endorsement of Allen. Mark Harris has already skewered that line of thinking, but I think it's moot anyway: These last-minute controversies rarely dissuade voters and are often blown out of proportion by a bored Oscar punditry who are eager to seize on, say, Melissa Leo's infamous For Your Consideration ads as the pivot point for a potential upset. It didn't happen that year, when Leo still won, and I suspect it won't happen this year, when Oscar voters (a demographic about as sympathetic to Allen as you could possibly find) will still likely choose Cate Blanchett. It may be closer than you would have forecast three months ago, but when it comes down to Blanchett's Jeanette/Jasmine versus Adams's Sydney/Edith, I'm sticking with Blanchett's titanic turn.
Likely to win: Cate Blanchett
Dark horse: Amy Adams