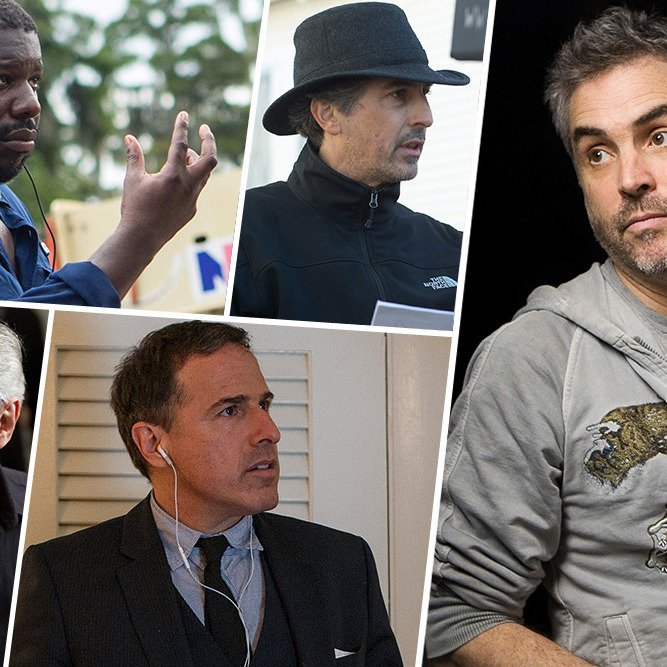 The Nominees
Alfonso Cuarón, Gravity
Steve McQueen, 12 Years a Slave
Alexander Payne, Nebraska
David O. Russell, American Hustle
Martin Scorsese, The Wolf of Wall Street
It's rare that you can predict a Best Director/Best Picture split at the Oscars with a high degree of certainty. Yes, everybody called it last year, since Ben Affleck didn't even land a Best Director nomination for his Best Picture winner, Argo, but typically, the Director/Picture split is sort of a last-minute shocker: Think of Shakespeare in Love pulling the rug out from Saving Private Ryan's Best Director winner, Steven Spielberg, or Crash snatching the final Oscar from Brokeback Mountain director Ang Lee, or even Roman Polanski's unexpected Best Director win for The Pianist in a year when Chicago took home Best Picture.
So we've got something really unusual on our hands this year when everyone and their mother is predicting Alfonso Cuarón to win Best Director for his virtuoso work on Gravity, and yet 12 Years a Slave is still widely expected to win Best Picture. Can the tricky Director/Picture split really be this simple? Or is there a surprise still to come? Let's dive deep into the Best Director category before we plumb Picture tomorrow.
First, we'll start with this group's most weakly positioned members. On paper, Alexander Payne has an enviable Oscar track record: He's scored Best Director nominations for his last three movies — Nebraska, The Descendants, and Sideways — all of which were nominated for Best Picture as well. He has also won more Academy Awards than anyone else in this category (sorry, Martin Scorsese!), but both of Payne's statuettes were received for Best Adapted Screenplay, the category he conquered with The Descendants and Sideways. So while Payne could make the same "I'm due" case as his fellow three-time Best Director nominee David O. Russell, the simple fact is that Payne's Oscar shelf is already well-stocked. He's also the least flashy aspirant in this group, an even-keeled intellectual who has made the category's most modest movie. Payne seems destined to take home a Best Director trophy at some point, but it won't happen this year.
The Wolf of Wall Street has had a better Oscar showing than was augured by its initially rocky reception, and Martin Scorsese made it onto a Best Director short list that some had thought he might miss. Still, this is a tough race for him to make any headway in. The awards season precursors showed Scorsese very little love, and he's trailing a trio of extremely exciting auteurs who've never won an Oscar. Scorsese's recent declaration that he only has a few films left in him could up the ante a bit, but the anti-Wolf faction of the Academy, perturbed by the film's supposed moralistic failings, lays the blame squarely at Scorsese's feet. If Wolf pulls out a shocking win, it's going to be in one of the acting races, not here.
And then we come to the two Best Director nominees, who both have an actual shot at the gold, yet still remain dwarfed by Alfonso Cuarón's overwhelming odds. First, there's David O. Russell, whose remarkable mid-career comeback can be measured in awards adulation: Like Payne, he's been nominated for Best Director on his last three movies — American Hustle, Silver Linings Playbook, and The Fighter — and he's done incredibly well by the stars of those films, nearly all of whom have been nominated for their performances and three of whom have won. He works much more aggressively than Payne does, though: While Payne's last three Oscar-nominated pictures have come over a decade-long span of time, Russell has made all three of his big movies since 2010, which gives him a lot of momentum in this race. A Best Director win for him would feel like the capper to that unofficial trilogy, and American Hustle's big SAG win for Outstanding Performance by a Cast suggests he has a shot, since actors make up the Oscars' largest voting body.
There's also Steve McQueen, who broke into the Oscar race for the first time this year with 12 Years a Slave, his third feature. It would be historic if McQueen was victorious since no black filmmaker has ever won the Best Director trophy, and only John Singleton and Lee Daniels have been nominated before him in this category. It could be argued that McQueen has the upper hand over Russell because he directed the likely Best Picture winner, but Russell has been courting the same Oscar voters for three nearly consecutive seasons now, so it remains a very close race. Had McQueen won the Best Director trophy at this past weekend's BAFTAs, that could have signaled a shake-up: The organization is putatively friendlier to British filmmakers, and that was surely McQueen's last, best chance to get a big prize before the Oscars.
But instead, the BAFTAs handed their Best Director prize to Alfonso Cuarón, and the Oscars will likely follow suit. Like last year's Best Director winner, Ang Lee, who won in an Argo year for helming Life of Pi, Cuarón spent several years working on the technically arduous Gravity and delivered something so unique, so independent in its spirit and format, that it almost belies the big budget. No film is easy to make but on its face, Cuarón's was the most difficult out of these five, and that will go a long way with the voters, who nominated Cuarón in two other categories this year, Best Picture and Best Film Editing. He's likely to win at least one of those three prizes, and this is his most-sure shot, though Gravity has been a gainer for Best Picture ever since its PGA tie with 12 Years a Slave.
Is it unwise to predict a Best Picture/Best Director split with this degree of confidence, then, since they're so often predicated on a big surprise? Perhaps, but we've been trending into splitsville more and more in recent years: Five out of the last 15 Picture/Director races were divided in that manner, or one out of three. Those odds aren't so odd after all, are they?
Likely to win: Alfonso Cuarón
Dark horse: Steve McQueen