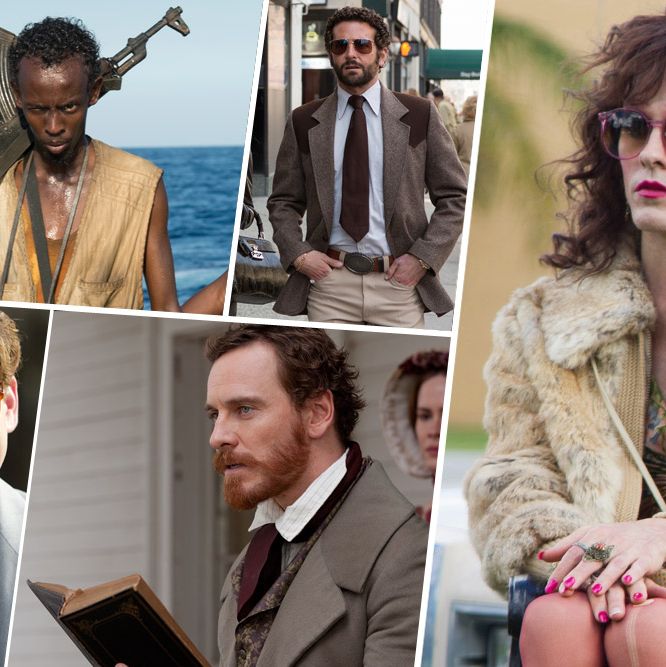 The Nominees
Barkhad Abdi, Captain Phillips
Bradley Cooper, American Hustle
Michael Fassbender, 12 Years a Slave
Jonah Hill, The Wolf of Wall Street
Jared Leto, Dallas Buyers Club
The Best Supporting Actor category tends to be stocked with white-haired veterans, but not this time: Last year, there was no nominee under 45, and this year, they all are. But do you want to know the really weird part? This crop of Best Supporting Actor nominees is so young that the veteran in the category — the oldest of these five nominees who's been working in the business more than two decades longer than some of his competitors — is Jared Leto. Somehow, when we weren't looking, the ageless vampire rock star has become the oldest dude in the room. This is some real down-is-up, left-is-right, cats-and-dogs-are-living-together craziness, y'all.
But it's something we'd better wrap our heads around, because on March 2, something even more unusual is likely to occur: The guy who played Jordan Catalano on My So-Called Life, the guy whose most previously notable contributions to cinema involved a brutal beating supervised by Brad Pitt in Fight Club and a brutal axeing delivered by Christian Bale in American Psycho, is almost certainly going to win the Oscar. (Although he should watch out, because his former screen tormentors Pitt and Bale are both Oscar-nominated this year — Pitt for producing 12 Years a Slave — and Leto's walk up to the podium to accept his Academy Award could be awfully triggering.)
For most of Oscar season, it was assumed that the lockiest lock who ever locked, the acting nominee with the most surefire chance of winning, was indubitably Blue Jasmine's Cate Blanchett, and while we'll dig into that Best Actress race next time, Blanchett no longer feels like as ironclad a pick — in part, because the surging Amy Adams feels like she could have a real chance at the gold. By contrast, though, is there anyone in this category who feels like he could beat Leto? Let's go over his competitors, one by one (and be sure to fill out Vulture's Oscar ballot afterwards in the hopes of winning the $500 prize.)
We'll start with Bradley Cooper. Now, listen: You guys can have your Amy Adamses and your Jennifer Lawrences, but for my money, Cooper is the MVP of American Hustle, a quicksilver performer who's so energetic and engaged that when I watched the film a second time, I was impatiently tapping my fingers until he turned up onscreen. Cooper has been Oscar-nominated twice in two years, and his is the most widely seen film in this category, with a stellar $138 million in the till so far. But does this performance feel like a major moment for Cooper, the same way it does for Adams and Lawrence? I'd argue that came last year with his nomination for Silver Linings Playbook, where he had a lead role that completely transformed how he's considered in this industry; in comparison, his performance in American Hustle could just be considered Cooper doing very good work.
Jonah Hill, too, is a two-time nominee who's pulled off a feat of career reinvention after earning Oscar recognition for his work in Moneyball and, now, The Wolf of Wall Street. I think the latter isn't as much of a stretch for Hill as it seems — for most of Wolf's running time, it's a movie as comedic as anything he has ever done — but no matter, because he's great in it. This is bound to be one of his most iconic roles, and if the film had been just a tad better received from the jump, with more across-the-board praise instead of the wildly polarized reviews it got, I would think Hill more of a threat. (Additionally, Wolf seems to be putting all its eggs into Leonardo DiCaprio's basket at the moment.) As it is, I'd only give Hill the edge here over Cooper, which is apropos since he beat Cooper for the Wolf of Wall Street role, too.
Do you think I'm erring by putting Michael Fassbender in the middle of this pack? Plenty of pundits think that the 12 Years a Slave star is the only nominee with a plausible chance of topping Leto, and at times, I've been one of them. Fassbender is a very hot, well-respected actor, and many thought he was unfairly snubbed of an Oscar nod for his role in Shame, so it's possible that this race could be seen as a make-good. But after Fassbender played the Oscar game to no avail for that movie, he became disillusioned with awards season, and he loudly proclaimed at the start of this one that he'd be doing no campaigning. (True to his word, he eschewed voter schmoozing over the last few months to shoot a new take on Macbeth opposite Marion Cotillard.) If the role is good enough, that shouldn't matter, and other non-campaigners like Mo'Nique and Joaquin Phoenix have been recognized for their work in the past. Thing is, I just don't hear people talking about this performance anymore: All the 12 Years acting heat right now is on Lupita Nyong'o. Fassbender would be a worthy winner, but the Academy may not feel this is the time yet.
Call it a hunch, then, but I feel like this category's second-best-positioned nominee is Barkhad Abdi from Captain Phillips. He's got consistency in his corner, earning three crucial nominations this season — from the Screen Actors Guild, the Golden Globes, and the BAFTAs — that only Fassbender can match. He's likable, humble, and has shown up to countless precursor parties and events. He's got a great narrative, as he was plucked from obscurity in Minnesota to act in this film, his first. And not only does he do a great job holding his own opposite Tom Hanks, he gets to deliver one of this Oscar season's few iconic lines, "I'm the captain now." Captain Phillips is a widely admired movie that has no shot at winning the top prize, and I wonder if the voters who really dig it might look at Abdi as their best chance to reward it. That's the sort of thing that happened a few years ago when Tilda Swinton won a supporting actress Oscar for Michael Clayton: A strong, older contingent of the Academy wanted to give that movie gold somehow, and everyone settled on Swinton.
But I suspect we'll never know for certain who the runner-up in this category was, because Jared Leto is steamrolling his way to a victory. Leto has picked up every major prize thus far, and his Dallas Buyers Club performance ticks off so many different Academy-friendly boxes — it's a comeback role, he lost weight for it, he transformed his look, the character is suffering from a fatal disease, etc. — that he's nigh-invincible. There have been some concerns from the LGBT community about his acceptance speeches (and the movie, frankly), but for the most part, Leto has acquitted himself well all season, charming voter after voter with his bountiful rock star charisma. He's gone to nearly every event and made himself available for countless press opportunities, very effectively toeing the line between "I want this" and "I'm desperate," and that does matter to the Academy: They'd rather hand that Oscar to someone who'll appreciate it than someone who'll FedEx it to their agent and play it down for the rest of their lives. A few years ago, if you'd said that Jared Leto would someday be a lock to win an Oscar, few would have believed it; now, it'd be unwise to believe anything else.
Likely to win: Jared Leto
Dark horse: Barkhad Abdi