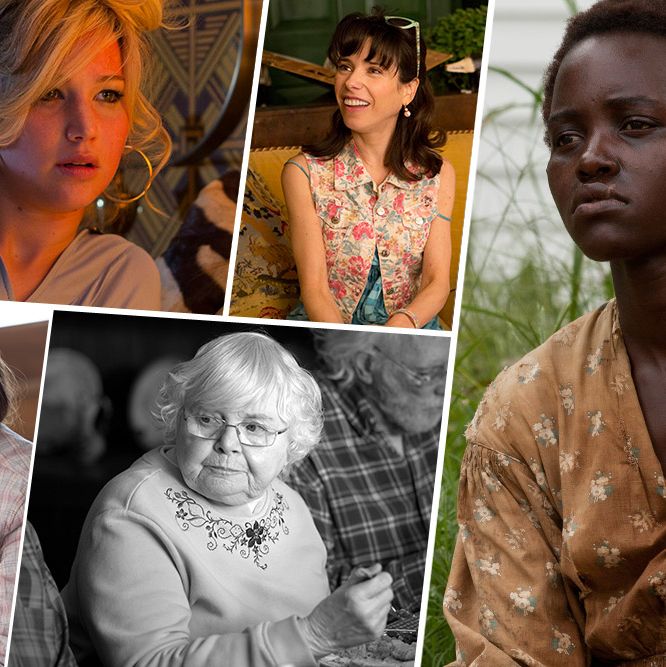 Photo: Francois Duhamel/Columbia Pictures, Merie W. Wallace/Paramount Vantage, Claire Folger/The Weinstein Company,
The Nominees
Sally Hawkins, Blue Jasmine
Jennifer Lawrence, American Hustle
Lupita Nyong'o, 12 Years a Slave
Julia Roberts, August: Osage County
June Squibb, Nebraska
Yesterday, we explored the competition in Oscar's Best Actor category, but let's ping-pong over to Best Supporting Actress today, where we've got a real battle on our hands. This title card bout features out-of-nowhere ingenue Lupita Nyong'o versus America's sweetheart Jennifer Lawrence, and when these young talents go head-to-head, who's going to come out on top? Picking the right winner in this category will be key to earning that prize money in Vulture's Oscars ballot, so let's go through each Best Supporting Actress contender, one by one, to help you cast the correct vote.
First, let's start with the least likely contenders. Sally Hawkins is terrific in Blue Jasmine, adding soulful ballast to Cate Blanchett's big performance, but this is the very definition of "it's an honor just to be nominated." Hawkins simply doesn't have the profile to compete with this category's major front-runners, though she can at least content herself with supplanting The Butler's Oprah Winfrey, whom most pundits had picked to earn the fifth Supporting Actress slot. (That's no small shakes!) There's also Julia Roberts, a former winner who's nominated again this year for August: Osage County. She's quite good in the role, going toe-to-toe with fellow nominee Meryl Streep, but those are the only two Oscar races that the wanly received film has factored into. You can still score a win if your film isn't nominated for Best Picture — at least, that's what Cate Blanchett is banking on — but both Hawkins and Roberts could have used some more heft behind them.
Then there's this category's sleeper threat, June Squibb. She is utterly delightful in Nebraska as the tart-tongued, take-no-prisoners wife of Bruce Dern; watch the film a second time, and you'll miss her severely during that early-in-act-two stretch where Dern and Forte travel without her. At 84 years old, Squibb would be the oldest acting winner ever, and Paramount has run ads that capitalize on Squibb's age, framing a potential win as the coronation for a lifetime's work. That "last chance" narrative doesn't always work — just ask Amour star Emmanuelle Riva, who celebrated her 86th birthday with a Best Actress loss to Jennifer Lawrence last year — but Squibb is so much fun that she shouldn't be counted out completely on Oscar night.
Still, it's going to be hard to sneak past the clash of the titans that we've got in Nyong'o versus Lawrence. At just 23 years of age, Lawrence has already been nominated for an Oscar three times and won once, distinguishing herself as the sort of young Academy favorite we haven't seen since Kate Winslet racked up four Best Actress nods before turning 30. Her work in American Hustle has had its detractors — "She's not old enough for the role," they cry, "and that accent, so slipshod!" — but many more are completely enamored, and it's hard to overstate the way Lawrence has become the industry's biggest new hope seemingly overnight. The American Hustle performance has a surprisingly killer arc that will work in her favor: Just when you think she's a one-note bored-housewife stereotype, she delivers that gut-punch dramatic scene opposite Jack Huston where she tearfully rats out Bale, sliding from cruelty to tearful fear with aplomb.
Meanwhile, Nyong'o is just stunning in 12 Years a Slave, and as a newcomer, she has the virtue of an indelible first impression in a film that's favored to win Best Picture. She may be slightly hampered by the fact that she doesn't appear in 12 Years until its halfway point, but boy, does she add heart and soulfulness to that back half. At first aloof and unknowable, Nyong'o's Patsey reveals herself in layers to both Solomon and the audience, and she's emotionally and literally laid bare by the end of the film, where she bears the brunt of a brutal whipping delivered by her Oscar-nominated co-stars. That scene may be the film's most tragically unforgettable, but if I mention two moments that bookend it, you'll remember the power and breadth of Nyong'o's performance: Think of her plaintive but defiant cry to Michael Fassbender that "I will be clean," or, at the end of the film, her shattering collapse as Solomon rides off to freedom, which leaves Patsey so bereft of hope that her body simply gives up. Nyong'o scorches the screen, and it's the sort of performance you can't get out of your head.
So, which actress has the edge? Jennifer Lawrence came on strong earlier this year with a high-profile win at the Golden Globes right at the top of the show, but Lupita Nyong'o has since collected awards from both the Screen Actors Guild and the Broadcast Film Critics Association, and at the latter ceremony, she managed the near impossible: She proved that she can deliver an acceptance speech that can outdo even J. Law. When I talked to Nyongo's 12 Years co-star Sarah Paulson at a party last night, she confidently predicted to me, "The world is clearly ready for Lupita Nyong'o. She's gonna take home the gold." I hope the first bit is true — certainly, Nyong'o has become a very exciting fashion icon and magazine muse — but she hasn't yet booked a part since 12 Years was released (what is it going to take for J.J. Abrams to cast this ethereal beauty in Star Wars like you just know he wants to?), and I hope that's simply because she's been too busy promoting it. But that second thing Paulson said, where she laid Oscar odds on Lupita? Well, that I can't argue with.
Likely to win: Lupita Nyong'o
Dark horse: Jennifer Lawrence