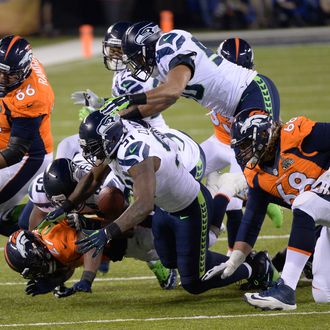 Photo: AAron Ontiveroz/The Denver Post/Getty
CBS's already mighty prime-time lineup is (potentially) getting even stronger: The network has struck a deal with the NFL to bring a slate of Thursday Night Football games to the Eye next season. Under the deal, CBS gets to simulcast eight early season games in September and October, sharing broadcast rights with the NFL Network. There are all sorts of implications for the agreement, but what TV-industry insiders are most intrigued by is what it all means for TV's most-watched comedy, The Big Bang Theory, and the rest of the Eye's Thursday laugh lineup. And the deal's impact isn't limited to just CBS: The addition of a new broadcast football package could have ramifications for other broadcasters, too.
First, it's worth noting that Thursday football is unlikely to be a massive game-changer for the network TV ratings race. For one, CBS won't have exclusive rights: Games will also air on NFL Network, somewhat limiting their ratings potential on the Eye. And historically, the Thursday games draw much smaller crowds than the NFL's Sunday and Monday packages. Last season, games averaged 8 million viewers on the NFL Network. While that's up 10 percent from the previous season, and very big for cable, that sort of audience is actually smaller than CBS's usual Thursday viewership. The bet CBS and NFL are making, of course, is that moving the games to the much broader CBS platform will expand viewership, possibly dramatically. Both sides are being cautious in the commitment to the idea: The deal is only for one season, with the NFL retaining an option to extend the agreement one more year.
But the biggest immediate question is how CBS deals with Big Bang, and, to a lesser degree, its other Thursday shows. The network could simply hold back the debut of all its Thursday shows until November, dramatically cutting back in-season reruns. This would make sense for the Eye's newer comedies (The Millers, The Crazy Ones) and Thursday drama Elementary: None of them do particularly well in repeats, and having fewer weeks to program could allow the Eye to concentrate its strength in late fall, winter, and spring. It does not, however, make sense for Big Bang. The show is a juggernaut in the ratings and is in massive demand among advertisers owing to its incredible performance with younger viewers. Its repeats also do extraordinarily well (on both CBS and TBS). Simply put, CBS is not going to go through the bulk of the fall quarter with no Big Bang presence, even if it's only reruns on another night.
The "good" news for CBS is that it just so happens to have a big opening in its lineup next fall. How I Met Your Mother disappears from Mondays at the end of March, and CBS has yet to identify a strong successor. 2 Broke Girls looked to be that show, but it stumbled when it moved to 9 p.m. and has since been demoted to 8:30 p.m. CBS might still be hoping Broke could end up at 8 p.m. Mondays, but with Big Bang homeless for two months, it's not hard to see the Eye parking originals of the bazinga-com on Mondays at eight for several weeks in order to lessen the pain of losing HIMYM — and to shore up Broke or another CBS comedy (the HIMYM follow-up, How I Met Your Dad, is an obvious candidate). The network could then move Bang back to Thursdays in November, delaying the premiere of its other Thursday half-hours until then. If this is the course CBS takes, it would immediately pit two of TV's biggest shows against each other: Big Bang and NBC's The Voice. (This assumes NBC sticks with two cycles of its singing competition a year.)

As for the other broadcast networks, there's both good news and bad in today's deal. The bad, of course, is that they lost to CBS. NBC, in particular, would've loved to have had at least an eight-week solution to its Thursday woes. But, if there's a silver lining, it's that CBS's very broad and relatively strong Thursday lineup of scripted shows will be out of the equation at the start of the season. There's been speculation NBC might abandon or shrink its comedy footprint on the night. But now, there's no established comedy competition until November. It's an opening for the Peacock — and maybe other networks, too. ABC hasn't been able to get any traction at 8 p.m for years now. But with CBS's female-friendly comedies off for two months, it has a shot to expand its strong 9 to 11 p.m. female programming into the 8 p.m. hour. For all of CBS's rivals, it's a temporary shot: Big Bang will very likely be back in November. But it's a two-month window of opportunity, a chance to establish some new viewing patterns while the Eye's regular comedy viewers are up for grabs. (Some will watch the NFL, of course, but most won't.) Things just got a lot more interesting on Thursdays.