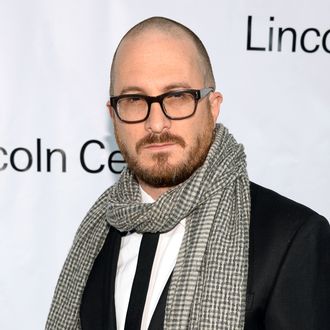 Photo: Theo Wargo/Getty Images
Darren Aronofsky's been working on Noah for a pretty long time. Like, a really long time. Since he was 13. It's part of the lore surrounding the mega-budget movie: When he was in seventh grade, Aronofsky won a poetry contest with a poem about Noah and the dove with the olive branch. Over the summer, Aronofsky told audiences that winning that contest "gave me the courage and spirit to be a writer," and now he's brought things full circle: The teacher who encouraged him to write that poem appears in Noah. This long THR story is mostly about the fighting between Aronofsky, Paramount, and religious possible moviegoers, but it also includes this delightful tidbit:
Whatever happens with Noah, the story has had a happy ending in one respect. Aronofsky asked his mother, herself a retired schoolteacher, to track down [his teacher] Mrs. Fried. She found her in Florida, and Aronofsky invited her to the set. True to form all these years later, she arrived in a pink car, dressed in pink. Aronofsky gave her a cameo in the film. You can spot her playing a one-eyed crone in a scene with Crowe.
Go ahead, try not to be charmed by that! It is impossible.