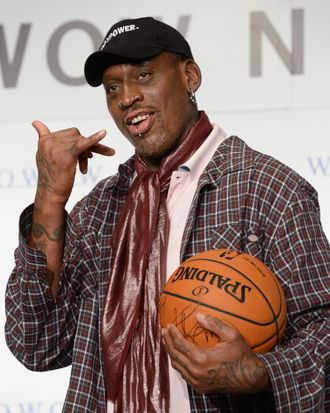 Former NBA star Dennis Rodman poses during a press conference in Tokyo on October 25, 2013. Rodman is here to promote NBA ahead of the season opening games on October 30.
Photo: AFP Photo / Toru Yamanaka/Getty
What do a heartless North Korean dictator and a troubled former NBA star have it common? Probably something really, really sad, but 20th Century Fox is prepared to mine whatever it is for comedy gold with Diplomats, a comedy pitch based on Rodman's newfound friendship with Kim Jong-un. Ride Along director Tim Story is set to direct, Jonathan Abrams is set to write, and both Rodman and Kim are set to be pretty peeved at how they come off in the movie.