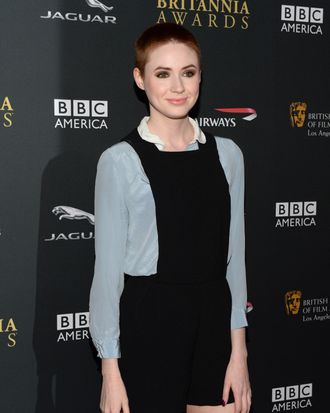 Actress Karen Gillan with Stylebop.com attends the 2013 BAFTA LA Jaguar Britannia Awards presented by BBC America at The Beverly Hilton Hotel on November 9, 2013 in Beverly Hills, California.
Photo: Michael Kovac/Getty Images
Doctor Who's Karen Gillan has been cast in the ABC comedy pilot Selfie, the network announced. The show is loosely based on My Fair Lady, and Gillan stars as Eliza Dooley, a self-absorbed, social-media-addicted woman who accidentally becomes a viral-video star following a public breakup. She hires a marketing expert in the hopes of rehabilitating her image, even though we all know no one actually cares what happens to viral-video stars after, oh, a month. Ain't nobody got time for that, you might say.