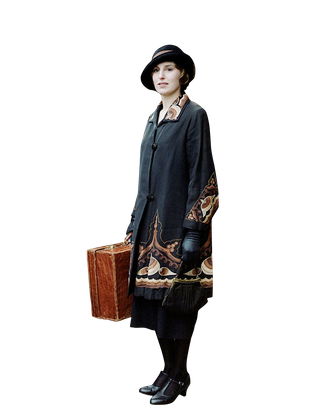 At the beginning of this season, Downton Abbey creator Julian Fellowes said in an interview that fans come up to him all the time asking him to let Lady Edith be happy. But he believes some people are just unlucky. If only we'd taken him seriously then! Things began well: Edith had an impressive writing job, transformed into a bona fide London fashionista, and won over her dashing editor (married, but willing to become German to get out of it). Now he's missing, she's pregnant and her column … well, Laura Carmichael, who plays the hapless middle Crawley sister, says Edith's actually still filing away. Vulture caught up with the actress to commiserate. During a break from the first week of production on Downton's fifth season, she spoke to us about the MIA Gregson, Mary's dueling suitors and did her best to convince us that Bates isn't the creepiest.
Where the hell is Gregson?
Oh, I know. It's crazy. She gets so happy and then he disappears. The fact that it's a mystery? It couldn't be worse.
Did Charles Edwards, the actor who plays Gregson, know he was going to go missing in advance?
None of us know anything too far in advance. It's kept quite close to the producers' and Julian's chest. We knew that he would go to Germany and we knew Edith would end up pregnant, but that's as far as it went.
So did he just stop receiving scripts? Did he get a farewell party? I don't know why, but I keep picturing him sadly waiting by the phone.
He did a farewell, kind of. It's always that way, though — you never really know where it's going to go. We still don't know! We did see him at the wrap for the end of the season, and it was lovely. Charles is so talented, and I loved working with him. He's busy, too. He was doing plays at the National Theater while filming Downton and he's just about to do another in the West End with Angela Lansbury.
Julian has said he believes some people, like Edith, are just unlucky. But I remember Lesley Nicol telling me she gave him the idea for Mrs. Patmore's delightful little romance last season. Maybe you can create your own happiness, too.
[Laughs.] I mean, I've really loved the work this season. All of the London scenes were so exciting.
She was happy for a bit, that's true.
Yeah, and it's really great as an actor when you're asked to show the tougher sides as well. We have such a richness in terms of the many, many sides of tragedy Edith faces [laughs]. I've never wished it was going in a different way. But, as a person and a fan, I hope things will turn around, because I love Edith and I root for her. She definitely deserves some good luck.
What did you think about Edith's decision not to get an abortion?
I loved the reference to Sybil in that scene. Remembering her sister and the strength she had and her courage and her feminism is the thing that spurred her to think that she could keep the baby. Who cares what anyone else thinks? I've got to find a way to get what I want. In that moment, she chooses what she wants rather than what is expected of her. And I love that Edith has become very brave. She's forced to along her journey, being left at the altar and such. I think she would have been the most traditional of all the daughters. She would have been quite happy to follow in the footsteps of her grandmother and marry well and have a big house and throw big dinner parties, but in the end, life was harder on her and it falls on her to become a professional woman and write for a newspaper and find a different path for herself. That's really cool.
That's something I've been wondering about. We haven't seen her professional life at all this season. Were there ever scenes, perhaps cut or edited out, of her writing?
No, but I was always very keen to be clear on what was happening there, and I'm really keen to go back to those scenes in some way or another. Her writing was still going on this season, and I kept checking with the producers to make sure of it. I believe she was writing up until her trip with Aunt Rosamund.
How would that work?
She would submit an article monthly to the newspaper, and it would have been this casual column. It was pretty common of women of her status. I did speak to Julian about it, and he's told me she's still writing about the everyday issues faced by the modern woman and how the world is changing. I do love to think of her in my head as Carrie Bradshaw of the 20s. She's got a column on being a modern woman. Probably far less racy.
Until she got together with Gregson.
Can you imagine? [In Carrie's voice] "I couldn't help but wonder… where has he gone?"
Where have all the men gone?
Absolutely! It writes itself.
What happens if Lord Grantham finds out about this baby?
Alastair Bruce, our historical advisor on set, pointed up to the house one day and said to me, "Laura, all of this relies on the fact that the lords and the ladies behave in a certain way. They're held in esteem by the village because they are supposed to be morally right. If you slip, it's game over and your status is completely diminished." So, the shame Edith's situation would bring on the family would be catastrophic.
Mary slept with Mr. Pamuk, who died in her bed, and Sybil married the chauffeur. It's kind of unfair that, again, Edith's slip would be the most catastrophic.
I agree. You know the Pamuk story is based on a true story? Julian heard it from this family he knows. They found these letters that told the story of these women moving a dead body. So these scandals did happen. It wasn't that everyone was terribly well-behaved.
Let's talk about Mary's suitors. Just me or does it seem lopsided. She and Charles Blake played in the mud with pigs. Winner.
Yeah, I know. He brings out that side of her. On set, the pair of them [Julian Ovenden and Tom Cullen, who plays Lord Gillingham] are gorgeous, dreamy boys. They're hilarious. Blake's got the rougher, tougher edge to combat Mary, and Gillingham sticks out his neck from the get-go.
That's not much of a case for Gillingham.
[Laughs.] Well, I'll say Edith really doesn't care. She's so over it. She's rolling her eyes somewhere in the background.
And how do you feel about having a potential murderer in the house? Bates was pretty scary this season.
We'll never the truth with that man. It's amazing how Julian manages to tread this line so even if you were to find out definitively that he was a murderer, you still kind of root for him.
Oh, I don't know about that.
At the end of the day, I think you always believe he's honorable. That was an incredible story, and it went mental over here. When that episode aired, people were up in arms. "How could that happen to our Anna?"
I just mean those moments where Bates would emerge from the shadows, or turn around with a murderous gleam in his eye. It was creepy.
Hmmm, I think it was all good.