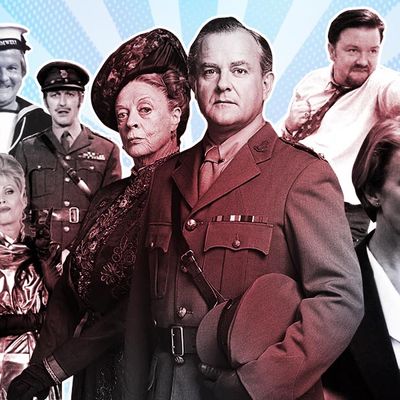 PBS has not been shy in touting the ratings success of Downton Abbey, last year declaring the series its most watched drama ever. And there's no denying it's a smash: Once DVR replays and online streams were tallied, Nielsen estimated 15.5 million Anglophiles watched last month's season-four premiere. Those lofty numbers would make even execs at commercial networks go "golly," and they also put Downton's audience ahead of big hits such as CBS's Elementary (14 million viewers) and ABC's Scandal (12 million). It's undeniable that the Masterpiece offering is one of the most successful British TV imports ever. But is it safe to call Downton Abbey the TV-show equivalent of the Beatles — i.e., the biggest thing ever to hit our shores from the United Kingdom? Well, that's trickier.
For one thing, ratings data before the mid-1980s is often hard to come by, in part because everything wasn't computerized and newspaper stories reporting numbers didn't go online. (PBS data from the 1970s is particularly tough to get since public broadcasting was still in its formative years and, as a noncommercial entity, wasn't always measured by Nielsen.) And even where data is available, it's often based on the number of TV homes watching rather than standard ratings watchers use today, which is total viewers. Still, even with all those uncertainties, it's probably safe to say that Downton is not the biggest British series of all-time among American audiences owing to this fact: Two British shows — The Avengers and The Prisoner — actually had their U.S. runs on one of the original Big Three broadcast networks. Back then, in the 1960s, with no cable and no way for home viewers to record shows, even the least watched programs could be counted on to command 10 to 20 percent of the viewing audience. While neither The Avengers (which ran for four seasons on ABC) nor The Prisoner (which ran for one on CBS) was a blockbuster relative to its competition — both failed to make the top 30 in the years they aired in the States, per our research — it's almost a certainty, given how small the TV universe was back then, that each drew a higher percentage of TV homes than Downton does now. And in the case of The Avengers, it was a flashy spy thriller that, for a couple of seasons, aired at 7:30 p.m., all but guaranteeing a large audience of kids tuning in to watch along with their parents. We're sure some smart tykes dig the Dowager Countess, but it's hard to see Downton having more appeal to young eyeballs than Diana Rigg in leather pants.
So there's a good chance The Avengers or The Prisoner is actually the top-rated U.K. import of all time, but there are some other contenders as well. Vulture took a trip in our TV way-back machine (a.k.a. rigorous Google and Nexis searches) and discovered that quite a few comedies, dramas and miniseries dreamt up in dear old Blighty have made a big splash on this side of the pond. Here are eight of the most noteworthy successes, and a look at why, in addition to ratings, they had an effect on American viewers. Note: This list is hardly comprehensive, and also doesn't include any projects still in active production. So no snarky comments from Doctor Who and Sherlock fans, please (though, in case you're wondering, neither show, despite commanding sizable cult audiences, has come close to matching Downton's U.S. numbers on PBS).
Upstairs, Downstairs
One of the most successful British imports to the States also happens to be the most thematically similar to Downton Abbey. Produced by London Weekend Television (not the BBC!), the early 1970s soap opera is essentially the same show as Downton, only with the action taking place in London rather than the country. The show was the first major success of PBS's Masterpiece Theatre franchise (since shortened to Masterpiece) and, along with an earlier U.K. import — the Beeb's 1967 epic The Forsyte Saga — laid the groundwork for the TV miniseries. Upstairs, Downstairs was also an Emmy darling, winning best drama three times and best miniseries once. As for its audience, one New York Times report from the era indicates that episodes attracted as many as 6.5 million viewers during its first run. Factor in population growth — there were around 208 million of us at the dawn of the 1970s, versus approximately 316 million now — and that 6.5 million is roughly equivalent to 10 million viewers today. Upstairs was such a success on PBS that its producers were able to repackage the episodes for syndication on commercial TV stations, and PBS stations have brought Upstairs back a couple of times over the past 40 years, too, usually as part of a Masterpiece anniversary celebration. Still, the power of the show has its limits: The recent revival of Upstairs lasted just nine episodes over two seasons.
The Office
Ricky Gervais's original series was a critical smash when it debuted on BBC America back in 2003, even snagging Golden Globes nominations. And it was a huge deal for BBC America, giving the young network its most buzz-worthy show up to that point. But in terms of overall viewership in the States? Pretty small. We weren't able to get exact numbers by the time this story was published, but at the time, Variety quoted BBC America chief Paul Lee (he now runs ABC) as estimating the show's audience at "a little more than 2 million people." That's not bad for a cable network, but it's well below the numbers PBS has pulled over the years for its British broadcasts. Of course, The Office would go on to be adapted for American audiences by Greg Daniels and NBC. That version did okay — but even that never approached Downton numbers.
The Benny Hill Show
Unlike most U.K. imports, the bawdy (for its time) and borderline sexist sketch comedy show wasn't exactly beloved by every critic. The half-hour was filled with innuendo and various male characters leering and grabbing at scantily clad young women. (Clearly, Robin Thicke was a fan.) But Hill was a staple of syndication in the States during the 1970s and well into the 1980s. Thames Television partnered with American distributor Don Taffner to sell Benny Hill episodes to more than 100 local TV stations, where they'd air in late night or even in the hour before prime time. A press release touting the start of a new Benny Hill–themed line of greeting cards described the show's audience in the early 1980s as over 8 million viewers each week, a solid number both then and now. Cue the "Yakety Sax"!
Prime Suspect
British author Lynda La Plante's crime franchise has had one of the longest runs of any British import, if not in number of episodes produced then in life span: seven seasons over the course of 15 years. It won Emmys, of course, both for La Plante and its star, Helen Mirren. But it was also a consistent ratings performer for PBS, doubling or tripling the audience of most installments of Mystery! — the banner under which the show aired for most of its run. The New York Times estimated that the third cycle of the show, which aired in 1993, was seen in nearly 4 million TV homes; Variety reported that 2004's sixth installment drew just under 5 million viewers.
Monty Python's Flying Circus
When the iconic comedy troupe's early 1970s show first came to the colonies via public television, the show was such a hit that Newsweek reported that it — along with Upstairs, Downstairs and a couple of other shows — was beating commercial network fare in some major American cities. But even after production halted on original episodes, repeats would remain a PBS weekend staple into the early 1980s, with PBS often showcasing the show during pledge drives. The show was so hip that MTV even aired reruns in the late '80s.
The Jewel in the Crown
The 1984 Granada TV epic, which told the story of Britain's last days ruling India, drew rapturous reviews and won the Emmy for best miniseries. And it was a massive hit, by PBS standards: The Washington Post reported that its 14 episodes averaged a 5.7 household rating (which translates into just over 5 million TV homes), and that about one in nine people tuned in to a television on the nights it aired was watching Jewel. It even outperformed the arguably more iconic Brideshead Revisited, which also aired on PBS two years earlier; both remain two of PBS's highest rated miniseries ever. Wrote Post TV columnist Tom Shales of Jewel: "It has enthralled and fascinated an audience as few television programs attempt or manage to do."
Absolutely Fabulous
Before South Park, the Jennifer Saunders–Dawn French classic was perhaps the first big fully scripted hit on Comedy Central. It generated the same sort of ecstatic media attention The Office would bring to BBC America a decade later, and Variety at one point reported that Ab Fab was pulling around a 2.6 rating in Comedy Central homes — or nearly five times the network's prime-time average at the time. In terms of overall viewers, the show likely brought in no more than 3 million viewers in original telecasts on Comedy Central. But given the show's frequent airings over the last two decades on various other cable networks — including BBC America and, most recently, Logo — the show's cumulative audience over the years is impressive, sweetie darlings. (Also, Ab Fab co-star Joanna Lumley is clearly a fan.)
Edward the King
This 1975 U.K. miniseries had all the hallmarks of a Masterpiece production: It's about British royalty, it boasts lush production values, and it starred the very British actor Timothy West. But when the production made its way to the U.S. in 1979, it aired on a consortium of local TV stations — and did quite well. In Washington, D.C., for example, the Washington Post's John Carmody reported that the premiere episode out-rated everything on TV at 8 p.m. that particular night, including CBS's The Incredible Hulk. It did nearly as well in Los Angeles and New York, the paper said.
I, Claudius
Not every British historical hit took place in the U.K. This sweeping, yet intimate, BBC examination of the Roman empire was a monstrous success in the U.K. when it debuted in 1976, and it also drew big audiences when it arrived on Masterpiece a year later. And it was not without controversy, thanks to the plot's many murders and wild orgies. Critics then and now praised the drama for its bold storytelling: When a new edition of the show was released on DVD two years ago, Los Angeles Times critic Mary McNamara rightly noted that the show "completely changed television, redefining the boundaries of the genre's possibilities and its ambitions." It's been re-broadcast a couple of times on PBS, with a 1991 run doing particularly well. All this, and it features a young (and not bald) Patrick Stewart, too — who, come to think of it, would make a nice addition to Downton. Make it so!