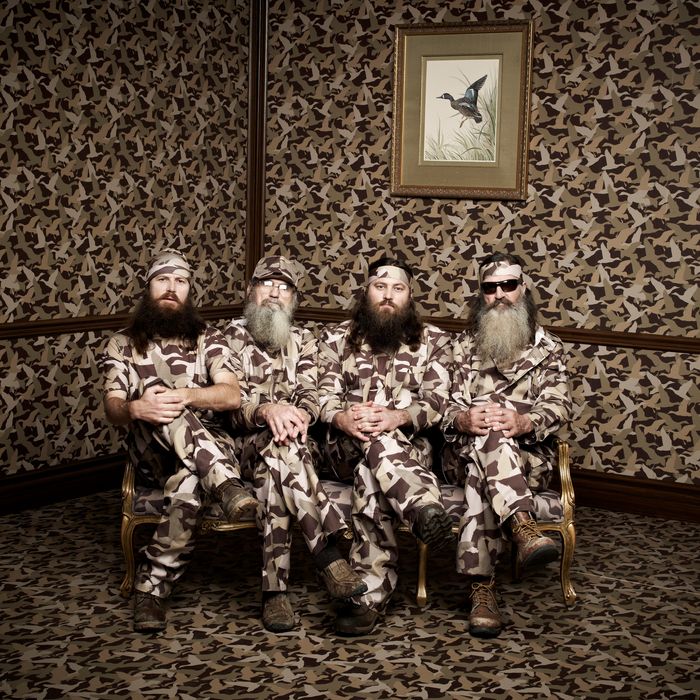 Duck Dynasty
Photo: Art Streiber/A&E
This week's Duck Dynasty easily drew more viewers than everything else on cable Wednesday night, just as it has virtually every time A&E has aired a new installment of the show since its October 2012 second season premiere. The 5.2 million total viewer tally was roughly two and a half times the audience for the much-ballyhooed return of FX's The Americans, and even surpassed a new episode of ABC's Nashville. And yet, as strong as that number is, it represents a massive 40 percent collapse from the 8.6 million viewers the show pulled in just one year ago this week. In fact, Wednesday's episode drew the smallest audience for a new installment of A&E's down-home hit since the show's November 2012 season-two finale. It's also light years away from Duck's high-water mark of 11.8 million viewers, set all the way back in … August. It would be easy to blame the falling ratings on the controversy kicked up by Phil Robertson's GQ tirade in December, but here's what's more likely: After two years of nearly nonstop Nielsen growth, A&E simply finds itself with a peaking Duck.
Some media outlets rushed to declare a backlash against Duck Dynasty when it returned January 15 for its fifth season and, despite a month of intense spotlight on Robertson, "only" 8.5 million viewers tuned in. It was the first time the show hadn't grown between seasons. But such an analysis ignored a key fact, namely that the series had been rapidly shedding viewers long before Robertson starting quacking about gays and African-Americans. After the much-reported 11.8 million record the show set in August, viewership dropped by nearly 25 percent within a month (to 9.1 million viewers on September 11). It then declined even further once all of the broadcast networks' new shows started rolling out, and Duck was no longer going up against summer reruns. By October 16, Duck fell yet again, to what would be its fourth season and 2013 low (7.3 million). So when Duck returned to 8.5 million viewers After Phil, that number was actually an improvement on where the show had been hovering in the ratings for the last weeks of its fourth season. If viewers were rejecting Duck Dynasty, they sure had a funny way of showing it.
That said, whatever the cause, ample data argues in favor of the theory that Duck has passed the point of being a weekly Nielsen phenomenon and is now simply a really big hit. In addition to the aforementioned total viewer numbers for this week, Duck is showing serious erosion in some key demos. Among adults under 50, this week's episode notched a 2.0 rating — exactly half the 4.0 rating it earned this week last year, and way down from the 3.4 for January's season premiere. Whereas a year ago, the show would convincingly win among both genders and every major age group, from teenagers to oldsters, that's not a given anymore. This week, for example, Duck finished behind 14 other cable shows among teen girls. Among women 18 to 34, it shared the No. 1 position with MTV's Real World: Explosion; among men under 35, it tied with Comedy Central's Workaholics. (A year ago, Duck drew roughly three times as many young dudes as Workaholics.) Just as telling, Duck is no longer trouncing its network competition in the key adults 18 to 49 demo: This week, CBS's Criminal Minds and NBC's Chicago PD both out-rated the quack crew.
While execs at A&E can't be happy about the Duck declines, they probably aren't that surprised by it. The fact is, big cable reality hits tend to have short shelf lives, particularly ones that reach supernova status. Back in 2003, Trading Spaces was a supernova for TLC, drawing around 9 million viewers for one key episode and regularly averaging 3 to 4 million most weeks. Less than two years later, newspapers were reporting on the "crash" of the show (though it survived until 2008). The most recent example of the cable reality boom-bust cycle: MTV's Jersey Shore. Though it never got quite as big as Duck, it came close, attracting just under 9 million viewers with its fourth season premiere. That episode — the show's high-water mark — aired in August 2011, barely 20 months after Shore's December 2009 bow. By late Feburary 2012, viewership had dropped to just 5.2 million viewers. See the parallel? Duck set its 11.8 million record in August 2013, and now, in February 2014, it's down to … 5.2 million viewers.
MTV ended up pulling the plug on Jersey Shore in December 2012, 18 months after its 9 million peak. If Duck continues to follow the Jersey pattern, it could be out of production by this Christmas, but that seems unlikely. For one thing, Duck is a far broader hit than Shore ever was, with a much bigger core audience of older adult viewers than MTV's hit. Those older viewers tend to be less fickle and more loyal (see: CBS), so there's a decent chance Duck should be able to hold to a sizable, if greatly diminished audience, for at least a couple more years. It's also a half-hour comedy rather than an hour-long fake soap opera, which theoretically should make it easier for producers to keep coming up with story lines (or, if you believe that what happens in Duck is real life, it should be easier for funny things to just "happen" to the show's cast). Plus, A&E is able to monetize Duck in ways MTV couldn't with Jersey. While MTV also aired plenty of reruns of Snooki, et al., A&E now airs episodes as many as 30 to 40 times per week. (It's also aired the show on sister net History.)
Those endless reruns are part of the reason Duck Dynasty is fading in prime time, of course: Because it's always on, new episodes somehow feel a little less special. But the nonstop repeats — which often do better than many first-run shows on rival nets — mean A&E has a good incentive to keep the show in production as long as possible, despite the smaller ratings. What's more, Duck is about 35 episodes away from reaching the semi-magical 100-episode mark. Though shows often go into syndication with fewer installments, getting to 100 could make it much easier for the company to sell Duck to local TV stations via a syndication deal. A&E isn't saying whether it has any plans to do so; it could want to keep the show exclusive to its networks forever. But assuming ratings don't completely collapse soon, the lure of syndication money could be enough to keep Duck going for at least another year or three. Or maybe the recent ratings decline will reverse itself, perhaps by A&E reducing the endless reruns or waiting longer to start the next season. Maybe producers even decide to pull some sort of crazy stunt to woo new audiences. Here's one: A gay family moves in next to the Robertsons, and …