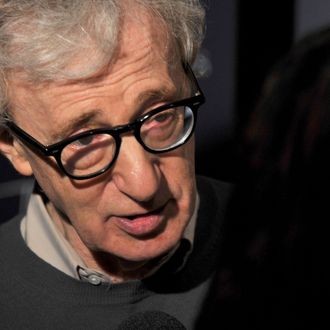 Photo: Stephen Lovekin/2011 Getty Images
Last year, Vanity Fair published a profile of Mia Farrow that included her 28-year-old daughter Dylan's description of the alleged sexual abuse she endured at the hands of Mia's ex, Woody Allen, when she was 7 years old. The allegations weren't new: Allen, who is Dylan's adopted father, faced the same accusations during his ugly 1993 custody battle with Farrow, which took place after she found out that he was having an affair with another one of her daughters, Soon-Yi Previn. Allen was never prosecuted. However, the Vanity Fair piece — and, perhaps more importantly, Mia and and her son Ronan Farrow's recent denunciations of the big tribute Allen received at the Golden Globes — have re-awakened discussion about whether the beloved director is, in fact, a child molester, as well as Hollywood's general indifference to the claims. On Saturday, Dylan described her experience in public for the first time.
In an open letter published in New York Times' columnist Nicholas Kristof's usual space, Dylan (who now goes by a different name) repeats her claim that Allen assaulted her in the attic of Farrow's Connecticut home. She also describes a pattern of abuse that she says preceded the incident:
For as long as I could remember, my father had been doing things to me that I didn't like. I didn't like how often he would take me away from my mom, siblings and friends to be alone with him. I didn't like it when he would stick his thumb in my mouth. I didn't like it when I had to get in bed with him under the sheets when he was in his underwear. I didn't like it when he would place his head in my naked lap and breathe in and breathe out.
Dylan blames Allen's behavior for the subsequent years she spent struggling with guilt, intimacy problems, self-harm, and an eating disorder: "That torment was made worse by Hollywood. All but a precious few (my heroes) turned a blind eye. Most found it easier to accept the ambiguity, to say, 'who can say what happened,' to pretend that nothing was wrong." She writes that, while she has since found some peace, "Others are still scared, vulnerable, and struggling for the courage to tell the truth. The message that Hollywood sends matters for them." In a particularly striking moment, she addresses some of Allen's most famous colleagues: "What if it had been your child, Cate Blanchett? Louis CK? Alec Baldwin? What if it had been you, Emma Stone? Or you, Scarlett Johansson? You knew me when I was a little girl, Diane Keaton. Have you forgotten me?"
As has been noted by many, it's impossible for outsiders to know for sure whether Dylan and the rest of the Farrow family's claims about Allen are true. (He has always denied the allegations.) Regardless, Dylan's writing is a powerful reminder of how reluctant people can be to ask difficult questions about an influential figure like Allen.