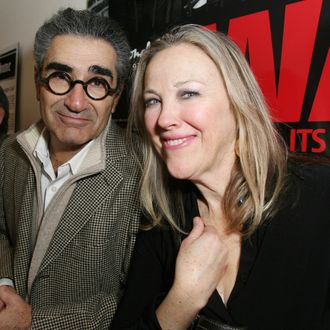 Eugene Levy and Catherine O'Hara, Canadian friends.
Photo: Tasos Katopodis/Getty Images
Just when you thought things couldn't get better for Canada after winning all dem Olympic medals yesterday: CBC announced that they've ordered 13 episodes of Schitt's Creek, a sitcom from Eugene Levy and his son Dan. Eugene Levy will play a billionaire with two sons (one of whom will be played by Dan) and a soap-star wife (Catherine O'Hara). When they lose all their money, they find themselves moving to the truly terrible Schitt's Creek (it's a pun!). Chris Elliott will play the mayor! No word on when the Canadian comedy will start shooting, so give it about a year — sorry, aboot a year.