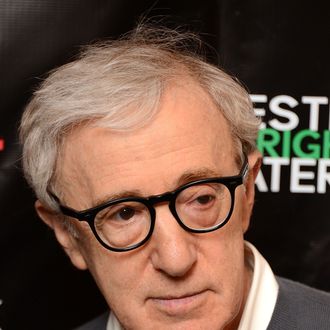 Photo: Andrew H. Walker/2013 Getty Images
On Friday evening, the New York Times published Woody Allen's response to Dylan Farrow's accusation that he molested her when she was a child. "Of course, I did not molest Dylan," wrote the director, who once again suggested that Mia Farrow had manipulated Dylan into falsely believing that she had been sexually abused. Right after Allen's piece was posted online, Dylan issued a statement to The Hollywood Reporter.
"For 20 years, I have never wavered in describing what he did to me," wrote Farrow, who went on to call Allen's claims the "latest rehash of the same legalese, distortions, and outright lies." She also included a bullet point list responding to Allen's explanation for why the 1993 investigation into the charges did not lead to prosecution. Finally, she wrote:
From the bottom of my heart, I will be forever grateful for the outpouring of support I have received from survivors and countless others. If speaking out about my experience can help others stand up to their tormentors, it will be worth the pain and suffering my father continues to inflict on me. Woody Allen has an arsenal of lawyers and publicists but the one thing he does not have on his side is the truth. I hope this is the end of his vicious attacks and of the media campaign by his lawyers and publicists, as he's promised. I won't let the truth be buried and I won't be silenced.
Farrow's full statement is here.