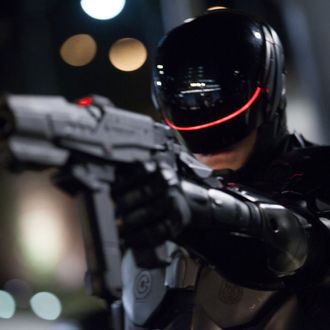 Robocop, February crime fighter.
Photo: Kerry Hayes/Columbia Pictures
The popular wisdom has been that January is the worst month for movies, but there appears to be a new king: February. Slate looked at every month since 2000, averaging the Rotten Tomatoes score of all movies that grossed over $1 million. Besides revealing some fun facts (like that February 2001, with Monkeybone, was statistically the worst month of the millennium, and November 2012, with Lincoln and Silver Linings Playbook, the best), it shows that on average February is the worst month for movies. Since 2000, February has had an average Rotten Tomatoes score of 45, 13 points less than July, the month with the highest average, and 3 below January's score of 48. Look at Slate's fantastic chart below and hope that The Lego Movie single-handedly changes February's fate forever.