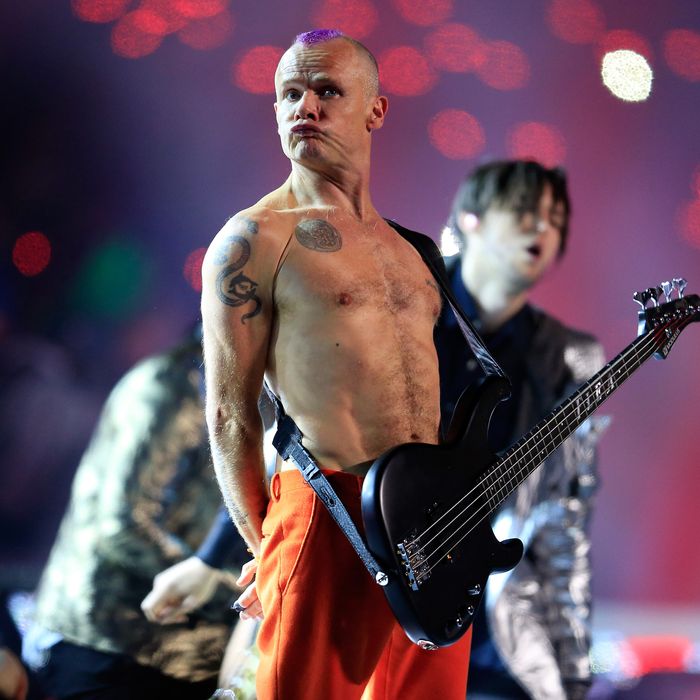 Photo: Rob Carr/Getty Images
Last night, the Red Hot Chili Peppers — who, if the rumors are to be believed, were added to the Super Bowl halftime lineup to lend some rock warhorse credibility to a show headlined by pop neophyte Bruno Mars — pretended to play their instruments.
At least that's the case with the band's bassist, Flea. "That guitar is plugged into NOTHING," tweeted Vernon Reid, moments after the Chili Peppers took the stage to play their heaving funk-rock hit "Give It Away." Reid, who knows something about guitars, had noticed the conspicuous absence of a cable connecting to the input jack of Flea's bass guitar to an amplifying device: no cable running to a speaker, no cable plugged into a wireless pack, no nothin'. Flea is a great musician, but the trick of making an unamplified bass audible over the roar of tens of thousands in a cavernous football stadium —that's a feat beyond the powers even of a man steeped in the dark arts of sex majik. Forensic photographic analysis on Twitter confirmed Reid's point, and suspicion was further aroused by the absurd conniption fit histrionics of Chili Peppers' guitarist Josh Klinghoffer during his solo.
Personally, I couldn't care less if the Peppers were air-shredding. (If pumping in pretaped music spares a television audience of millions the torment of a live Anthony Kiedis vocal, I call it a mitzvah.) It is worth asking, though: Where's the outrage?  'm still waiting for the boors who line up to pillage pop singers for actual and imaginary lip-synching — and for, um, moral "transgressions" — to demand accountability from the Red Hot Chili Peppers.
As for Bruno Mars: He apparently sang live, and his (pretty silly) drum solo entrance seemed designed to hammer home the point that he can really play instruments.