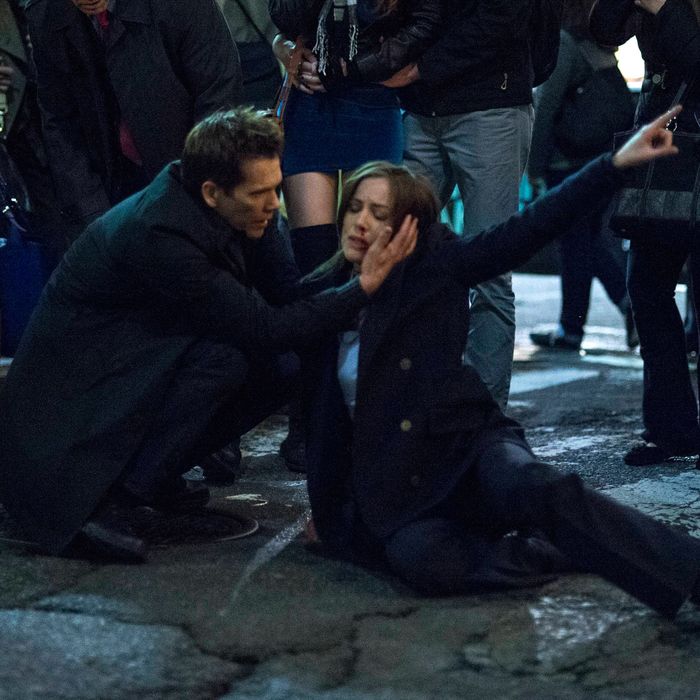 Photo: David Giesbrecht/FOX
With the exception of Carlos, whom I'm convinced wasn't told about the killing part until after the twins had already given his credit card to the hotel to cover incidentals, this season has been focused on the homicidal acts of overt psychopaths. Now though, The Following (I definitely just wrote The Killing at first, which I like to think is The Following's arch-nemesis) is once again pulling out the big guns. The most preposterous aspect of a show that is positively drenched in preposterousness isn't the surveillance cameras that surround the city or the constant tardiness of Hardy or even the Poe quotes from Joe. It's the assertion that murder is just an activity that some people like to do in their free time, like any other hobby.
We met Jana this episode, single mother of two. She's warm and genuinely concerned, the type of mom who's really organized and on the ball but who doesn't make you feel stressed if you're not. She seems to love her, by all appearances, well-adjusted children. When she sees Joe she remains just as affectionate and normal, unlike of some of his creepier Followers who get all sweaty and crazy-eyed as soon as they're alone with him. She's concerned about the length of Mandy's skirt and wants him to "take care of that one." And yet … as she assembles Ziploc bags of healthy travel snacks for the road … she doesn't seem the least bit bothered over the prospect of her houseguest's almost-certain return to the business of stabbing people. Which one of these character traits is not like the others?
The same goes with Lily's sweet, polite, adopted brood, whom she tells Emma she selected based on the same murderous proclivities exhibited by her non-adopted kids, the twins. Uh, I would have killed to see that adoption application. And when I say killed, I don't actually mean it, because in real life, hardly anyone wants to kill anyone else. It's just not a thing. And that unfortunate tiny percentage of people who do usually exhibit other tendencies that correlate with that desire. The old "neighbors described him as being quiet" line might be a cliché, but it's also often true. When's the last time you read an article that described a murderer as being friendly, social, deeply involved in the school's PTA, and hands down, the most reliable carpooler on the block?

I wonder if the writers of The Following ever look at each other and say, "Hmm, if only we'd gone with our second idea of making this show about a group of strangers united by a love of soapbox racing. Do you think it's too late to dub that in?" Because if it weren't for the problem of that one minor detail, the twists this show comes up with are really pretty good. In the sense that they're absurd but also nonstop. We got a bunch of them this episode, as though the show did some quick math and realized that they were going to have to pick up the pace if they were going to make their end of the year plot-turns quota. I'm almost positive that's a real thing.
The first was that Jana was happy, instead of horrified, to see Joe holding her baby. Then there was this little hint of Mandy being the most bloodlusty of them all when she looks a little disappointed that Joe wasn't going to kill Jana and her small children. Real quick, what do you think the odds are that they're going to actually explain why Joe spent a year living in a brothel in a town he hated instead of, you know, getting into the car he was pretending to work on and driving to the house filled with the nice, non-prostitute lady and the yummy treats and the stacks of cash and the fake ID photo booth setup? Slim to none? I agree.
There was also the major twist involving Agent Mendez and Jana being exes. The kids are both of theirs, although the exact details of how so are still a bit murky. It seems highly probable, at least to me, that this means that Agent Mendez is a follower of Joe's. Her saying to Jana "You know the case I'm working on" was super suspicious. It briefly occurred to me that maybe their whole relationship, the kids and all, was another one of Joe's insanely inefficient long cons, like the one involving the two dudes from last season pretending to be a gay couple for three years, but Jana wouldn't have said all that stuff about Agent Mendez wanting to be a parent if that were the case. Look at me, parsing the details of this show as though it operates under the conventional rules of logic.
The episode is called "Family Affair" because of the Jana/Agent Mendez stuff, and also because we learn more about how Lily's household works (adopted children take the dinner shift while the non-adopted ones are in charge slinky dress zip-ups). Once Lily saw that Emma had the qualities she looks for in a child — a lack of empathy and remorse coupled with an insufferable sense of entitlement — she welcomed Emma into the fold. Apparently she also likes her offspring to have a variety of interests since, after Emma tells her that she's not an artist, Lily responds with, "Well, maybe we can change that." In the world of this show, serial killing does seem like a much more sensible career move. These followers are loaded.
In case you think I've didn't notice the three times in this episode that Hardy arrived just a hair too late to catch the same suspect, don't worry. I'm not affiliated with the FBI. He can't shake me by standing next to the back of a van. I was paying attention to all it, from the conversation with his niece where he agrees that it will take the FBI tech people six months to figure out her HBO Go password, to the not-even-an-attempt-at-whispering cell-phone conversation she had with him about the murderess Giselle's current whereabouts, you know, three feet away at the next table, to the conversations Hardy didn't have with the cops or authorities about the dangerous killer he was speed-walking after through the streets of New York.
I did like when his niece ended up on the train at the end. When the trains first pull away from Grand Central, there's a minute or two before you can get cell reception. I bet it was killing her to not be able to immediately call her uncle to loudly announce that she had Giselle in sight, being as she was sitting only a few rows back from her, can you even believe it, lol??? Again, not using killing literally there.