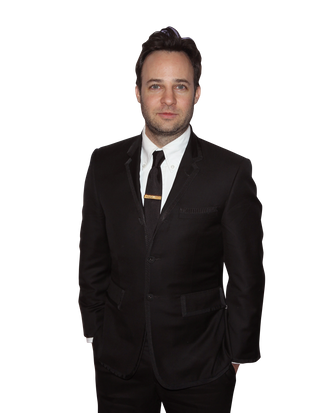 Danny Strong.
Photo: Jim Spellman/Getty
Elijah returned to Girls this past weekend, and he wasn't alone. His condescending prick of a boyfriend, Pal, was there with him. Playing the part was Danny Strong, who — when he's not writing scripts like Game Change, Lee Daniels' The Butler, and Mockingjay — is one of TV's most versatile character actors. (You know him from Buffy, Mad Men, and Justified, to name but a few shows.) We spoke to Strong about drawing on his own bad relationships to play Pal, pizza parties with the Girls cast, and his next collaboration with Daniels, the hip-hop-mogul drama Empire. (He couldn't talk Mockingjay; he's under a "strict gag order.")
Are you friends with Lena? Was that your in?
I had met [producer] Jenni Konner at the Golden Globes the same year Girls won, and we exchanged info and got dinner, and she brought Lena. She asked me if I wanted to be on Girls in the first five minutes of the dinner, and I thought to myself, This is the best dinner ever!

Did they know who they wanted you to play?
They figured it out on the spot, actually. Judd Apatow was there, too, and Jenni said, "Well, what about Elijah's boyfriend?" I got the script about a month later and I thought it was going to be maybe a scene, so when it was this huge part, I was so thrilled. And I just did it as they'd written it.
Have you had any experiences with a guy like Pal?
Oh yeah, absolutely. I've got many friends that are Pal. I think part of what makes [the story line] poignant is that Elijah's really crazy about this guy and he clearly doesn't feel the same way about him. I've been on the other side of that coin with so many different girls I've dated. I was just so crazy about them and they clearly didn't feel the same way about me. It's such a hard position to be in. So I really wanted to create the character through the eyes of Elijah.

Were they ever mean to you, those girls?
A few.
Did you know how to do that Donald Duck impression?
No, I did not know how to, and I don't really do one. I really do a Daffy. I went online and I watched them, and I couldn't really do Donald, but I could kind of do Daffy, so I just did that, and then I think Allison Williams improvised, "It's not even Donald, that's Daffy."
Do you have any other impressions up your sleeve?
I have a few random ones. I can do a Ralph Fiennes from Schindler's List.

Oh God. I can't imagine you break that out at many cocktail parties.
It's very specific — they love it at parties. I always get asked back.

I'm sure. Did you get to spend the two weeks in the North Fork with the cast?
Oh yeah, it was unbelievable. It was like being on summer vacation. There was this random night where we wrapped and the entire cast and crew, we all went to this dive bar, and we were all just hanging out, listening to songs, and all of a sudden Lena shows up with like 20 pizzas at midnight and everyone goes insane. I mean, can you imagine? Someone showing up with 20 pizzas to a dive bar? Anybody could have pizza. There was so much pizza.

Have you taken the BuzzFeed quiz, "Which Girls Character Are You?" 
I have not.

Lena just took it and apparently she got Marnie. Who do you think you'd get?
I think I would be Ray.

Why?
I just relate to Ray. I wish I was Adam, but I'm just not.
We just learned that Terrence Howard has joined the cast of Empire. Did you have him in mind when you were writing the pilot?
Yeah, I absolutely did. He always was the guy for me, and the fact that Terrence is playing it is so awesome. He is an amazing actor. He has a huge heart but also exudes a dangerous, sexy edge, and we are just so lucky that he said yes. There was no audition. We just offered him the part and he said yes.

How close are you to finishing the rest of the casting?
We're in the middle of it right now.
You've described the character as the King Lear of the hip-hop world. What do you mean?
It's the story a very successful hip-hop mogul, like in the vein of Jay Z or Puffy or Kanye, who has this empire, with a record label and a clothing brand, and he owns part of a basketball team. He's got three sons that are in their early to mid-20s, and with his company going public he has to figure out who is going to be heir to the empire and the show is basically a battle between the sons and his ex-wife all trying to wrestle control of Empire Entertainment … We're about to go shoot a pilot. We're shooting in Chicago, even though it will actually be in New York. But we'll be in Chicago with a few days in New York.

Are you friendly with Jay Z?
No, I don't know him. I don't know anybody. I'm not cool. Lee Daniels knows everyone because Lee is super cool. I'm not cool.