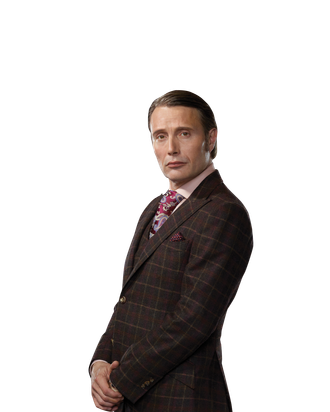 Mads Mikkelsen.
Photo: Michael Muller/NBC
Hannibal returns tonight with a glimpse of the future: the moment that Jack Crawford realizes he locked up the wrong "intelligent psychopath." Up until this point, only the audience (and Lecter's victims, including Will Graham, to some extent) have been aware that it was Dr. Hannibal Lecter, not Graham, behind the show's gruesome — yet artfully presented — murders. Bodies as sculpture, blood as paint, flesh as elegant cuisine. In the world of Hannibal, one does not just commit a lowly murder; the body (or bodies) must be displayed or arranged, so that you approach the crime scene as you would a masterpiece in a gallery or museum, in awe of the horrific beauty of it all. Vulture spoke to Mads Mikkelsen ahead of tonight's season-two premiere (airing at 10 p.m. Eastern on NBC) about dancing on set; his Oscar plans should his Best Foreign Film entry, The Hunt, win or lose; and his best guess at whether we really taste like chicken.
When I ran into Raúl  Esparza [Dr. Chilton], he mentioned that you two sometimes do a little Gershwin routine coming down those stairs in the insane asylum on set.
[Chuckles.] The epicenter of the set is obviously Will's chamber, but some of the sets do call for little musical numbers every once in a while. He's very into Gershwin, and our characters, we both dress very dandy, we both look like Fred Astaire, so whenever we have a break, we go, "What the hell? Why not do it?"
I would actually love to see Dr. Chilton and Dr. Lecter do a few steps together on the show, like in one of Will's dreams.
That would be very expensive for the producers, to hire us. We don't come cheap! [Laughs.] And that would be a nightmare. That wouldn't be a dream, would it? Let's put it this way: We're not young anymore. And I know Bryan [Fuller, the showrunner] would love the idea, but he would never put it on film. Got to leave something for the imagination, right?
Choreographing the fight sequence in the season premiere — was that like a dance?
Yeah, it is! I remember someone saying, "Don't ever put a sword in a man's hand who can't dance." Laurence [Fishburne, who plays Jack Crawford] was extremely light, and yet extremely strong, so it did become very elegant. And he's done a lot of fight scenes in the past, so he's got everything in his backpack, right? And I've done a lot in my life as well. So it wasn't difficult, but it was tough, it was hard, in the sense that we went on for 14 hours nonstop, doing it again and again. And we felt very young and very energetic when we stopped that day, but the next morning, we did not feel that young anymore. [Laughs.] But we were pretty proud. I wasn't as banged-up as I would have thought, not as bad as I would have thought. You can pad up, you can protect yourself, but you will always find a new spot where you can hurt yourself, and that was the case. You stand in front of the mirror, and you're like, "What's that? How did that happen?" Wherever you pad yourself up, you can bet good money that's not where you're going to land.
After this amazing fight sequence, we flash back to the 13 weeks leading up to this event, so we know the endgame a little bit.
Or maybe we don't. Will has a lot of nightmares and a lot of visions, so what is true, what is not true, remains to be seen.
What's the dinner party situation going to be this year, if Hannibal has fewer people in his inner circle on one level, but more now that the FBI is embracing him as the new Will Graham? We get to see how he prepares one of his human cuts of meat early on this season.
Everything is heightened in the second season. It's more beautiful, it's more elaborate, the tableaux are more insane, and the dinner parties are very much out there. We're continuing the style, but we're adding a little. In one of the scenes, we have sashimi, and I can't remember what fish it was, but it was so delicious that we, Laurence and me, we just had to do a couple extra takes. But if we ever did a cookbook for the show, it would be quite a morbid cookbook! And we can't guarantee that someone would not be inspired in the wrong way, so we'll leave that to the fans.
You have some new characters this season, including Michael Pitt as Mason Verger, who we know from the book and film Hannibal as the pedophile Lecter convinces to tear off his own face. Will we get to see that "therapy session"?
As we get to see Hannibal before his incarceration, the same happens to Mason — he still has his face when we meet him. And we're still making the last two or three episodes, so we're kept in the dark as well as you are. But according to the book, something will happen, and that is happening. You can be in danger if you're in therapy with Lecter if he doesn't like you. Even if he does like you. It's not a healthy place to have therapy, that's for sure! For instance, he loves Will. Loves him in his own way, of course. He would love to see this man out of jail, but when it comes down, that was a way for Hannibal to get out of it. So I'm spending a lot of energy in the second season to get him out and regain his friendship. He just needs an opportunity. He wants to find a solution.
Your Danish drama The Hunt is up for Best Foreign Film at the Oscars this weekend.Will you be at the Oscars? Do you guys plan to storm the stage if you win?
I've got to be there! I'm so looking forward to it. If we win, that would be fantastic. I think we'll leave the stage to the director and the producer, and if we win, I think afterwards, the plan is to drink. If we lose, I think we have a plan of drinking as well. So it's a win-win!
Okay! If you happen to see Jennifer Coolidge there, she recently told us she has a crush on you. She said you were such a brilliant actor in that film that it was a turn-on.
Really? Oh my God! That is very sweet. I will definitely Google her now. I'll know her when I see her. I'm terrible with names.
Since he was your co-star in Charlie Countryman, Shia LaBeouf has been making kind of a performance art out of all his recent appearances, interviews, and apologies. I was wondering if you'd been following that, and what you thought of that?
Yeah, yeah. I would rather hear from him if he wants to tell me what it is, and not judge anything. The only thing I can say about Shia is that he is a tremendously talented man, and he's a tremendously sweet person as well. So however people perceive what he's doing now, he's still very talented and I hope that people continue using him, because they'll get something fantastic out of him.
He famously took drugs for that film, as research for the role. What's the most you would do for a role? I'm going to go out on a limb and assume you haven't tried cannibalism.
[Laughs.] There you go! Everyone has their limits. I've never done drugs, if I had to be high on film. I don't kill people. And I don't eat human meat. But different people try to achieve results differently.
Do you think we taste like pork, or do you think we taste like chicken?
Oh! I like chicken a lot. But unless you've tasted us, rumors are rumors, right? You never know.