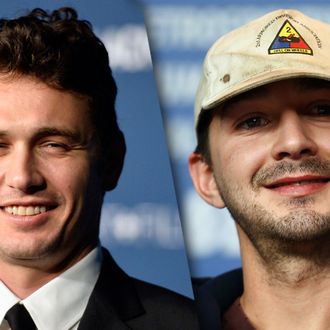 Photo: Frazer Harrison/Getty Images; JOHANNES EISELE/AFP/Getty Images
Given the speculation that some of Shia LaBeouf's antics as of late, especially his weepy apology installation in Los Angeles, are nothing more than performance art, it's hard not to wonder what our era's premier artsy-fartsy, post-modern celebrity clown-prince thought. And just in time, James Franco took a few hours out of his blogging schedule to write for an actual print publication. In a New York Times op-ed, Franco defends LaBeouf's art. If it's art, that is: "I think Mr. LaBeouf's project, if it is a project, is a worthy one." Franco sees The Beef's actions as those of a "young man in a very public profession [trying] to reclaim his public persona," citing the historical precedent set by Marlon Brando, Joaquin Phoenix, and James Franco.
He writes, "Our rebellion against the hand that feeds us can instigate a frenzy of commentary that sets in motion a feedback loop: acting out, followed by negative publicity, followed by acting out in response to that publicity, followed by more publicity, and so on." He adds, "Participating in this call and response is a kind of critique, a way to show up the media by allowing their oversize responses to essentially trivial actions to reveal the emptiness of their raison d'être." Still, Franco is worried, ending the piece saying, "I hope that he is careful not to use up all the good will he has gained as an actor in order to show us that he is an artist." It's not so bad, though, Shia – at least if that happens, you too can become a New York Times contributor one day.