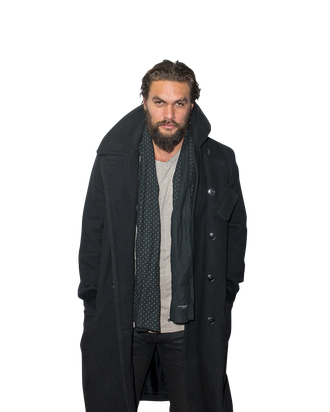 Photo: Michael Stewart/Getty
The Red Road is a happy departure for Jason Momoa, who says his niche up until now had been the gutting, grunting, shirtless type. He knew he'd have to prove he was up for a dramatic role in the Sundance TV thriller set against the clash between a small town and its Native American neighbors. Momoa stars as an ex-convict who returns to his tribe at the behest of his father, a local drug lord (Tom Sizemore), and crosses paths with the sheriff (Martin Henderson), with whom he has a long-standing beef. Momoa spoke with Vulture about the show, working with wife Lisa Bonet, who plays his love interest, and how much Dothraki he still remembers. Plus, he clears up those Superman casting rumors.
You really wanted this role.
I hadn't done anything like this before, really. I've never played anything like this or reached into those places as an actor. Being vulnerable, killing things that you love the most, hurting ones you love. So I had to convince them that I had it in me, which I do, I just never got the opportunity. Normally I'm like, gutting something, killing something with my shirt off, and grunting. I mean, people don't know I smile and speak English. They're always shocked, like, "Wow, you don't speak gibberish?"
How did you convince them?
I sent a tape in, and then I went in and met with the producers and we just talked. We really got to know each other. If I want something, I'm going to get it, and I let them know that. I've never yelled at a script before, and I'm yelling at the script. And when you get to episode four, five, and six you're literally going, "No way. No way." You're going, "Holy shit."
Tell me about the guy you're playing.
I'm the bad seed. My tribe doesn't like me. Every community has got their delinquent, and I'm the guy who was raised by a white drug lord. So I wasn't exactly the poster child for following the Native way. I'm not saying he's actually a bad guy, but he's a lone wolf.
You have a naturally evil smirk which really works here.
Oh yeah. [Laughs.] This guy is like, "You did me wrong." He's back from jail and he's dangerous, and he enjoys being that way.
You're part Native American. Did you do any extra research to prepare?
I actually went to study with the Ramapoughs in New York. I wanted to be able to see the mountains and the forest, be around the people. My character, Philip, has been in prison for six years. What would he be thinking about? I wanted to have images in my head to reference. Being raised in Iowa, I know what a cornfield does for me, and I wanted to have that same kind of feeling for the Ramapo Mountains. He has to feel a certain way about returning home.
Were you cast before your wife signed on?
Yeah. I showed the producers this movie we just made together, Road to Paloma, and they obviously liked our chemistry so they wrote her a role. On the show, we're playing characters who grew up together. She's a lawyer fighting for the tribe and trying to get federal recognition, and I could give a rat's ass about that. I'm kind of throwing wrenches in everything. So they're attracted to each other, but it's complicated. You watch them and go, "Dude. I want you guys to fall in love already."
What was it like working together?
I had to make sure I was on point because I knew she'd throw me under the bus if I didn't have any backup. But I'm always excited to have her around because I really respect her opinion. If anything, it amps me up. It's like showing off in front of your girl. You want your girl to be like, "Look at my man over there. Look at him go at it. Yeah he's all emotional and shit. He's so vulnerable. I love my man."
I know it's been a while since you filmed Game of Thrones, but how much Dothraki do you remember?
Do you want me to speak Dothraki to you?
Sure!
I always like to say, Jalan atthirari anni. Moon of my life. I never mind speaking it when someone asks. Game of Thrones is the greatest thing I've ever been a part of. Drogo didn't have to say much, which is harder than you'd think, and the truth of it is I'm not even the king of my own house. My wife says to do the dishes and I'm like, "Yes, baby. I can clean up." To walk around like a king is a stretch. And I enjoy when women enjoy the sex, you know? I'm not into making them cry.
I'm actually surprised you still remember Dothraki so well. Not the easiest stuff to pronounce.
I was like a crazy person practicing all the time. I'd wander around Belfast with my '70s porn mustache, because they had to put on a fake beard on account of I couldn't grow one that fast. So I just had the mustache, and obviously all the black mascara, which once you rub it off … I mean, I just looked like a crazy person mumbling gibberish around town. Like I was fucking Chewbacca. I creeped a lot of people out, I'm sure.
Did you really intern at UCB? Amy Poehler said you did a while back.
What's UCB?
It's an improv group. 
No, I've never done improv. UCB?
Upright Citizens Brigade.
Oh! Right. Well, yeah, she must have been kidding.
I guess so! What about something possibly more concrete, like the rumors that you're in the new Superman movie?
That's hilarious.
You aren't even "in talks"?
No. Those are all rumors. A great rumor, but …
So if they called …
Fuck yeah, I'd do it! I hope they do!