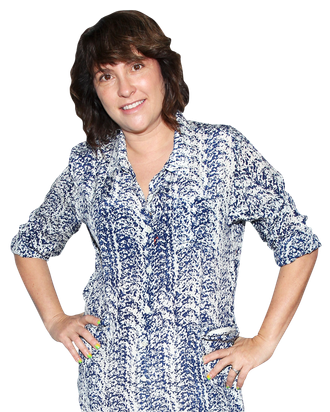 Photo: Joe Kohen/Getty Images
Jill Soloway cut her teeth on the late great Six Feet Under, where she started out as a writer and rose to co-executive producer. After that came executive producing roles on United States of Tara and How to Make It in America, and then a breakout Sundance hit with Afternoon Delight, which Soloway wrote and directed. Now she has a new pilot at Amazon called Transparent, about divorced parents, their adult children, and everyone's need to figure out who they are and how they relate to each other. The pilot is pretty damn wonderful. You can watch it here, which you should before reading this interview, since it contains spoilers from the episode.
So where did this show come from?
In some ways, I was thinking of a version of this show all the way back on Six Feet Under. That had this beautiful magnetism of a family around the idea of death and a funeral home, and in my mind I thought, Okay, one day I'm going to write a show about a family, and it's going to be magnetized around — instead of the anxiety about death, the anxiety around sex and love and intimacy.
How did you wind up at Amazon?
It became pretty clear early on that they were probably going to make it, and they were probably going to make it very quickly. HBO and Showtime — I think of HBO as where I went to college! And of course Showtime, I worked on United States of Tara, so I felt emotionally close to both those [channels]. But the truth is there's a lot of great writers with scripts waiting in line for the moment for the network to say "yes, we're going to shoot this," and people waiting once the pilot is shot for the network to say "yes, we're going to program this." And so even though I have a lot of love at both of those places, the chances that they were going to shoot it and it was going to end up on their schedule was pretty low. Amazon really felt like, they're going to make this thing right away, and if it turns out good, it'll go on the air. You know, when you go to a network or even Showtime or HBO, your pilot has to be passed to the people upstairs, and the people upstairs, and on and on, and when I was sitting with [Amazon Studios head of original programming Joe Lewis], it was clear it was just him. I could easily see all the levels of politics washing away from the process in that first meeting.
Something that made me really think about Six Feet Under in this pilot was the relationship between the siblings — you know, do these people really feel like siblings?
We all had an emotional connection of what it feels like to be grabbing onto a sibling for dear life in the tsunami that is parental power. Siblings sort of create a raft for themselves to live on. You look at them and wonder, can I see myself in you? Because I can't see myself in some versions of how my parents are parenting me. And Gaby [Hoffmann] and Jay [Duplass, who play twins Ali and Josh] felt like two sides of the same coin; they feel like brother and sister to me. There's a lot of Brenda and Billy [from Six Feet Under] going on with them.
Yeah, well, there is that sort of vague eroticism in their relationship.
It's like Brenda and Billy if they were a comedy. They have a twin thing, and within that sibling holding-on-for-dear-life, there's also that feeling of: It's really hard to grow up and go out in the world and have intimacy with other people when you have such a connection to your siblings. You get that mirroring, you get that intimacy from siblings. In some ways, [Josh and Ali] were holding on to each other because of the secret, but now that the secret is going to come out, they can begin to let go of each other a little bit.
One part of the pilot was confusing to me: When Josh goes to that other woman's house …
Yeah, who is she?!
Oh, is that intentionally vague?
Yeah, you're supposed to be confused. Who the heck is that woman? I should come back and find out!
When would that happen? When will you know if this is going to move forward?
Any second, hopefully. We're waiting for enough people to like it, and then the gods of the Amazon universe will call and say "let's do a whole season." Which hopefully will happen in the next month or so, and then we'll get to writing nine more episodes. […] If that happens, one thing we'll definitely play with is memory and flashbacks, like Orange Is the New Black. How did we get here? What did we know? What did we purposefully miss?
At the end of the pilot, we learn that Mort (Jeffrey Tambor) is trans and is struggling with how to come out to her children. What drew you to writing for trans characters?
I have a lot of queer people in my life, trans people in my friendship circles, and have always felt really connected with the queer community. And I felt like transitioning your gender is a great metaphor for all the ways our parents don't stay put where we wanted them to be, or our kids don't stay where we want them to be. I see so many people watching their teenage children transition, their parents transition, their cousins, brothers, and saying "well, you're not the person I remember;" holding onto these ideas of your identity within your family of origin. For me, the basic math of the comedy in these kinds of stories lies in Where are you gonna go for Thanksgiving? Do you belong to your family of origin? Or to your "new" family? So it's a metaphor for all the ways people change from who they are in their family of origin into who they want to become in their real life.
And there's so much confusion around what it means to be trans! I feel so excited to be able to tell stories that will illuminate the difference between somebody who may be medically transitioning, or somebody who may be socially transitioning; somebody who's a cross dresser, somebody who's inter gender, somebody who's a butch lesbian, somebody who's a drag queen — all these categories sometimes fall under the umbrella of "trans." People talk about them but don't understand them. "What's going on with Bruce Jenner?" Well, I've got the show for you. [Laughs.] I'm really excited for the Kardashians to check it out. I feel like it could help Brody Jenner to understand.