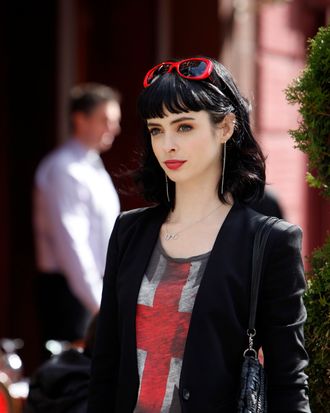 DON'T TRUST THE B—- IN APARTMENT 23 - After a naïve Midwestern girl's big city dreams are dashed her first week in New York, she finds herself living with her worst nightmare in this hilarious, contemporary comedy about a female odd couple who are surrounded by an outrageous cast of characters. "Don't Trust the B—- in Apartment 23" stars Krysten Ritter ("Breaking Bad," "Gilmore Girls") as Chloe, Dreama Walker ("The Good Wife," "Gossip Girl") as June, Eric André as Mark, Michael Blaiklock as Eli and James Van Der Beek ("Varsity Blues," "Dawson's Creek") as James Van Der Beek. Created and written by Nahnatchka Kahn ("American Dad"), "Don't Trust the B—- in Apartment 23" is executive-produced by Kahn, Jason Winer ("Modern Family"), Dave Hemingson ("American Dad," "How I Met Your Mother") and Jeff Morton ("Modern Family"). Winer is also the director. "Don't Trust the B—- in Apartment 23" is a production of 20th Century Fox Television. (ABC/PATRICK HARBRON) KRYSTEN RITTER
Photo: Patrick Harbron/? 2011 American Broadcasting Companies, Inc. All rights reserved.
The first time we laid eyes on Krysten Ritter, we thought to ourselves, "That woman would be perfect in a Will Ferrell-produced NBC astronaut sitcom set in the 1960s that would be under-appreciated by the American public until it was far, far too late." And here we are today! According to Deadline, the Don't Trust The B- In Apt. 23 actress is set to star in Mission Control as the female lead. Ritter was also the lead in the pilot for the NBC comedy Assistance last season, in which she probably would have been brilliant.