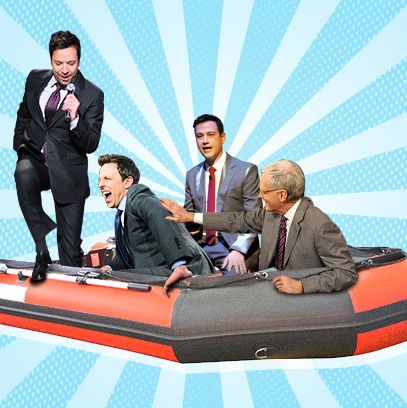 Photo: Photos: Lloyd Bishop/NBC, Charles Sykes/Bravo, Randy Holmes/ABC, Jeffrey R. Staab/CBS, Shutterstock
In recent decades, late-night transitions have been marked by an intense, boxing-match-style circus of hype and speculation over how various hosts would fare opposite each other: Johnny vs. Joan Rivers! Jay vs. Dave! Conan vs. 10 p.m. Jay! But the latest round of personnel changes, with Jimmy Fallon taking over as host of The Tonight Show Monday and Seth Meyers replacing Fallon next week, seems very different. Yes, there's the lack of backstage drama (no "I'm gonna kick _____'s ass!" boasts or clear resentment), but the subdued vibe may also be a reflection of just how rapidly the late-night landscape has changed. The big broadcast talk shows are becoming far less central to viewers, especially younger ones. Adult Swim, Comedy Central, and other cable networks have permanently stolen market share from the networks, and now Internet streaming and video on demand are quickly stealing away even more. It's easy to imagine a future in which there are far fewer shows out there, with the format going the way of the soap opera. Fallon, Kimmel, and Letterman won't be fighting for 11:35 dominance over the next decade: They'll be fighting for survival.
Fallon takes over Tonight with NBC's iconic franchise a shadow of its former self, at least in ratings. Less than a decade ago, during the 2005-'06 TV season, Tonight was averaging a 2.0 rating among viewers under 50, crushing Letterman and everything else on broadcast and cable. These days, Tonight still beats Letterman and Kimmel, but with less than half the audience: In his final months, Leno was averaging an 0.8 and a 0.9 most weeks. Letterman has suffered similar demographic erosion, and while Kimmel had a big audience surge last year after moving to 11:37 p.m.— moving ahead of Letterman in viewers under 50 – ABC's overall late-night average (including lead-out Nightline) is still down from where it was a decade ago.
Broadcasters are bleeding viewers in primetime too, but at least there the nets still outrate most cable offerings, with a few exceptions (The Walking Dead, Duck Dynasty, American Horror Story). Not after 11, though: Adult Swim is now TV's top network among adults under 50 in late-night on a regular basis, while Comedy Central's The Daily Show drew more viewers under 50 than any of the broadcast talkers in 2013. Conan draws more men under 35 than the broadcast nets, while Bravo's Watch What Happens Live is huge with women under 50 (beating Comedy Central's shows, but not those on broadcast — yet.) The general exodus from networks and the idea of scheduled viewing is exacerbated in late night by cable networks creating specialized content that younger viewers find more appealing than the one-size-fits-all late-night formula the networks have been serving up since the days of Steve Allen.
Predictably, smaller audiences have made network late-night shows less lucrative. In May, the New York Times estimated that after once reliably churning out annual profits in the $150 million range, Tonight may have earned NBC as little as $25 million in Leno's final year — this even after a round of cutbacks at the show a few years earlier. (Some industry insiders are convinced that this profit decline is a key reason NBC once again decided to push out the higher-salaried Leno, along with his staff that had in some cases built up twenty years' worth of raises. Plus, the network will now save money in NYC tax incentives.) The traditional late-night talk show format is assumed to be evergreen, but these ratings and profit drops makes one wonder if it could go the way of the soap opera, another genre that once seemed inextricably set into TV's DNA. The four remaining network soaps (down from ten in 2004) are hanging on mostly because of legacy viewers, and only after dramatic cost-cutting. More dauntingly, there hasn't been a single new daytime soap since Passions bowed in 1999. (It went off the air in 2008.) One of the main culprits for killing them? Specialized daytime cable programming. 
Of course, soaps haven't disappeared completely (at least not yet). And the industry sources we spoke to don't believe the networks will exit the late-night talk show business in the immediate future, either. "It's not going away tomorrow, or even two years from now," says our late-night insider. But the idea of cutting back is absolutely on the minds of execs. Other outlets have reported, and Vulture sources confirm, that before deciding to replace Fallon with Seth Meyers on Late Night, conversations took place about whether it might make more sense to simply return The Tonight Show to the 90-minute format it had decades ago. Craig Ferguson, already a model of cost-effectiveness with no band or sidekick, is doing fine on CBS. But were he to ever leave, it's wholly possible CBS opts not to replace him or chooses to make the show even more bare bones. "If [the networks] ever walk away from late night, 12:30 will be the first casualty," the insider says. As it is, even though Kimmel is doing great for ABC, the network has seen no need to capitalize on his growth by launching a companion talk show. It seems quite content to let Nightline, now in the infotainment business, pull in okay ratings on a relatively small budget.

Despite all the ominous signs, there's actually some reason for short-term optimism. With Leno gone, and Letterman seemingly content to play the elder statesman of late night (at least until his current contract ends next year), Fallon and Kimmel will obviously spend the next few years trying to claim the bigger share of the declining broadcast audience. To that end, they'll each want to stake out a claim as the hippest (broadcast) hour in late night by reaching more people through viral-friendly bits that can live on outside their shows. Kimmel pioneered the power of talk-show virality with his 2008 "I'm Fucking Matt Damon" video, and has kept that going through last year's epic twerk fail video and beyond. Fallon has proven just as adept, turning everyone from Michelle Obama to Bruce Springsteen into his video co-stars. Plus, things could swerve back to the days when hosts like Johnny Carson did live commercials for advertisers on their shows: Kimmel and Fallon have both proved amenable to paid this kind of DVR-proof product integration. By working brands into more of their viral bits, they could also turn YouTube hits into another profit center. A few years from now, it could be that he who wins the Internet wins the late-night war. 
Industry observers suggest the most crucial test will be the ability of each man to create "events" within the context of their shows. Once upon a time, celebrities and musical acts lured audiences, but now, "other than maybe ten people, guests don't move the needle anymore," our late-night insider says. "You need some sort of event to get people there." This is where broadcast has a bit of an advantage over cable: The 11:37 p.m. shows offer broader reach and promotional synergies with a big network. So while George Clooney stopped by The Daily Show earlier this month, he brought the entire cast of The Monuments Men with him to Jimmy Kimmel Live. The episode was built around the movie, tons of blog posts about their Kimmel antics were generated and ABC even repeated the show in prime time. Fallon will surely make the most of the fact that his and two other Lorne Michaels shows –Late Night with Seth Meyers and SNL – will now all be housed at 30 Rock. So let's say Kanye West is hosting Saturday Night Live: Have him sit in on Fallon and Meyers's shows leading up to it and call it "Kanye Week." Maybe even create a funny throughline, with him developing a recurring bit that pays off on SNL.
There's bound to be a lot of attention paid to the daily and weekly ratings as NBC's new shows launch. The focus is understandable, but late-night observers also think that – barring a major collapse or surge by one of the shows – it's pretty silly to get amped up over any of the early numbers. If history is any guide, for example, it's possible that Fallon's total viewer number will shrink as some of Leno's older audience moves on; that's what happened to O'Brien in 2009 and Leno himself when he replaced Carson in 1992. More telling will be whether Fallon brings in new viewers under 35, the way O'Brien did when he took over. "Fallon will have a big opening week, and then settle into a regular number, but even so … I don't think you're going to know where any of these shows are until at least six months from now," says the exec. "The press will write about the numbers and say, 'He's up!' and 'He's down!' But you can't worry about any of it for awhile."
The bigger question, of course, is whether all the new energy ABC and NBC are injecting into late night can halt or even reverse the ratings slide among younger viewers. While recent history isn't encouraging, perhaps the sclerotic state of the network race is what's been behind the decline: The Jay-Dave "battle" played on for two long decades, with some the 18-34-year-old audience not even alive when it began. Kimmel's rise offers some hope. He saw his audience grow by 35 percent last year among adults under 35, and while a timeslot move back from midnight helped, growth is growth. And a few weeks ago, NBC's two-hour prime-time "Best of Fallon" special did really, really well in the ratings, prompting some execs to hope that it might be an encouraging sign for Fallon's prospects.
The dream scenario for network execs is that the combination of fresh blood and renewed media interest could end up helping all of the 11:35 p.m. shows – even Letterman, who might gain some of Leno's viewers the way he did after O'Brien took over. "Shows don't necessarily cannibalize each other," the network executive says optimistically. An abundance of good shows can increase the pie, rather than forcing everyone to settle for a smaller slice, he says. "The audience is elastic … And I think these are still valuable franchises for the networks. They need to be reinvented … You have to run faster, and you have to adapt and change. But that's what's happening now." Perhaps that means the current one-hour network late-night shows transition to something else, something less reliant on celebrity guests, or maybe a half-hour format more tightly packed with scripted bits (like the Comedy Central shows). Or maybe, instead of five big network talk shows, there'll only be two or three players left in the space five years from now. "It's hard for me to believe there will ever be a time when audiences don't want to end their day on an upbeat note," the exec says. True, but it's not at all clear that audiences will keep looking to the networks to supply those laughs.