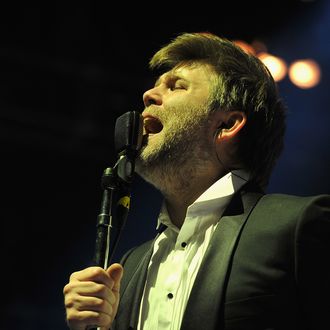 James Murphey, former lead singer of LCD Soundsystem.
Photo: Theo Wargo/Getty
It's amazing to think that it's been almost three years since LCD Soundsystem called it quits with a marathon final show at Madison Square Garden on April 2. The good news is that soon you'll finally be able to listen to the whole set from the comfort of the chair you put next to your record player. The Long Goodbye: LCD Soundsystem Live at Madison Square Garden will come out on April 19, Record Store Day, as a 5xLP vinyl boxed set and then May 20 with a full digital and vinyl wide release. Read the full, extensive track list below; watch a performance of "All My Friends" from the show, taken from the documentary Shut Up and Play the Hits; and decide whether this release makes them closer or further away from a reunion.
The Long Goodbye:
01 "Dance Yrself Clean"
02 "Drunk Girls"
03 "I Can Change"
04 "Time to Get Away"
05 "Get Innocuous!"
06 "Daft Punk Is Playing at My House"
07 "Too Much Love"
08 "All My Friends"
09 "Tired / Heart of the Sunrise"
20 "45:33 Intro"
21 "You Can't Hide (Shame On You)"
22 "Sound of Silver"
23 "Out In Space"
24 "Ships Talking"
25 "Freak Out / Starry Eyes"
26 "Us v Them"
27 "North American Scum"
28 "Bye Bye Bayou"
29 "You Wanted a Hit"
30 "Tribulations"
31 "Movement"
32 "Yeah"
33 "Someone Great"
34 "Losing My Edge"
35 "Home"
36 "All I Want"
37 "Jump Into the Fire"
38 "New York, I Love You But You're Bringing Me Down"