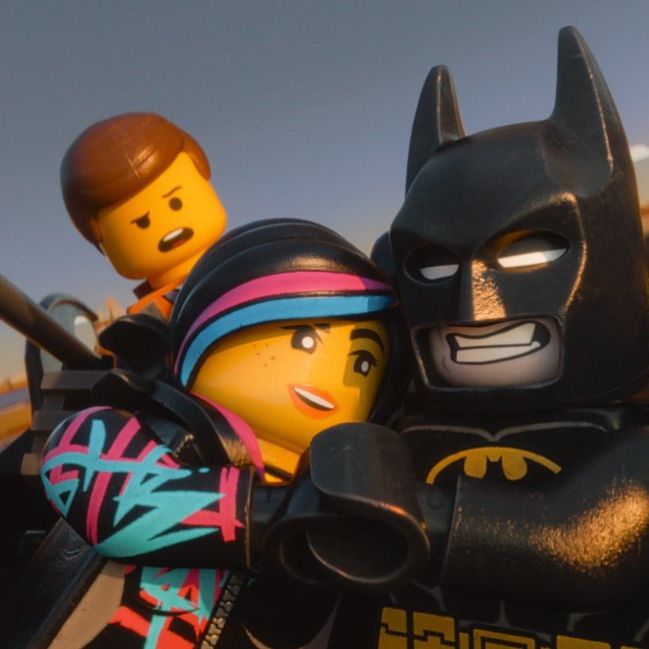 Photo: Courtesy of Warner Bros. Pictures
The LEGO Movie dominated the box office with a nearly $70 million take, the second highest February debut ever. And aside from one grasping-for-news Fox Business host (who called the movie "anti-business") and two prominent critics (the New York Post's Kyle Smith and Grantland's Wesley Morris), most everyone else went nuts for the movie, especially Vulture's Bilge Ebiri. Did you? Did your kids? Are you going to have to drag yourself to a toy store to buy a crate of Legos this week? Talk it up in the comments below.
How many times did you sing "Everything Is Awesome" this weekend?
The song, which is used throughout the movie as a sign of how terrible conformity is before turning into an anthem about the greatness of teamwork, is catchy as hell. Sung by Canadian sister duo Tegan and Sara (who are awesome) and featuring a rap segment from the Lonely Island, "Everything Is Awesome" might be the "Let It Go" of this month. Though I suppose the two might be able to co-exist.

Should sitcom stars just stick to doing voice-over work for animated movies?
It's pretty hard these days for TV funnymen/women to break out on the big screen. But Chris Pratt (Emmett), Nick Offerman (Metal Beard), Alison Brie (Unikitty), Will Arnett (Batman), and Charlie Day (Benny the retro Spaceman) all do wonderful voice work in The Lego Movie, which might end up being one of the year's highest grossing films if it proves to have staying power. Pratt will appear later this year in Marvel's bizzaro Guardians of the Galaxy, and despite that studio's box office track record, there's no guarantee that it'll be a hit on the level of the Iron Man and Avengers movies. If it doesn't, that's fine. Keep him on Parks and Rec, where he is fantastic (same for Offerman and Brie and Day and hopefully Arnett will find another good show eventually) and let him do animated work on the side and everyone will be happy.
What was the movie's best pop culture joke or reference?
"This is a song I wrote about how I'm an orphan." Was it Batman's song "Untitled Self Portrait"? "Darkness! No parents!"
Or maybe it was the unexpected appearance of the Millennium Falcon, Han, Chewie, 3PO, and Lando halfway through?
Or maybe it was that unicorn on fire that ran across the frame during the destruction of Cloud Cuckoo Land. I wanna say it was the unicorn. But if I'm being honest, it was the ghost on a string.
Who enjoyed it more, you or your kids?
I don't have kids. I couldn't tell what the kids in my audience were laughing at over the sound of my own laughter. But I have to assume that children really dug this movie, despite the fact that a decent chunk of it is geared toward adult humor and references. Does an 8-year-old find Lego Shakespeare or the Lego version of the 2002 NBA All-Stars particularly humorous? Does a 10-year old even know what a Lando Calrissian is? Did any of them chuckle the way I did at the line, uttered by pirate Nick Offerman, "Did you not hear me story circumscribing the folly of ye enterprise?"