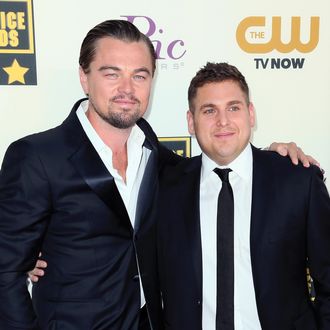 Leonardo DiCaprio and Jonah Hill, friends.
Photo: David Livingston/Getty
Last week, in our post about ten other Olympic stories that deserve biopics, we said that the story of the 1996 Atlanta bombing and Richard Jewell would make a perfect action movie. Hollywood listened! Deadline reports that Fox has purchased the rights to "The Ballad of Richard Jewell," a 1997 Vanity Fair article about how Jewell went from hero to villain to redeemed. Jonah Hill is attached to play Jewell, and his Wolf of Wall Street buddy Leonardo DiCaprio will play Jewell's unorthodox lawyer and friend who helped clear his name. Their friendship will involve far fewer Quaaludes this time, but ironically much more media attention.