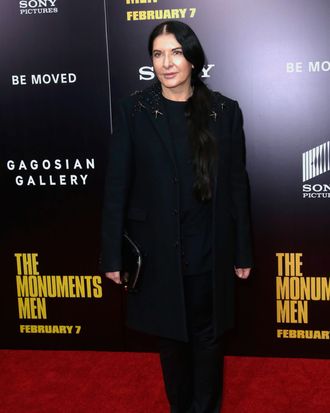 Marina Abramovic.
Photo: Jimi Celeste/Patrick McMullan
Yesterday, as Shia LaBeouf was wrapping his second day of sitting, staring, and crying at a Los Angeles art gallery, Marina Abramovic — who famously sat in situ with visitors for days on end, tears streaming down her face, for her 2010 MoMA performance The Artist Is Present — was arriving at BAM for the world premiere of Matthew Barney and Jonathan Bepler's new film, The River of Fundament. Since LaBeouf's #IMSORRY borrows heavily from Abramovic's work — worth noting, given that it's supposedly LaBeouf's apology for a string of plagiarism — we were curious to hear the artist's reaction. "First of all, I can't think that this is directly related to me," she told Vulture. "He has a paper bag on his head, is that right?" Yes. "I'm very happy people are inspired by [my] work, but this is not the same work. I don't see it as anything to do with me."
How does fame factor in? The paper bag on his head says "I AM NOT FAMOUS ANYMORE." But wouldn't there be a different reaction if he weren't? "It's so manipulative, and it's so complicated to answer," she said. "It's very interesting to me that the Hollywood world wanted to go back to performance, which is something so different than what they are doing. Maybe they need our experience; maybe they need simplicity; maybe they need to be connected to [the] direct public, which, you know, being a Hollywood actor doesn't permit you." (Related: Kanye West was also at the screening, and he arrived with what appeared to be a brown turtleneck pulled up over the bottom of his face.)
"I don't know [LaBeouf]'s reasons," Abramovic continued. "We have to ask him." Just then, MoMA PS 1 director Klaus Biesenbach told Abramovic it was nearly time to find their seats:
Klaus Biesenbach: Marina, two more minutes —
Marina Abramovic: [To Klaus.] No, I know — but you know what's happened? This actor is doing The Artist Is Present in Hollywood. Do you know about it?
KB: No. But I don't want to know about it.
MA: Yeah, but it's a pretty strong statement.
KB: Who's doing it?
Shia LeBeouf.
KB: Oh, he's such a —
MA: So that's it. I really can't — it's whatever people can do, do. We can see as an influence from my piece, but this is not my piece.
KB: What if he invented the wheel tomorrow? The wheel is invented. She did it, right? And we all know it.
MA: Oh. Okay, let's leave it at that.
* The headline on this post has been changed. It originally read "Marina Abramovic Calls Shia LaBeouf's Performance Art 'Manipulative.'" It was not clear whether Abramovic was referring to the art or the discussion surrounding it.