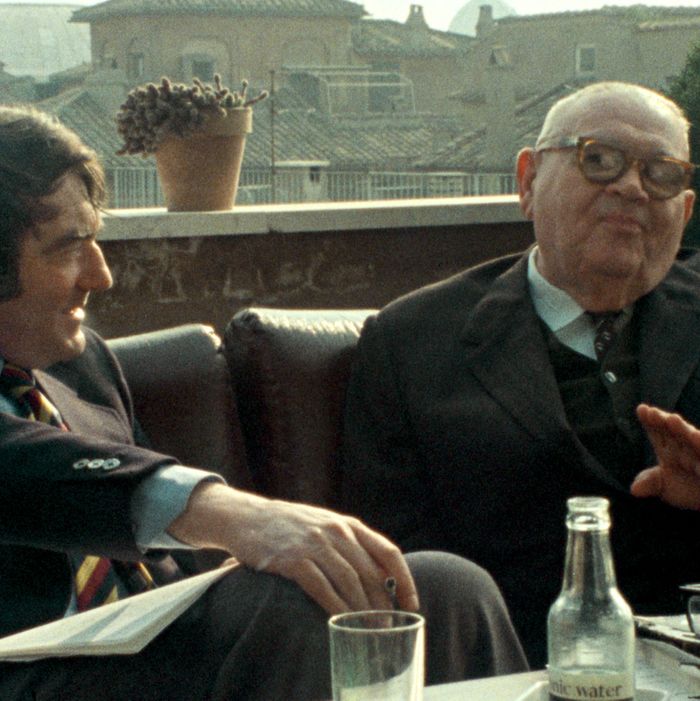 The power of Claude Lanzmann's haunting, three-and-a-half-hour documentary The Last of the Unjust isn't in his usual overbearing longueurs — the train tracks and long walks down empty streets, the break for a cantor to sing Kol Nidre for the Viennese Jewish dead. It's in how he backs off and lets his subject, Rabbi Benjamin Murmelstein, expound at length on his time as the "Jewish elder" of the showpiece Czech concentration camp Theresienstadt and make the case that he wasn't — as he has been branded in Israel — a Nazi collaborator and a war criminal. The interview took place in Rome in 1975 and was part of Lanzmann's research for Shoah, and it's likely the filmmaker thought that Murmelstein, like so many other Lanzmann subjects, would hang himself with his own words. But as Murmelstein talks, we begin to see the world through his eyes. We understand that in an impossible, unearthly situation, heroism can take many forms. He also gets points for letting Lanz­mann's cigarette smoke drift into his face without protest.
Murmelstein is a mieskeit and the sort of know-it-all who probably got beat up a lot in school. A few notes higher and his voice would sound like Truman Capote's, and he has the same abstracted quality as Capote, the ability to sound detached from the horror of what he's describing. He admits he was a sort of pet to Adolf Eichmann, who pumped him for details of Jewish culture and (maybe) protected him. But his closeness gives him the right vantage to refute the (increasingly ridiculous) Hannah Arendt description of Eichmann as embodying "the banality of evil." The man was venal and corrupt to a staggering degree, and placating him was essential not just to Murmelstein's survival but that of many Jews. One of many myths he cites is that of The Arabian Nights. He was Scheherazade, spinning tales to keep from being executed.
Our culture has a romantic view of martyrdom, of people who stand up to evil, die for a principle, and inspire generations to come. We have little use for men like Murmelstein, who insisted that helping the Nazis maintain the illusion that Theresienstadt was a happy, orderly place to the outside world ultimately saved lives. As the camp began to fall apart in the last months of the war and it looked as if the Nazis might liquidate its inhabitants, he ordered the haggard Jews to work punishing 70-hour weeks. It was "survival through work," he says, sounding dangerously like a Nazi himself. The camp's prisoners thought him power mad, and he concedes that he liked wielding power. But his reasoning is irrefutable.
The Murmelstein interview didn't make it into Shoah, and Lanzmann sat on it, saying in a written prologue that he finally decided he had "no right to keep it to himself." I wish he'd brought it out in Murmelstein's lifetime. (The rabbi died in 1989.) He deserved the chance to be heard by the people who hated him most — who probably still would hate him but come away with ­respect.
This review ran in the February 10 issue of New York Magazine.