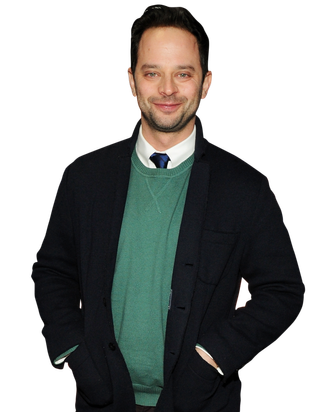 Nick Kroll.
Photo: Ilya S. Savenok/Getty Images
The second season of Kroll Show on Comedy Central features a bunch of familiar faces. There's its star Nick Kroll, of course, re-creating favorites like the nebbish Gil Faison and lost Jersey Shore cast member Bobby Bottleservice. Regulars like Jon Daly and Jenny Slate are back, too, appearing alongside Kroll in sketches with a long shelf life. But comedy fans are seeing a lot more of their favorites: The season opened with Zach Galifianakis throwing cakes from a train all over Chelsea Peretti, and the guest-star list grows from there. We spoke to Kroll about working with his friends, romantic partners, and sometimes people he doesn't think are all that funny.
This season you've added moments between sketches where you break character and talk to your co-stars, like Jenny Slate and John Mulaney. How much has Kroll Show become a showcase for your friends who are also comedians?
People like to see that the people making the shows are having a good time, and we really are. The biggest part is that I have a show I get to do, and these are the people who I've worked with since the beginning. It would only make sense that I would want to continue working with them, and that they'd want to continue working with me. The upside is a lot of those people are people viewers are excited to see.
As your show grows in popularity and your friends' stars rise, has it become harder to lock them down?
The only downside is all these people are in demand all over the place. Mulaney has his show; Jenny is on House of Lies and Parks and Recreation and now on her own FX show. Chelsea [Peretti] is on Brooklyn Nine-Nine. We've all risen through the ranks. The beauty of them being friends is they find a way to make it work and have been very gracious with their time. The other thing is that the the farther you get into a show, the more I can have the show itself be a selling point. So I knew Craig Robinson a little bit from just around town, and he was like, "I really like your show." That was obviously pretty exciting, so when something came up for him, I could just give him a call.
Some of the interstitials feature people who aren't on the show often, like your executive producer John Levenstein.
Actually, you may remember him from "Bounce House," and he's also the voice of the stamp commercials this season. We've had the editors on. This shows there are a bunch of people who make the show a reality, and some are on-camera and some aren't. I want people to see everybody involved in making it. Comedy is so collaborative. You're going to come up with better jokes with people you like joking around with. It just makes sense.
Amy Poehler was on an episode earlier this season, playing Jon Daly's brother in "Rich Dicks." Is this the first time you've worked with someone you're dating?
I dated Barry Manilow for a few years and was in a few of his videos. And also was very seriously dating Jaleesa on A Different World — when I was dating her I appeared on a few episodes as Sinbad's fry cook, working in the cafeteria. So I have some experience with it.
Ha, right. So what happens if you are asked to be in a friend's project and you don't think it's funny?
There are things you do that you're really excited about, and sometimes you do things because you'll have a good time, or a favor, any number of things. Most of the time, it ends up being really fun. If the worst thing that happens is I spend the day doing bits with my friends, then poor me.
Your comedy group from Georgetown University has been mentioned a few times, notably because you and Mulaney and Mike Birbiglia were alums, and Jim Gaffigan came before you guys. But what about all the other people? Where are they?
Brian Donovan and Ed Herro are writers on the show The Neighbors. Alison Becker I didn't cross over with in the improv group, but I did a sketch show with her; she's been on Newsreaders and Parks and Recreation. Owen Burke was in it years before I got there and is an executive at Gary Sanchez. While we were at Georgetown, we all took workshops at UCB — we'd come into the city for a weekend. Sometimes [Paul] Scheer and [Rob] Huebel and Burke would come down for an improv fest, and I'd, like, invite them to a little keg party at a friend's house. It's crazy to think how long we've all known each other. I'm gonna finish in my writers' room and go pop by the taping of Mulaney's show. I just finished producing a film in New York, and Birbiglia did me a solid and came in for an all-night shoot for a very funny but small part. For me to be able to make a movie, and have the guy in it who cast me in a sketch show my freshman year in college do a small part, it's such an awesome thing. It's crazy to think at one point we were all doing a sketch show we'd rehearse for three months, and perform once.